The world of enterprise online communities is one of the more interesting phenemona of social business. For one, it's not considered very glamorous, attached as it is typically to older, less exciting traditional businesses. Nor are they on the cutting edge of high technology, often making use of simple social tools like online forums.
But in their own way, online communities have been one of the unsung heros of digital business, steadily engaging a growing cast of millions of employees, customers, and business partners around the world in often-immense online groups of shared interest, both within companies and across the Internet. These communities communicate and collaborate with each other for mutual support, to share ideas, and even co-create to achieve longer term strategic goals.
I've long explored the intriguing stories of American Express Open, Verizon Wireless Communities, or Bank of America's Small Business Community, which were developed by those companies for their customers. Just as interesting are more decentralized, grassroots communities created either by the market, and without company involvement, such as HDTalking for Harley Davidson fans, or large special interest communities like Ultimate Guitar or Pistonheads, the latter two which have many millions of active users. Then there are exclusively internal online communities, often based on enterprise social networks.
Across this spectrum of community types, business value is usually realized through a concerted process of proactive engagement and cultivation. While grassroots communities tend to eschew purely business-centric motives, and enterprise communites are often focused on them, all communities — online or otherwise — are made of individuals which have their own motivations and interests. By understanding these, and managing to them, organizations can tap into the innate power of large — even vast — groups of participants and then enlist them towards shared aspirations and objectives. Organizations often provide the needed support and resources that the community needs to succeed, giving the organization a recognized stake in the results.
Related: Is the window closing on enterprise customer communities?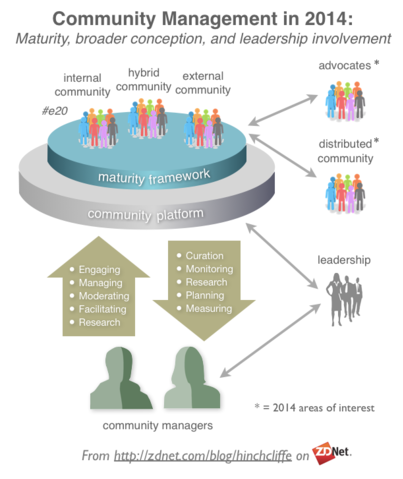 This then is the backdrop for the latest snapshot into what exactly is taking place in enterprise online communities today. The Community Roundtable, one of the most respected names in online community management, has just issued its comprehensive new State of Community Management (SOCM) for 2014, an in-depth exploration of where we are today and what we've learned about how best to develop, foster, and oversee healthy and engaging online communities.
How To Create Value with Online Communties
Released last week, the report is aimed at both community managers — the tireless people that are behind the growth and daily operation of communities and which I once famously called the Jack-of-all-Trades — and those that support them. Many of the report's findings tell a tale of lessons hard won and too easily forgotten, specifically:
The value of digital communities comes when they mature. But first they require the cultivation of shared goals, resources, and participants over time. Unlike digital marketing, where ROI is sustained almost as soon as spending happens, communities are a long term investment that is significantly more strategic. The Community Roundtable found the mature communities where twice as able to articulate the value they had achieved, and successful communities were more than twice as likely to have roadmaps that were matched with resources. Having a clearly identified roadmap to maturity also helps online communities reach their goals. The report shares several frameworks that well-known companies have used, as well as their own well-known maturity model.
Advocacy programs create the highest rates of community engagement. The value of advocacy programs for growing, strengthening, and revitalizing online communities has become increasingly clear in recent years. The Community Roundtable also found that investment in advocacy programs directly correlated with higher engagement, to the point that those with multi-tiered programs had some of the highest measurable community engagement rates of all.
Communities with CXO participation are far more likely to be best-in-class. While this is not a new realization, it's long been shown that the involvement of executive leaders "breaks the ice" for broader participation while setting a clear example that the community is important and a corporate priority. The data in this year's report however shows just what a large impact this involvement actually has, with CXO involvement a whopping 2-4 times more likely in successful communities.
The report is revealing in other important trends and statistics as well. For example, the leading online communities have more than twice the number of community managers than middle-of-the-road communities. The simple factor of having dedicated community management staff also signifiantly improved engagement rates across the board.
Perhaps most interestingly however, was insight into the differences in staff that was reported for internal communities — those inside the firewall and still often referred to as Enterprise 2.0 projects or digital communities of practice — and external communities. Internal communities have an average of 2.4 full-time community managers and 9 part-time staff. Interestingly, external communities often had a smaller community management roster, perhaps because their market-facing efforts weren't quite so visible to the rest of the organization, with an average of 1.8 full-time staff and 2.5 part-time.
In all, this year's SOCM report contains a compendium of insight that can shave months, if not years, of trial and error and focusing on the wrong things when trying to drive meaningful, strategic outcomes from online communities. This year's data, updated frameworks, and evolved strategies in particular are invaluable to organizations and staff seeking high impact and useful business results from their social business efforts.
And let's not forget why this is all so important: In the end, digital networks have become mostly about the people within them. Thus communities have become one of the most important new aspects of the future of our enterprises. With collaborative economy startups putting them at the core of their business models, having a strong, engaged, and aligned community can mean the difference between access to the future of your organization, and being disrupted by a startup that can better connect, participate, and do business with your millions of stakeholders.
(Cross-posted @ ZDNet | Enterprise Web 2.0 Blog)
(Cross-posted @ ZDNet | Enterprise Web 2.0 Blog)