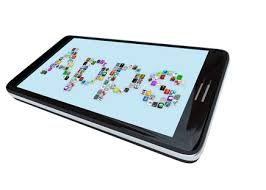 Mobile technology is playing a key role in the current change and disruption that many businesses are facing. The fact that we carry such powerful computing devices in our pockets, devices that are always on and always connected to the Internet, has created a growing population of consumers and employees that shop, interact and work very differently than they did in the post-mobile computing era. This perpetual connectivity creates tremendous opportunities for businesses to get work done / increase productivity and to create very unique positive experiences for customers, employees and partners. It also though, puts a lot of pressure on businesses to ensure that they make the best use of mobile technologies to provide these experiences across all those constituents, not as an option but as a core component of any strategy.
This is becoming increasingly challenging though, as people adopt and use more and very diverse devices that range from smartphones to tablet computing devices as well as desktop and portable / notebook computers. As these devices proliferate people adopt and use them more and more, and often switch from device to device depending on: 1. activity / task, 2. availability / proximity, 3. personal preference and 4. cost / investment. From a software technology perspective, this means that application vendors who were only recently talking about "mobile first" strategies are now moving beyond this concept to a device agnostic approach. It also means that IT organizations have to move from attempting to manage by the device to platforms that allow application level management.
At IDC we launched a new program this year called Mobile Enterprise Applications to look at the use of software by businesses. As a part of that effort we recently conducted a survey of approximately 400 companies, talking to both IT and line of business / end users about their selection, implementation and use of mobile applications. One of the questions on the survey dealt with the benefits that organizations expected to gain from using these new mobile applications. Here are the responses to that question: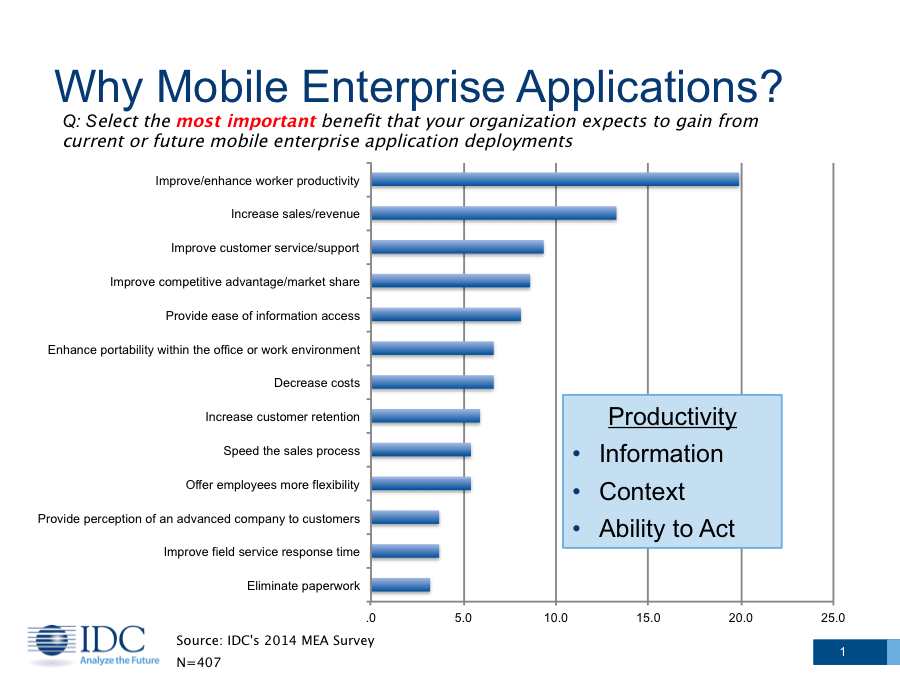 From the survey companies are focused on:
Increasing worker productivity (which includes increasing revenue / margin and work output)
Provide a better / more comprehensive / more effective customer experience
Make better business decisions (find / get access to better, more relevant and contextual data in real time)
Mobile applications are particularly good at providing context, particularly location and activity of the user, a key component to better experiences and better decision making. They are also good at doing more than simply finding information, because of the power of the new devices they can enable the ability to take action of information in real time and at any time / any place. A powerful combination for business and their employees. This is also a unique ability in the hands of consumers, the ability to "shop" in both the real and virtual world simultaneously, and take action from anywhere. In my next post I'll take a deeper look at mobile customer experience, so I won't go deep on that topic here.
If you're interested in more information from our mobile survey there are 2 opportunities coming up shortly:
1. A Webinar on May 20, 2014, Mobile Applications Revolution with IDC analyst Amy Konary.
2. A Breakfast Briefing on May 25, 2014 in San Francisco with IDC Analyst Vanessa Thompson and me.
(Cross-posted @ Michael Fauscette)
(Cross-posted @ Michael Fauscette)