Can you believe the HfS Blueprints have been circulating the industry for over a year now since we announced ourselves so modestly last March ?
Did you really think our practical method of having over a 1000 of the industry's key stakeholders weight the core performance criteria to rate provider performance would actually catch on?
Did you really think we would succeed in evaluating service providers against the realistic metrics of innovation and execution, as opposed to factors more appropriate for software products?
Did you really think we'd conjure up a genuine way to assess services providers that isn't purely reliant on the arbitrary viewpoint of a single analyst would actually become reality?
Did you really think an analyst firm could source their own client references as opposed to begging providers to pony them up for them?
Of course you didn't!  But anyways, we are proud to announce out first Blueprint for cloud infra services, led by the quixotic cloud cryptic himself, Dr Thomas Mendel:
Thomas, how are we defining "Cloud Services" for the Blueprint?
In contrast to our competitors, we use a buyer view of an end-to-end business process made up of three different categories:
1. Public Cloud Infrastructure Services (IaaS)
2. Hybrid Cloud Infrastructure Services
3. Private Cloud Transformation Consulting Services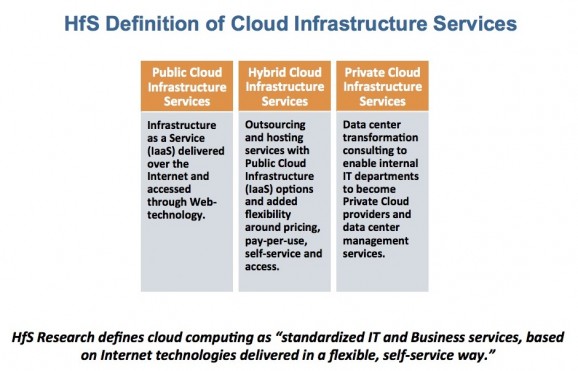 What differentiated the winners from the rest of the pack?
Quite simply, the winners are either the ones that cover all three categories well (Accenture, IBM, HP), or are excellent at one or two of the categories (AWS, Cisco).  The consulting and transformation element proved very important for many of the clients we spoke to, with is where Accenture, AWS and HP performed very well.
What are clients looking for with Cloud services – what's changing / staying the same?
Enterprise clients care about the business processes, not the Cloud delivery mechanism. Internal IT needs to understand that there is no competition between IaaS, Hybrid and Private Cloud. Instead, all three form alternatives to support components of a business process, whereas one may be more suitable than others for a given problem.
The rise of the IT service broker. As external and internal service delivery became increasingly intertwined, we saw the rise of the concept of the IT service broker, essential mediating between internal and external service providers. The necessary tools to provide end-to-end views are now robust and widely available.
What will this space look like in five years time?  Will most of these providers still be leading this space? 
Cloud is already mainstream and legacy infrastructure outsourcing will cease to exist. Enterprise clients have embraced the Cloud paradigm fully and are starting to use the term Hybrid Cloud infrastructure instead of traditional infrastructure outsourcing. Vendors will be forced to convert most of their traditional outsourcing services into Hybrid Cloud ones.
Public/Hybrid/Private Clouds become one. All aspects of Cloud Infrastructure Services can have a role in a given business processes. Enterprises will engage in re-sourcing their IT service delivery, using a best-fit sourcing approach on a large scale.
AWS rules Cloud Infrastructure, Microsoft and Google struggle – traditional outsourcers still going strong. AWS will continue to make inroads into the Hybrid Cloud world, putting pressure on other vendors. Traditional outsources that are capable of transferring their offerings to the Hybrid Cloud world will continue to prosper, whereas Microsoft and Google are not likely to gain ground in the Cloud Infrastructure Services space.
Opportunities for telco players to regain ground. There is, however, another opportunity for telco vendors with IT services arms, as the Cloud Infrastructure world favors vendors with knowledge about network performance.
Thanks, Thomas – and congratulations for publishing such as exhaustive study.
HfS subscribers can click here to download their copy of the 2014 Cloud Infrastructure Services Blueprint Report
(Cross-posted @ Horses for Sources)