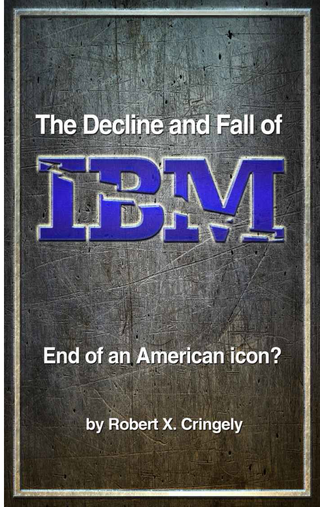 I just finished reading Robert Cringley's book on IBM. One word to describe it : "Depressing".  Not the author or his style, the  subject matter. It has more sections on financial engineering – buybacks and earnings management – than about "wow" you expect from a technology icon, but then that is what has defined the last decade's IBM.
As an innovation author, I enjoy writing and reading about breakthrough and inspiring stuff. Cringely has little about Watson, Smarter Cities, cloud and other IBM "innovations" because I suspect he believes they are mostly marketing hype. He has little on IBM Software because I suspect he knows it is mostly milking long-in-the-tooth brands like Notes, Tivoli and DB2.
It is more depressing that he has been harping about IBM's state for years now and few journalists and analysts have joined his cynicism. BusinessWeek recently had a critical article and I have posted an occasional critique, but by and large we have let IBM market away.
Most depressing is that customers keep writing it large checks. Indeed in the latest Fortune 500 issue, an executive talks about how IBM is now well positioned for the "front office". Not sure what qualifies IBM Global Services (its largest product today) to help customers tech-enable their products (unlike a GE or a Siemens or a UTC, IBM has gutted its own hardware businesses) or with other digital business model and other transformations. In my latest book effort, The Digital Enterprise, none of the 20+ global brands that are case studies highlighted IBM,  but the brand still endures and a new constituency will give IBM more runway.
One thing which would have made the book more interesting – more customer conversations. Cringely tends to rely on his own analysis and a wide chorus of (mostly anonymous  and unhappy) IBM insiders. Again, just a style preference –  my own books tend to be case study and customer cameo heavy.
Read the book after you listen to an IBM pitch and use it to balance out fawning reviews that you will get from so many other quarters.
You may find him too cynical. I find him brave.
(Cross-posted @ DealArchitect Full)