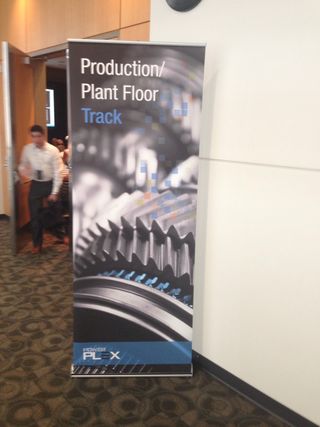 "No stock footage here"
Remarked Plex CEO Jason Blessing about the video about various shop floors at customer sites which kicked off his user conference, PowerPlex yesterday. Actually he need not have used any footage at all. He had 900 attendees in person representing 1,100 sites across 20 countries where the software helps with shop floor, product quality, in-bound logistics and a variety of other operational areas.
It was a show about ERP as it was meant to be when we at Gartner in the 90s had evolved the concept of MRP. Somehow, along the way ERP lost focus on the plant and became much more  a white -collar, back-office phenomenon. In the two decades I have seen consultants hype up the concept as a reengineering platform, a change agent and more. At the other extreme, I have also encountered dreading executives behave as if they were marching to the gallows when they started an ERP project as if it was guaranteed to be doomed.
The mood at PowerPlex was more balanced. A muted (though optimistic with the manufacturing Renaissance I have written about) Midwestern vibe, fitting with the event held in Grand Rapids in W. Michigan. Few slick consultants. Mostly executives to whom the software is functional and affordable. The session tracks screamed operational excellence – Kanban, Finite Scheduling and Cost of Quality (CoQ). The lunches had networking tables around topics like Traceability and Recalls.
Jason and others announced customers who are doing reference calls even before they go live. That shows a refreshing nonchalance that the software and the implementation project should just work. In an one-on-one, an auto industry supplier told me the  parent company that they were spun out from , a SAP customer with multiple outsourcing  providers in the mix, spent 2.5% of revenues on IT. Now, they spend less than 1% and Plex is not even the largest line item. They also described how they worked with another customer to help Plex extend functionality unique to global markets they were expanding into. An aerospace and defense industry customer described how Plex has been easy to work with for customizing to unique industry needs like export compliance. Almost 70% of product enhancements come from direct customer requests.
Of course, that process will become more complicated as Plex continues to grow – something a $ 50 million cash infusion announced at the event is designed to accelerate.
Last evening, at the Rosa Parks square in downtown Grand Rapids, hundreds of young adults were "swing dancing" in the warm evening. Frank Scavo, who I was walking with, remarked the scene had a Mayberry feel to it.
Mayberry to me summarizes the  event – there was a throwback, pure feel to it. ERP as it was meant to be. Just made contemporary with cloud architecture, web services, mobile UI and global functionality.
(Cross-posted @ DealArchitect Full)