Digital business transformation has all the latest buzz and hoopla, with blogs, analysts, academics, and consulting companies all jumping on the digital transformation bandwagon.
Despite the jargon and bandwagon, digital transformation is not just hype. For example, the UK government states the following about its own digital efforts:
This Digital Efficiency Report suggests that transactions online can already be 20 times cheaper than by phone, 30 times cheaper than postal and as much as 50 times cheaper than face-to-face.

By going digital by default, the government could save between £1.7 and £1.8 billion each year.

But this isn't just about saving money – the public increasingly expects to access services quickly and conveniently, at times and in ways that suit them. We will not leave anyone behind but we will use digital technology to drive better services and lower costs.
Given the potential of digital business transformation to drive improvement, I thought it would be interesting to pull together stats on business performance related to digital transformation. Here is what I located and hope you find it useful.
Also read:
Is 'marketing' ready for digital transformation?
Accenture: CIOs must embrace digital transformation
Business transformation and the digital CIO
MIT Sloan Center for Digital Business
Researcher George Westerman developed a model of digital maturity [PDF download], in conjunction with Capgemini, and correlated corporate financial performance with digital maturity. As the diagram below shows, the "Digitari" outperform their less digitally savvy peers.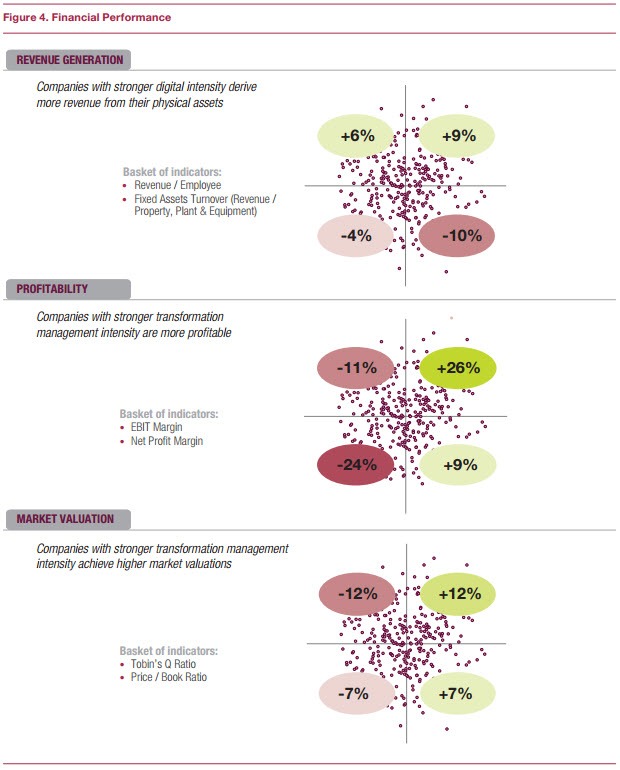 Accenture
Accenture released research linking the CMO and marketing to digital transformation efforts. The following graphic shows that high-growth companies rely more heavily on data, analytics, digital channels, and customer experience.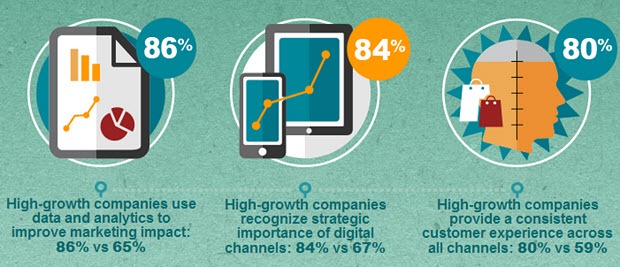 Oxford Economics and PwC
Although they do not quantify performance, a couple of reports show the extent to which digital transformation will have an impact across companies and industries.
From PriceWaterhouseCoopers [PDF download], a diagram showing that digital business transformation cuts across many operational parts of a company. The breadth of impact is highly significant.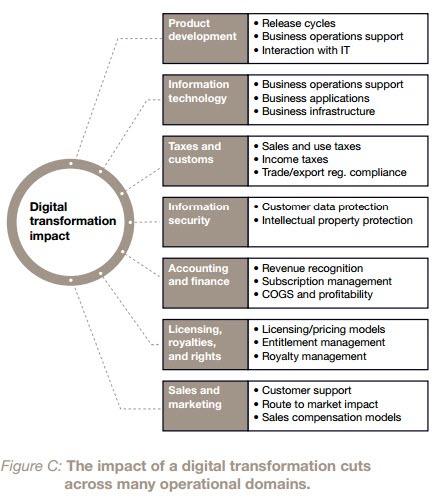 And, from Oxford Economics [PDF download], a view of how digital transformation will affect a variety of industries: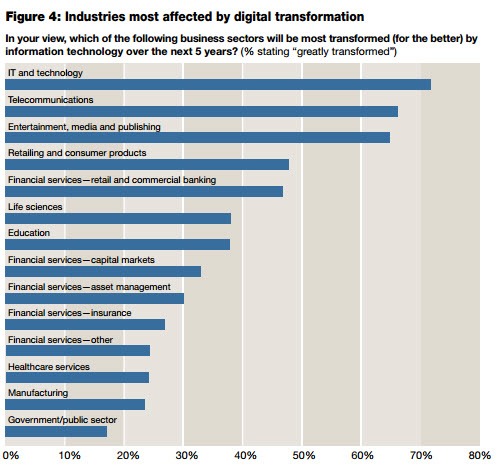 (Cross-posted @ ZDNet | Beyond IT Failure Blog)