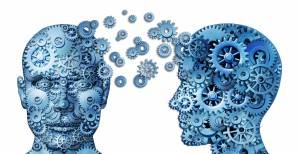 As human-like machines begin to perform more advanced tasks, we fear that they will replace us, take our jobs even. But the truth is, machines are making our lives easier and allowing us to focus more on what humans do best, such as making subjective decisions and using our emotional intelligence. Robots and machines, in effect, remove the clutter that often causes our productivity to wane and our attention to waver.
Rather than fear technology, we should embrace it because it takes care of repetitive—and often mundane—tasks like data collection and processing. In the workplace, machine learning has the capacity to change how managers spot an employee's talent, how employees share their knowledge and how employers decide whom to promote.
As Dave Coplin, Microsoft's chief envisioning officer and author of "The Rise of Humans," says, "We need to evolve our working habits and develop new skills so we can think about the things that really matter, and lean on technology to support us with processing information which is what it's designed to do."
Just look at how web search generates results based on previous queries and speech recognition puts commands into action. These are just a few examples of machine learning in action, where systems learn from data and make data-driven predictions based on behaviors and properties. Put simply, machine learning is a combination of artificial intelligence, predictive analytics and data mining.
Machine learning is an exploding market that will grow exponentially in the future. In 2013, the artificial intelligence market was valued at $900 million, according to Research and Markets, and the predictive analytics market is expected to reach $6.5 billion by 2019, according to a report by Transparency Market Research.
Machines equipped with data mining and machine learning software can "listen" to the websites employees visit, the questions they post on message boards and their interactions on internal company forums. Based on that information, the machine learning software creates a profile of an employee's skills and expertise. One such software, WhoKnows, claims to be 93 percent accurate in profiling employees.
Machine Learning Taps Workers' Potential
Machines and their data algorithms are revolutionizing the future of work. With a simple Google search, employees equipped with machine learning technology can learn which of their coworkers they can turn to for help to learn certain skills or understand a new topic. These machines will encourage and increase collaboration across a company, rather than keep employees in departmental silos.
"Our opportunity in this industry is to say well if they [machines] are going to do that stuff then how do we augment that, what do we do on top of it — how do we stand on the shoulders of that incredible power?" Coplin told The Drum.
When managers and executives have access to the employee knowledge base, they're able to discover hidden talents and skills that employees have and are not using to their fullest extent. As a result, managers can assign an employee to new projects that are outside of his wheelhouse and tap into expertise that he hasn't demonstrated on previous projects. When an employee expands the scope of his projects, he'll become motivated and reinvigorated to deliver high-quality results. Seven in 10 employees say that they feel disengaged at work. When employees rotate through different projects, they see the opportunities for growth and increased responsibility with the company, keys to employee engagement and retention.
One company experimenting with machine learning is Amazon: the e-commerce company is running a contest to develop a machine learning system that automates the process of determining which employees should have access to certain corporate resources. When developed, the algorithm will remove human involvement from granting and revoking access to confidential documents. Take it one step further: machine learning can help employers make decisions about who to promote and what skills are necessary in new hires by looking at the current set of employee knowledge, Yuliya Chernova writes in the Wall Street Journal.
Instead of replacing our jobs, machines are enabling us to do our jobs better and to help our employees use their skills to the fullest extent.
Image via Can Stock Photo