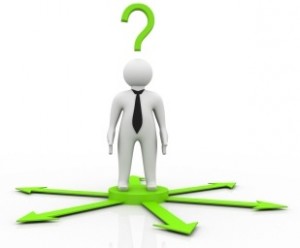 I laugh every time I write the title "future of work", I mean, how presumptuous can one document / post / presentation be to outline the entire future of work. I'm going with "disruption of work" for this one. Oh well, titles aside, it's a topic that I'm extremely interested in, and have been looking at in one way or another for many years. In fact, in a lot of ways, it was the core of the social business research program I started over six years ago at IDC, or at least one of 2 core topics (the other was the shifting ways of dealing with customers). It's a very important topic and in some ways a confusing topic I think. The problem with any transition is that in the middle it's hard to let go of the past, and to see where the future might be heading. Few people I talk to anymore don't "get" the idea that something about work is changing, but exactly "what" is something of a mystery to a lot of people.
The present of work is broken. There are many pressures on the current structures, practices, processes, roles and the way enabling technology is used and managed. That's probably not a surprise to anyone who works in some organization. Sometimes you have to have seriously broken "things" before you can move forward to something new I guess, so in that respect maybe the brokenness isn't an entirely bad thing. Unfortunately though, many people are feeling that brokenness in a lot of different ways. What's broken you ask, well in no particular order:
More and more employees are told to collaborate and work together but the underlying organizational structure, compensation and incentives, and even technology is designed and functions in silos and rewards competitive behavior.
Systems are designed in silos around a few functions, leading to both process and data silos
The hierarchical structure that is common in most organizations creates organizational silos. These organizational silos are made worse by industrial control / power paradigms.
Jobs are designed and tend to function in a limited way which leads to a "work in the box" attitude. In other words people are hired to do a specific set of tasks and they are at best strongly discouraged to leave the box and at worst they are prevented from or punished if they step outside the lines.
In an information driven economy / business, it's critical to get the right information to the right people / person at the right time. That is near impossible in businesses that have both data silos and organizational silos. Add to that system and process silos and the problem is near insurmountable.
Information flow…well, actually it doesn't flow, that's the problem.
Management practices are a carryover from the industrial age and are in many ways just broken. Centralized power models are outdated and the idea of controlling information as a base of power is impossible in a hyper-connected and mobile digital world.
Most educational models are built on the same industrial models so new employees are being educated in a way that will never mirror the way they will work (and the way the live their lives in general).
Industrial business models, which are based on "make – sell", are designed to create efficiency, conformity, repeatability and rigidity.
There is a growing problem at many organizations around productivity as well. Over the past few decades companies have used technology to automate many processes. There are a limited number of processes that can be automated at any given time based on the maturity of available technology, budget (or cost benefit of the application of the technology), ability to use the available technology, etc. That means that for many businesses there is a clear, if moving, line of automation. at (or slightly below) the line the company reaches the maximum amount of productivity available through automation against it's economic benefit (they could automate more, but it would cost more than it saves). Once that is reached the company has to look for productivity somewhere else. Usually that has been through hiring more employees, but since the 2008 recession employment has declined in a fairly consistent manner. This puts many businesses (and employees) in the situation of increasingly doing more with less. In addition, GDP data shows productivity increasing in a fairly dramatic way across the same period, thus creating a productivity gap that gets wider every year. Now I believe some of that gap is being closed by third platform technologies, especially mobile but is that enough. I don't think so, in fact, I believe that the rest of the gap gets closed through heroics. Heroics is the existing employees taking on more and more of the labor burden, something that can close the gap for some reasonable period but is not sustainable over a long period. It's the "running a marathon at a sprinter's pace", it works for a while but eventually people can't physically keep up.
So how do businesses "keep up" the new required pace to continue to do more with less, or simply get work done in this new information age? Better yet, how does the way we work change to support the new information business paradigm? In this post I'm going to give you some really simplistic answers, but in the follow on (1 or more) I will drill into these topics in more detail:
The new business model that is the information age equivalent of the old "make – sell" model, is sense and respond. I've written about this model a few times, try this post for more information. The point in this context is that the model drives you in several directions, particularly in the way collaboration and information sharing are a tool to help close the productivity gap. The term I've used in the past is a systematic approach to making better business decisions as the "new automation" for ad hoc business practices.
Modern businesses can't afford the old "boxes" mentality. Leveraging employees skills, talent and capabilities as well as their interest involves opening up the box and encouraging people to be involved across the entire business network. Thi doesn't mean a license to do everything but your job of course, but the idea is that employees have a variety of talent and skills that could be leveraged if you 1. knew about them, and 2. had a way to get the related issues, problem, opportunity into the hands of that employee. Since it's outside the "normal" box, that's hard in a siloed business. This I'd call the open people economy.
The employee social network (ESN), or business network is the method for getting data / information, people and issues together in the work context to facilitate the making of decisions and the solving of problems. It's one of the ways that work happens in a modern, information driven business.
Shake the factory mentality. This is a broad category of change that ranges from fix the management model to eliminate silos to build an information driven business.
This is essentially the end of efficiency, rigidity and conformity and a business operating principal. In the new model bureaucracy is the enemy of flexibility and adaptability and those 2 factors are essential to the modern business. The goal isincreasing innovation built through creative thinking across the business network. Flexibility and adaptability are key competitive advantages in the information driven business.
All work is social
In the past business and competitive advantage was about land, capital, and raw materials but now it's about knowledge and information.
The modern business requires new management and leadership models that are not built on command and control but instead are built on the idea of player/coaches and flat, open structures. This is an older post, but still applies here.
This is just the start of the discussion of a massive topic, but hopefully provides a good introduction to the topic. Look for more in the sequel, coming shortly.