Although I don't know the circumstances of the seemingly sudden CEO change at Adaptive Insights (formerly known as Adaptive Planning) I can share what appears to be known at this point along with a few observations.
Adaptive Insights CEO John Herr, appointed on 10/31/2011, is no longer listed on the management section of the company's web page or listed a member of the company's board of directors, and is instead listed as a company advisor.  In his biography as advisor, he is explicitly referred to as "former CEO."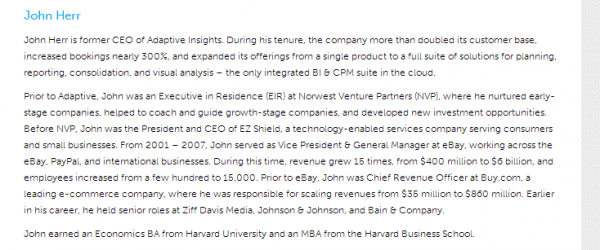 While I don't have much to work with, I can make the following observations:
This appears to have happened rather hastily as there is no new CEO listed on the management page.  Were the board working on an organized plan to replace the CEO (whose tenure was about 2.5 years) they would have executed this as a "Adaptive Planning appoints New CEO" as opposed to simply removing the existing one.
Time will tell if this is part of an organized replacement that we are catching in the middle.  If this is the result of a planned CEO replacement, then we should expect to see a new CEO appointed next week.
Otherwise, in the absence of an imminent new CEO announcement, I would conclude that the separation decision was made suddenly, perhaps in response to operational challenges (see disclaimer), a board dispute, or a personal issue.
The fact is that, barring personal issues, virtually all Silicon Valley startup CEOs — particularly those hired one once a company already has some scale — stay on until one of three things happens:
The company gets to a "liquidity event."
The CEO is asked to leave because things are not fine for some reason from the board perspective.
The CEO and the board hit "irreconcilable differences" and are able to work out an amicable agree-to-disagree transition.
Note that the notion of "just quitting because you are unhappy"  basically doesn't exist for a CEO because the CEO is the captain of the ship and few future investors will invest a CEO who has previously abandoned ship.  This is why I say the CEO job is unique because you are truly marrying the company (and in a country where only the spouse's parents can ask for a divorce.)
In this situation, we are not in case 1 as there no liquidity announcement.  This is probably not case 3 as the whole point of case 3 is to deliver a smooth transition despite a major disagreement.  Ergo, I'd say we are in case 2 though one can never be sure of either the case or the reason for it.
I suppose it could also be the curse of the new building striking again, since they recently announced a new headquarters in Palo Alto.
Whatever happened, I can say that I've met John Herr a few times, found him smart and personable, and wish him (if not his former company) all the best going forward.
—
[Revised 6:30 AM, 07/21.  Tightened post on news itself.]
Disclaimer:  Host Analytics competes with Adaptive Insights, though primarily at the low-end of the market.
(Cross-posted @ Kellblog)