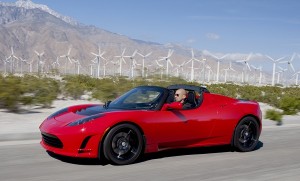 My half brother, a smart teenager who is already taller than me and usually emerges victorious when competing on the foosball table, happens to be an aspiring engineer who can also hold his own as a researcher and writer (he's been interning with us for the past two weeks – check MetalMiner on Monday for an article he wrote). The young man is also highly interested in topics like additive manufacturing and, of course, shifting dependence from fossil fuels to electric and renewables.
Along these lines, like many aspiring engineers in his generation, he reveres Elon Musk as the modern Albert Einstein, Henry Ford, and Thomas Edison all wrapped up in one. As a kid myself (at heart), I can understand this respect and obsession. Musk is up to some truly amazing things. But the way in which kids like him look at a car like Tesla and say "game over" makes me feel older and wiser than I should.
Strolling down the street the other day, I asked him, "Where do you think the power comes from for that zero-emission vehicle?" "Why, power plants," he replied. Which of course raises the next set of questions: "Are they zero-emission plants? If so, at what cost? And can they produce a constant base load? Where are prices trending for electric? Do you know that the cost to produce electric power is over 50 percent on a feedstock basis with natural gas compared to coal?"
Of course one could go on. Just as today one can zip from 0-60 in a fraction of the time in a Tesla as it used to take me when I was a teenager in my 1979 Mercedes 240D. But my point is that such an object of engineering marvel, of speed, of grace, of teenage obsession – by the way, whatever happened to the generations of young guys salivating over the likes of Bar Refaeli or Heidi Klum alongside the car, rather than the car itself – comes with a set of strings and externalities that we must all consider.
As for me, I don't want the Tesla – too much baggage, much of it not yet accounted for – and above all, too fast for my soon-to-be teenagers when they start to drive. Moreover, I suspect that once we factor in the true total costs of owning one over a 10-year period as energy costs rise and government subsidies dwindle, that the equation might be even less attractive.
But perhaps most important, I like what the combustion engine stands for. Like it, I'll continue being the gas-powered dinosaur that I am, writing in 1,000-word bursts versus 140 characters, and driving a set of wheels that gives me as much pleasure from the sound as the actual whoosh. I like the fact I can go 400+ miles without refueling and showing my dependence by having to plug in. And yes, I still like the smell of pumping gas – and the cup of 5 am coffee a few inches away from my full-size keyboard.
Call me dated. Call me old. Call me a sentimentalist.
But also, please, at least for now, call me a pragmatist.
(Cross-posted @ SpendMatters)