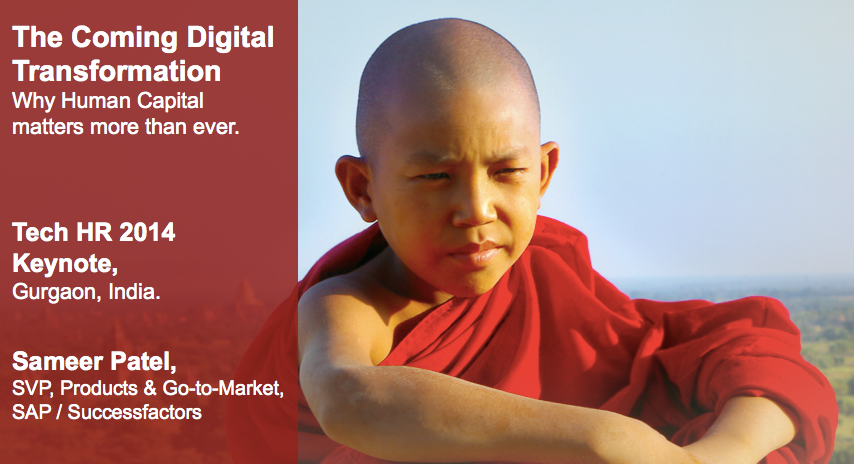 This past week was an immersive boot camp for me on the state of human capital management in India. I had the privilege of keynoting two events – TechHR 2014, India's first HR Tech Conference in Gurgaon, followed by HRConnect, SAP/ Successfactors regional HR conference in Mumbai and participating in a working dinner session with 18 CHRO's representing some of India's largest organizations. I jotted down some take ways on my flight back. Here goes:
Strategic HR is top of mind: Unlike the very systems-centric discourse on Core HR vs. Talent that often commands the airways in the US, the focus here was clearly holistic and purposeful: the changing nature of the workforce, opening markets to global brands, the rise and rise of entrepreneurship, and India's untapped growth demands a comprehensive human capital strategy that incorporates integrated core HR, recruiting, learning, collaboration, analytics and talent management as strategic levers vs. stove-piped discussions. That was really refreshing.
HR Tech is hot:  The rejuvenation of HR tech in India will happen in the cloud. My hypothesis is that for the last 20 years a lot of generic application technology was purchased, as branded on premise software was too expensive. Now two events have triggered resurgence in considering HR technology to be a strategic lever. First, as markets opened up to foreign competition, the need for more sophisticated HR policies to compete effectively forces a serious look at technology as a differentiator. Second, cloud pricing is much more palatable and so, affording leading innovation from the best software brands is now within reach.
Revitalizing learning: Thanks to strong torchbearers such as Abhijit Bhaduri, Gautam Ghosh, Kavi Arasu, Anand Pillai and many others, there's both, local thought leadership and localization of applicable global trends. The unique learning needs of highly distributed work forces across primary industries such as manufacturing and infrastructure, and mobile retail transformation will result in much more nimble and data-driven learning systems which is very different from conventional silo'd deployments of LMS and informal learning systems.
Talent spreads across the ecosystem: Indian HR leaders are realizing that a broader view of ecosystem talent will becoming critical. After two decades of outsourcing manufacturing and non-core services, contract and contingent labor expertise also needs to be leveraged as talent. Further more, India is itself the back office for a good part of the economy today and can help its customers integrate outsourced expertise back into the customer's operational machines.
The quality of events: I was completely bowled over by the quality of the topics covered at all three events. Tech HR 2014 and HR Connect, both attracted incredible regional talent. The agenda, production quality and execution could match any other event that I've attended across the globe. I especially liked the regional cross-pollination of topics to bring a broader set of thinking around HR strategy and tactics. At Tech HR, I was joined on the keynote line up by Madan Nagaldine, APAC HR head for Facebook and Narasimha Prasad of APAC Google People Services, both based in Singapore. Between the three of us and our very different company cultures, we brought varied historical perspectives but we were surprising aligned on where human capital management was headed. At HRConnect, I was joined by SAP's Head of HCM for APJ, Greg Harbor, who also provided the best regional trends that were highly applicable to India.
On a closing note, as someone of Indian origin who spent my formative years in the country, perhaps the most gratifying takeaway for me was the heart and hustle that every young HR professional puts into the topic. This is personal so please allow me to gloat for a bit:
During the time when I grew up and later, interned in India, organizational behavior was extremely hierarchical. You spent the first ten years of your career keeping your mouth shut and "learning". My time spent with a lot of young professionals during this trip suggested that this age-old management culture is starting to loosen up. It was so gratifying to see high-energy young HR professionals provide incredible insight into the kinds of HR policies that they not only want to prescribe but a culture that they want to thrive in themselves as career professionals. The passion to improve the world of work came through, the ideas were fresh and cutting edge, and they questioned everything. I just couldn't get enough of this.
Here is a collage from the Tech HR event that captures the energy and significance of the topic of human capital management in India:
Digital transformation is a topic that drives a lot of my thinking and product strategy these days and I had the chance to engage with some very smart folks on why Human Capital matters more than ever.  A big thanks to the People Matters team as well as the SAP India team for inviting me to speak and for your tremendous hospitality. I learnt a lot.
Comments rolling in on LinkedIn, here.

(Cross-posted @ Pretzel Logic)