We can debate for days the impact SAP has on the ability of corporations to evolve into cloud-based "As-a-service" models and break from dysfunctional operations practices of the past, but one thing is clear – it's very big business today, and its ecosystem continues to grow. Last year, we (conservatively) calculated the entire spending corporates made to maintain their SAP ecosystems, including inhouse staff, totaled $156 Billion – and this continues to increase at a 5% clip this year.
Yes, the amount of money being spent to keep this SAP ecosystem ticking along is greater that the annual GDPs of Morocco and Tunisia combined, and still provides the gravy train for a host of leading incumbent service providers to employ armies of sales executives, consultants, developers and help desk staff.  I actually recall one global enterprise dedicating an entire 50 story building to house all the people required for a major SAP rollout.
So let's take a look at how the 2014 SAP Services HfS Blueprint has evolved since we released the 2013 Blueprint. The capabilities of providers of SAP Services are assessed along the whole SAP Services value chain, ranging from SAP strategy consulting through planning and implementation of an SAP solution to managing and optimizing existing SAP environments. Providers are also assessed in terms of coverage of the SAP Solution Categories namely business apps, analytics and BI, mobile, database and cloud.
For this HfS Blueprint, more than 850 data points were collected in Q1 and Q2 of 2014, covering 740 buyers, providers, and advisors/influencers of SAP Services. 31 providers of SAP Services were evaluated.
We asked our SAP Services expert, Dr. Thomas Mendel, to explain the evaluation results and market dynamics: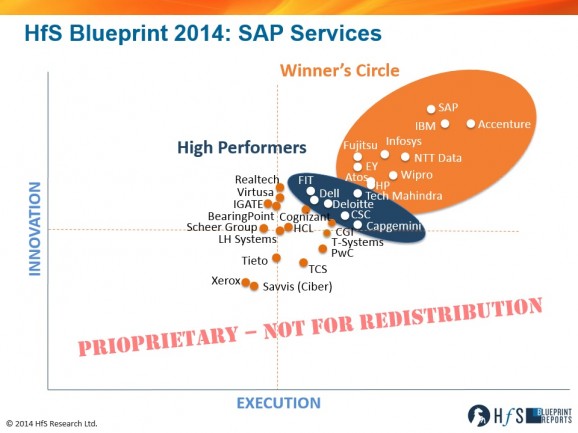 Thomas, now that you have done this for the second time, what are the key changes from a market perspective for 2014-15?
Clients seem to be gravitating towards four key themes:
One global SAP system, SAP consolidation & SAP upgrades. Many clients told HfS in 2013 that they are investing in the traditional way of trying to contain SAP costs—through consolidation. This trend is becoming a wave in 2014, with three of the top five investment areas falling into the overall consolidation space. This approach is prudent because many of the Cloud-based SAP options are still in their infancy in 2014.
Rapid SAP deployment. Believe it or not, there are still enterprises out there which are deploying SAP software for the first time. The ones that do, expect to learn from experience, since they are the late majority. Rapid deployment solutions can help big time.
SAP in the Cloud. Although still confusing for many, clients by far and large appreciate the stronger focus that SAP is putting on the Cloud. After all, it's the future, isn't it? HfS expects the Cloud topic to accelerate again by 2015.
HANA is already mainstream. In mindshare at least, if not in actual implementations yet. SAP is putting a lot of pressure on Oracle and clients are following suit. However, many enterprises are considering stepping stones like MaxDB on the voyage to HANA. The general feeling is that HANA is the way to go, but SAP needs to reduce the HANA price point. HfS believes that this will happen in early 2015, which will result in a big HANA implementation wave shortly after.
And what's new from the service provider perspective?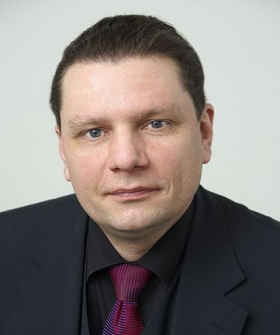 This is a market with a very long tail. The SAP Services market has more than 5,000 active competitors. In that sense, every one of the 31 vendors selected for this Blueprint is already a winner. It is also a very dynamic market with many different facets. Apart from the full range service providers, the landscape is compiled of companies specializing in one or more of the five market segments, like strategy consulting, or hosting. With such a diverse and dynamic environment, it is no surprise that the service provider landscape is constantly changing. To even stay within the top 20 year after year is a major achievement for most.
The top three service providers are turning into the "Big Three". The gap between the top three service providers and the rest of the market is widening. While Accenture continues to lead, SAP has managed to move past IBM in 2014. Accenture and IBM have the most extensive, yet balances set of capabilities, while clients increasingly value SAP having "skin in the game" when implementing and servicing new software capabilities.
There is a lot of movement in the top 20. Six service providers entered the top 20 in our 2014 evaluation. They are a mix of highly specialized (EY, Realtech, Virtusa) and full service companies (Fujitsu, FIT, Dell) which shows the highly dynamic nature of the SAP Services market.
And established service providers are in danger of disappearing from the evaluation. On the flipside, standing still means going down. There are a number of well-known service providers (e.g. T-Systems, LH Systems, Tieto) trying to keep the status quo, which resulted in dropping of the top 20. Others, like the Scheer Group, suffered from client confusion caused by a reverse acquisition.
Any surprising results from your view?
A few surprises surely. One: The strong position that SAP itself holds in this market, mainly driven by client push initially, but SAP has realized that it can drive acceptance, client satisfaction and adoption of product innovation significantly though their service organization. Two: The big distance between top three and the rest of the market. And three: The impressive results NTT Data, Infosys, Wipro, Fujitsu and EY.
And looking further out, Thomas, what will the future of SAP Services look like, in your view? 
There are four major trends that will shape the future of the SAP Services market:
TCO (Total Cost of Ownership) reduction. Running SAP today is an expensive proposition and the share of wallet is also increasing. The RoI (Return on Investment) is there, but the overall cost is still significant. Clients expect SAP to provide an answer – maybe Cloud?
One global SAP system. But first, Once over the first the growing necessity for compliance and faster time-to-market reasons will drive companies to consolidate the zoo of existing SAP systems into a global one. This will be achieved by most companies until the end of 2016. So, what's next?
SAP in the Cloud and HANA. Clients, as well as SAP, know that Cloud and in-memory are the future. That is why long-term, clients want SAP to provide a realistic Cloud road map and a more attractive HANA price point, but not too fast!
Moving from business support to business model innovation.  We've always been told that competitive advantage comes from own software development. With the huge penetration of SAP in the enterprise market, this is changing. Companies will increasing use SAP to drive business model transformation to achieve breakthrough competitive advantages.
And finally, where will the service providers need to make their investments to accommodate those trends?
Short- to medium-term the service providers need to accommodate the trends listed above of course. But long-term, there are two major ones as far as I am concerned:
The "SAP-automation" journey. At the 2014 SAPPHIRE (the annual SAP conference), simplification was revealed as the new company mantra. This new strategic focus will accelerate the trends towards consolidation, one global SAP System and TCO reduction. Service providers have to invest in making the SAP spending more transparent, and also making it easier to fulfill the full automation potential SAP has to offer.
End-to-end process re-design. As discussed before, the share of wallet of SAP is increasing quickly in many enterprises. One of the major consequences will be the heavy use of SAP for another round of (this time really) more global business process re-design. This is another huge area for potential differentiation for service providers in the SAP Services space.
Thomas, thanks for taking the time to share your new research. We look forward to more of your continued coverage of the SAP Services market in the coming months. HfS readers can click here to view highlights of all our recent 17 HfS Blueprint reports.
HfS subscribers click here to access the new HfS Blueprint Report, "SAP Services 2014"
(Cross-posted @ Horses for Sources)