Contract riders are those special line items people slip into contracts. Some have a valid business purpose (like NO brown M&M's) and others are a tribute to the requester's vanity/ego. Do IT analysts/influencers have these?
Your ace investigative reporter teamed with the always inscrutable and snarky Frank Scavo  to get to the bottom of this. We interviewed countless AR (i.e., Analyst Relations) pros over thousands of drinks (hey, they were buying!) at numerous high tech watering holes. We drug ourselves through the depths of depravity to get the real story for you, our loyal readers!
What we learned shocked us! Our research confirmed that contract riders might exist and the terms may be quite generous to the analyst firms that know how to negotiate them.  Some of these riders would shock the most successful rock stars and politicians.
In the interest of market transparency, here's what we've learned. Be forewarned, these terms are not for the faint hearted (Click on images for a more readable copy):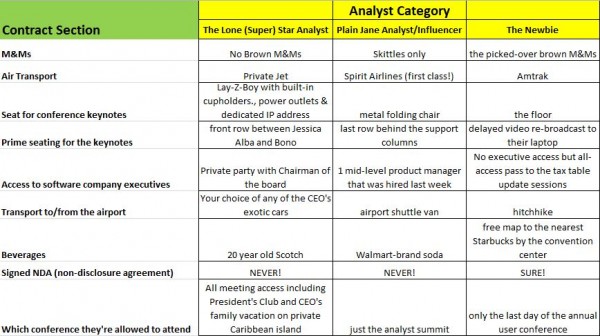 To all you analysts and influencers out there, "What's in your contract rider?" Frank and I are dying to know.