Dicken's Tale of Two Cities opened with the famous line "It was the best of times, it was the worst of times…."
That opening sentence (a long, compound wonder that speaks of numerous dichotomies) sums up a lot of what's going on in the application software space. To all-new cloud purveyors, it is the best of times. To stick-in-the mud sellers of on-premises products, it's the worst of times.
And…for those vendors pivoting from on-premises to cloud, it's both.
Larry Ellison, CTO and Executive Chairman of the Board forOracle, opened last week's OpenWorld show explaining Oracle's cloud strategy. It was a discussion of pure cloud matters. While I didn't listen for it, I don't recall him mentioning the phrase "on-premises" once.
The new Oracle narrative
What Larry described was a narrative of the business. He discussed, frankly, how the company was relatively new to the cloud. Maybe they weren't first to the space but they're here now and are, in Larry's words, the dominate force in the cloud. It's one of those cruel ironies in high tech that first movers aren't always at an advantage as subsequent movers learn from the missteps of their predecessors.
Yes, Larry had some choice observations and opinions of those firms that are already in — or currently moving to — the cloud. (Dennis Howlett has documented some of that).  But, let's get past the hyperbole and competitive smack talk. Let's discuss the real story here.
Oracle has lots of cloud applications today. Larry found many ways to make this point. They've added a lot of new cloud applications. Some came from acquisitions; but they've built a lot on their own, too.
The breadth of the cloud application coverage has grown, too. Oracle has cloud suites (not just individual applications) in the HCM, Financials, EPM (enterprise performance management), Supply Chain and ERP spaces.  They've also got solutions for specific industries/verticals.  Bottom line: they have lots of cloud applications now.
According to Oracle, they have the following cloud solutions:
Oracle ERP Cloud which includes Oracle Financials Cloud, Oracle Procurement Cloud, Oracle PPM Cloud
Oracle Supplier Qualification Management Cloud
Oracle Encumbrance Accounting and Budgetary Control for Public Sector
Oracle Grants Management Cloud
Oracle Enterprise Performance Management
Oracle announced a number of enhancements to Human Capital Management Cloud (release 9). This solution has integrations to PeopleSoft and EBS Payroll Applications. Expanded Work Life social applications are also available. I believe there's some Fusion product mixed in as well.
Oracle CX Cloud got a fair bit of talk time, especially with regards to the use of Oracle's Data as a Service for Sales solution. The BlueKai acquired solutions were hyped up as well. Oracle is also selling a Marketing Cloud with Box.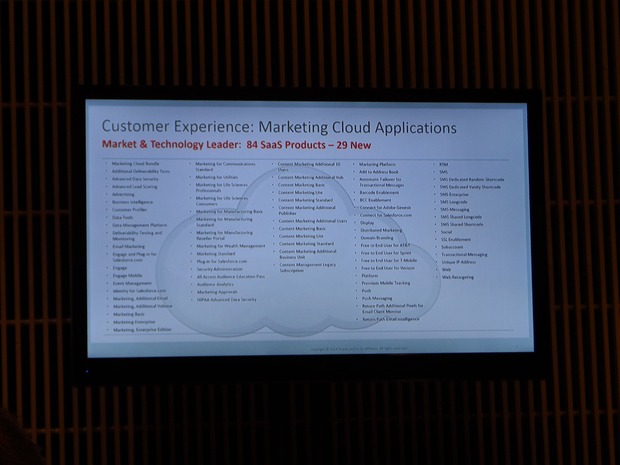 Transportation Management and Global Trade Management solutions (part of the Supply Chain Management Suite) are in the cloud, too.
I tell you all of this to make this obvious point: Oracle got the cloud message and got a lot of product there this year.
Larry described lower stack advancements, too. The company has created specialized chips for its servers. The purpose of this is to improve performance for applications and to improve security. The database (12C) has built-in multi-tenancy capabilities (that's been there). Customers can now port entire databases to the cloud with very minimal effort. Apps can be moved, too. Oracle's touting an Infrastructure as a Service (IaaS) and Platform as a Service (PaaS) in addition to their SaaS applications. In case you missed Larry's talk, he wants you to know that they offer solutions from the hardware layer and every other layer upward to (and including) the applications.  That's a lot of technology that's been built, optimized and now can ship.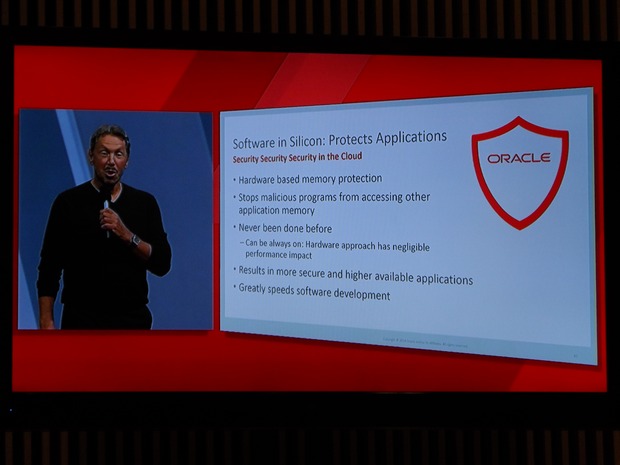 The narrative continues
Larry also spoke of meeting Amazon's AWS pricing. The details weren't offered, but I suspect this has more to do with the compression Oracle can deliver rather than the use of commodity hardware. This needs more examination.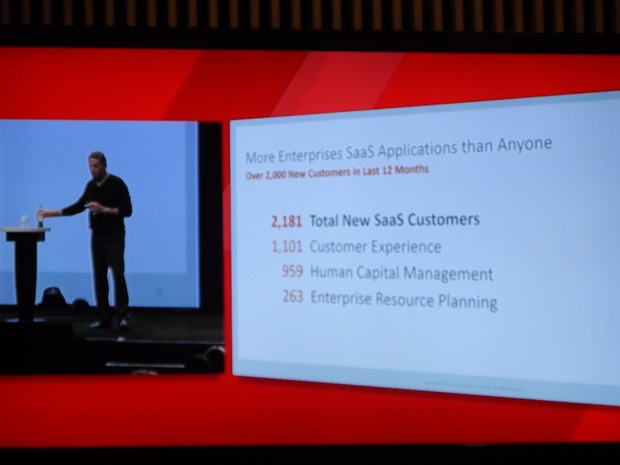 Larry also shared numbers of new cloud customers and licenses. The numbers were quite large and would be the envy of many cloud vendors. How many of these new cloud customers are in-fill/cross-sell customers was not disclosed. Likewise, how many of these cloud deals are cannibalizations of on-premises implementations was also not disclosed. But the bragging on these numbers leads one to suspect the following:
Oracle is concerned about the market gains of competitors with regard to cloud deals. Oracle wants to re-assert its applications dominance and intends to do so in the cloud space.
Oracle must be exhorting its sales force to make cloud deals – lots of them.
Narrative realities
Vendors carefully craft the messaging they'll impart at their events. They, like any rational firm, want to maximize the PR, marketing and competitive effect of their statements/announcements. The trick in attending these venues is to sort out the reality from the hyperbole.
Oracle has acquired a lot of cloud applications (e.g., Taleo) from vendors whose cloud underpinnings, if any, may not resemble much of the current Oracle stack. What Oracle got from these deals is often a huge installed base to cross-sell other Oracle products (cloud and non-cloud) to and a way to plug functional gaps in their own product lines. No matter their heritage, Oracle has worked on integrating and re-platforming acquired solutions.
Cynically, one could say the re-platforming is accomplished via a simple re-badging of the product. But, the firm is chipping away at creating all-new applications from their acquired and natively developed solutions. Individuals looking to buy any Oracle solution should run a genealogy search on the products to better understand where the code came from and how much of it has been reworked. Cutting through the hyperbole, a lot of re-worked product is there now.
Interestingly, both Oracle and arch-competitor SAP have made a number of application software acquisitions in recent years. Each has re-architected some or all of their acquired products' plumbing to tighten up the degree of integration between the acquired products and their legacy solutions. It's a bit disingenuous of Larry to criticize SAP's acquisitions for running Oracle's database when some of Oracle's acquired products supported non-Oracle technologies. Nonetheless, the digs add to the entertainment factor of an event like this.
One of Larry's claims was that Oracle was the first in cloud ERP. I've already debunked that matter before when another vendor made a similar claim. Plex has big companies using its cloud ERP suite and has for some time. I'm not going to launch a range war on this. Instead I'd rather direct readers' attention to the breadth of the Oracle cloud applications. It's the breadth of products that creates a competitive barrier for them. Few competitors of Oracle's have the resources to create as broad of a solution set. Infor and SAP could give them a run for the money. What Oracle has done lately is re-assert their right to be included in more software selections. They've regained a fair measure of market relevancy in a tech world that moved to cloud, mobile, social, et.al.
Oracle CEO Mark Hurd spoke of the pressure CIOs are under to hold or reduce IT costs. He's spot on about this issue. CIOs are not getting more money overall let alone additional funds to spend on new cloud applications. There must be a compelling business case for the change. But I also know that customers of all kinds of old-school ERP vendors are frankly fed up with ever increasing maintenance fees, surprise (and frequent) usage audits, and other vendor-driven forces that cause their spending on applications to go up even when the customer's business revenues are flat or declining.
This creates an interesting dilemma for Oracle as it now has more products than ever to sell (including a new special purpose server) to a buyer that isn't getting more money to spend. If Oracle can actually achieve Amazon AWS cost levels, will these reduced costs be passed along to its customers?
Yes, Oracle's cloud solutions can potentially deliver the following benefits:
Reduced capex as hardware replacement purchases are no longer needed
Oracle may maintain the applications for customers. This role, previously done by a customer's IT personnel, could substantially reduce the need for internal IT personnel.
But, the operative word here is "potentially". The business case for change will often vary significantly from one customer to another. These business cases will need to account for:
Degree of customization that customers have made to the affected Oracle applications
Degree of integration required between the cloud Oracle apps and other, probably on-premises, applications
Extent to which the customer's applications are/aren't current from a release/version perspective
Interest the customer has in re-purposing its IT staff to work on more strategic application development vs. maintaining existing applications internally
How the customer wants to deploy their new cloud apps: public cloud or private cloud
The bigger market implications
In recent weeks, the world's third largest application software firm, Infor, unveiled major financial and HR suites on the market. These products represented a major investment in mostly all-new applications from Infor. Their financials suite utilizes an in-memory transaction database and dispenses with the use of old-school sub-ledgers and the data redundancy they carry. I point this out as it goes to show the length and cost that Infor went to in its re-imagining of the financial applications and the scale of the redevelopment. Infor created a more modern set of apps.
Oracle has also created a more modern set of apps. Is it as elegant as competitors'? That may be a customer-specific judgment call. As stated before, the breadth and depth of these that warrants attention. So, too, is their use of lower stack technologies as part of these new solutions.
What Infor and Oracle are doing is making it harder for competitors to poach their existing on-premises customers. They've made reasonably compelling cloud suites available to their customers and have, in essence, hardened the target.
The competitive landscape changes now as the argument moves away from cloud vs. on-premises to different factors. Buyers must now evaluate cloud application vendors on:
Which vendor has their entire suite on one, single platform? *(see below)
Which vendor has more product coverage (vertically or horizontally) that matches the customer's needs?
Which vendor can actually reduce TCO (total cost of ownership) now and on-going?
Which vendor is best able to take advantage of more than just cloud, mobile and social?
Which vendor best utilizes in-memory DB, analytics and big data as part of its solutions?
Which vendor offers a more secure solution?
Which vendor utilizes very low cost computing technology and passes these savings on to customers?
(* Readers might check out Bill Kutik's comments re: Oracle. One quote: "Oracle's Chris Leone is very frank about when Oracle would reach the current software nirvana called "unification," a term first popularized by Workday, which has always lived there. He says over the next three years every one of Oracle's cloud applications will be on the same technical stack, including Taleo and the former Learn.com, which is already being scaled up for the large organizations it was never designed to serve.")
So, the big market change here is that the on-premises vs. cloud war is over. It's done. Cloud is here. A new set of discussions, triggered by new and resurgent vendors, will dominate the software selection activities of software buyers going forward. It's time to throw away the old function/feature spreadsheets and look at a whole set of evaluation criteria for a whole new generation of software solutions today.
It's about time….
Readers might also want to check out this piece by Mike Asay.
Disclosure: Oracle covered my travel costs for OpenWorld.
(Cross-posted @ ZDNet | Software and Services Safari Blog)