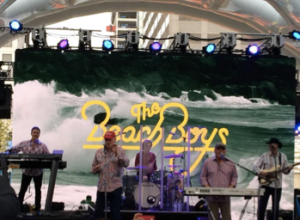 Dreamforce this week had an even more festive feel than ever. Pennant fever gripped the town as the Giants played October ball. The Beach Boys sounded as youthful as ever during Benioff's keynote. The many school kids invited in the keynote audience and Hillary Clinton's talk of babies provided an even more youthful and optimistic tone.
It was good to see visions of next-gen customer service featuring Honeywell's internet of things thinking and Coca Cola drone deliveries. Digital agencies, social marketing, customer analytics, and communities were the talk on the expo floor and in many a session.
I had excellent conversations with Salesforce partners like FinancialForce and Kenandy and their customers. It is good to see robust transactional functionality mature on the Salesforce platform.
And yet I left with a bit of an empty feeling
I am haunted by my summer research for the book on the SAP economy. So many of the SAP customers I interviewed asked me why there are not many robust cloud offerings for their industries. Not just spray painted features – deep retail merchandising, utilities billing, electronic medical records, pricing/promotions/assortments for CPG markets. insurance claims processing and on and on.
Last week, I was reminded what Bill Ruh at GE told me during one of  interviews: "we are transitioning from IT to OT – as in Operational Technology". At GE's Minds+Machines event last week everywhere you walked there are constant reminders of operational  metrics that companies are monitoring and optimizing  – ionizing radiation doses, optimal pitches of wind turbines, granular in-flight data and on and on. It's what CEO Jeff Immelt calls the junction of "physics and algorithms"
At Dreamforce I walked by TCS booth with reminders of its 300,000 consultants, and Deloitte Digital with its own armies. Time for them and other IT vendors to help evolve clouds beyond finance, HR and CRM functionality.
Salesforce, Workday, NetSuite, Amazon and so many others have done an amazing job over the last decade. But we need to raise the bar for clouds. Not only because thousands of SAP on-premise customers beckon, but even bigger optimization opportunities are screaming for attention in so many industries.
(Cross-posted @ DealArchitect Full)