The sweeping opportunities arising out of digital centered structural changes in enterprises are really enriching and can create deep business impact in the short and, medium and long-term. The participants in the digital world enjoy high degree of empowerment with a mouse click or with access from any digital front-end device. In the multichannel world, with different ways of participants coming together, a wide range of combination of association get formed across the offline and the online world. Many of the associations will be experimental in nature to start with and over-time the collaboration aspects will become more and more important and will help create value for the enterprise/ecosystem. Seen at a different level, it can be seen that digitalization is substantially changing the ethos of interaction in our social and business lives.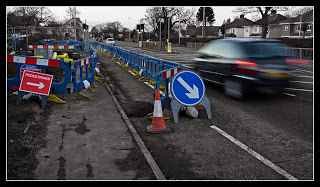 On an ongoing basis, one can see that digital disruption is shifting the sands of the profit landscape as well. Studies show that enterprises that have embraced digitalization report better returns and industries affected by digitalization, by being unprepared have had to sacrifice sales and margins. Clearly, value is migrating and enterprise leaders aren't always sure if they're experiencing short-term cyclical change or long-term structural change. There is consensus across the board in may enterprises that legacy assets are losing value and there is a widespread need to invest to capitalize on new, digital-related opportunities. More subtly, companies are developing new digital value in their supply chains and processes. Due to the wide reach and deep impact digital can enjoy, many enterprises are forced to rethink the very nature of their core business.
It's now well known that traditional barriers of entry don't hold water with players muscling in with digital at their core of business. Boundaries get distorted, categorization and niche gets torn apart, enabling a new wave of entrepreneurs and getting innovation aficionados into the mix. Digital technologies and their extensions can power a phenomenal range of technologies centered innovations – these could be far reaching in their impacts and can have a powerful cascading effect across the ecosystem. The traditional players face enormous pressure to defend and grow their turf and this collective continuum of changes and their impact – bot for winning, defending and sometimes losing can be termed as "Digital Disruption" . The intensity and the range of time to experience this disruption may change across sectors and geographies. As with any major change, in some sectors, the impact may be large and may be felt at once or over time and in some sectors,the impact may be felt only over time. Some sectors/ lines of business may actually get created because of the digital forces in action.
Enterprises – big and small impacted by the digital wave of disruption have really no choice but to find effective ways to respond to defend or take advantage to grow. With the digital onslaught being so powerful – think CAT5 storm is passing through your region – the impact will be deeply felt. The enterprise response can happen at various levels and typical response would be centered around:
– Reimagining corporate strategies and business models
– Customer centricity
– Revenue stream reassessment
– Cost structure revisions
The winners here take the long view and approach any change top down – with deep commitment and care. The wide ranging impact should factor in the changes needed internally and a clear appreciation of the way traditional business landscape is getting changed – the very nature of demand generation, consumption, competition, communication, customer expectations – all have profoundly changed. The balance of power in the commerce equation between the producer and the consumer is now firmly loaded in favor of the consumer . The wide adoption of connectivity and the resultant wave of information and the ability for the consumers of the information to take part and share their views to the potential next set of customers in real time gave made the consumers the unanointed kings and queens in the equation.
First the issues around strategy – its important to realize that one size fit all wont work for all, this wont work for players even within the same industry – as value chains undergo huge change. The opportunities and threats could significantly change for different business inside enterprises. In recognition of this, the approach to embrace the digital wave has got to be so specific that business need to define the right strategy not just at the enterprise level, but preferably at the business unit level. The core model of operation needs to be reassessed for enterprises trying to embrace digital – in this universe, the power of information and data are so formidable, that many times business integration revolves around different ways of rejigging the information flow and set stage for opportunities to create more value across the chain.
The question at a high level that needs answer for every business is how to positively embrace digital disruption. While, this is a very detailed exercise calling for a rigorous evaluation of possibilities to be engaged in a highly disciplined way – assessing possibilities, opportunities for changing the game and for further upsides in traditional business outcomes, it can be safely said that the key tenet of digital disruption is about the range and amplitude of change that business could experience soon. This also involves assessing the myriad possibilities that can be reaped when powerful digital opportunities get pursued across various business streams. Digital at its heart can allow business by helping them through innovative means to target new customer segments, power new business models and in some cases help create entirely new lines of service for the enterprise. Digital technologies can help enterprises to explore adjacent markets more easily – either on their own or as part of a larger ecosystem. Repeat this for exploring adjacencies in customer segments, geographies, product segments etc. Scaling up and scaling wide can become distinct possibilities for business, when they embrace and get digital.
Already digital promotional/ad spend is becoming a dominant category in an enterprise customer/prospect reach out efforts. These mechanisms help enterprises target newer segments leveraging the ecosystem – search engines and low cost online advertising etc. The data that gets collected will embolden business to more specifically target their customer-base, opening possibilities of cross sell, upsell and rich returns. For example, location information discerned through maps or email usage or spreading content through multiple channels, value added data procured from mobile service providers – all these help in better targeting the enterprise customers. The customer segmentation models gain more maturity by learning from enterprises more focussed on enhanced targeting mechanisms.
Some strategies that help enterprises reach new customers include adequate leverage of the 4P's of marketing and beyond. For example, social is becoming a significant frontier in targeting – in allowing business to interact directly with customers and prospects and being able to reach out to them at very low cost to the enterprise. With adequate leverage of social enterprises gain much better targeting insights, leading to more better granular segmentation.The highest level of maturity in an enterprise digital journey is the ability of the enterprise to leverage the pervasive digital connections that exist in their ecosystem connecting systems, people, location and things. All the technologies – ranging from smartphones to remote sensors, need to be appropriately leveraged for pursuing strategy refresh, customer centricity, creating new business models. realigning the cost structure and setting up new new streams of revenue. Such measures would collectively propel the enterprise to acquire a digital edge, which it needs to continually review and hone for success.
(Cross-posted @ Sadagopan's weblog on Emerging Technologies,Thoughts, Ideas,Trends and The Flat World)