More and more Enterprise Software vendors (and users) have their "aha!" moments, getting the reality that "unstructured", Barely Repeatable Processes are immensely important.
Not only happens about 60% of all work in such processes, but no proper process based IT exists, leading to about 65% of all time spent at such work being spent on running the processes and not on value creation.
So what are the vendors doing?
Grasping at the term "collaboration", then stitching collaboration tools together hoping for some process structure to ensue. Some early examples, before the serious stitching and slapping-on has commenced, are Salesforce and their Chatter, SAP with 12sprints and misc. creative plug-in uses involving Google Wave.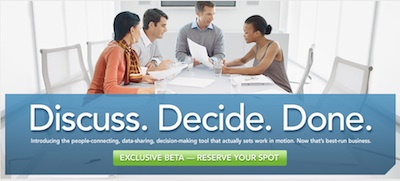 The process result is equal to sending mail from Word. And back again.
Instead of approaching the issue from the bottom up, creating one core that orchestrates all tasks and activities with a single data model for everything that happens, they slap something on the top like bandaid applied to broken legs.
Sucking data from one application, via APIs, applying local logic, then sending off to the next application with another data model and logic looks fine on the surface – some illusion of process ensues.
But process illusion is not process reality!
Where's the full real time overview? Where's the historical data? Where are the easy changes to process? And, most importantly, where is the process-data (not the process-result-data)?
Nowhere. Or everywhere in different formats. 
Illusions works for awhile but will always fail.