ThisThursday in SF, I'll be speaking on my Top 10 Mistakes and Learnings 🙂 on the way to building a sizeable SaaS business at the Sales Hacker Conference (use the discount code SAASTR).
It will be a fun time, and I gave a keynote at the first Sales Hacker Conference in SF just about a year ago, and it was a special event.
It will also be a unique opportunity to hear from, and interact with, some of the most thoughtful sales leaders I know:
Brendon Cassidy, my VP of Sales, previously head of sales at LinkedIn, now VP of Sales at Talkdesk.  Speaking to us about how he's doing it even better building his Third Great Sales Team.
Kris Duggan, CEO of Betterworks.  Kris is widely credited with having created the enterprise sales team at WebEx.  He's one of the most thoughtful thinkers I know on big enterprise sales.  Want to know how six and seven figure enterprise deals are seemingly conjured out of thin air?  Kris will share how he's done this 3x.
Sam Blond, VP of Sales at Zenefits.  Sam worked with Brendon and me and has scaled Zenefits like a rocketship, up to 70 reps already.  I'm going to use his session here as a blueprint for some things I want to do at The SaaStr Annual In February.
There will also be a nice Customer Success track, and I'm hoping they touch a lot on Second Order Revenue

🙂
I'll be there all day, and the final speaker.
It's also in the same location at The SaaStr Annual so we'll use it as a lab (the awesome team from Sales Hacker is helping me put on The SaaStr Annual), leverage what works well, and iterate on the way to February 5.
See you there!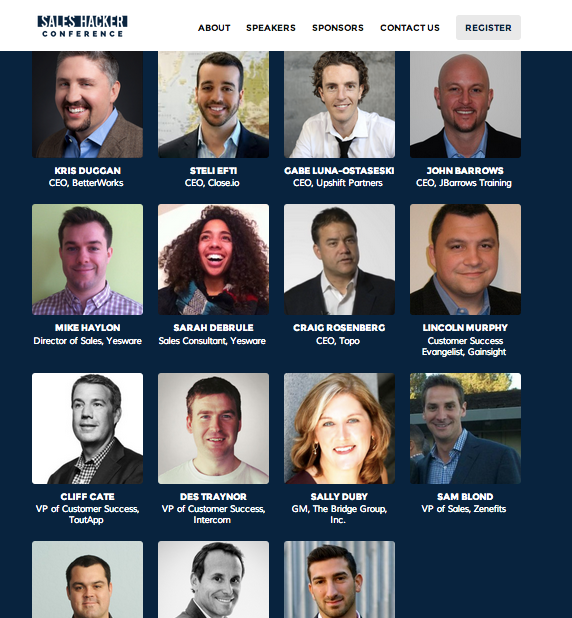 (Cross-posted @ saastr)