This is worth taking note of in the enterprisey world: Etherpad has gone open source and it immediately becomes one of the best Enterprise 2.0 tools available. It is built on a Java/Scala/Mysql stack.
Etherpad is a real-time collaborative editing tool. In short: you can work directly on editing text with other people and be fully aware of what they are doing. In Social Business Design terms it is the ultimate in Hiveminded content creation tools.
Here is a document I created that you can also edit. It is Public.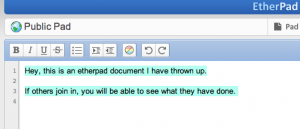 If you go to the doc you will see just how simple the environment is. No fancy word processing features, just straightforward Rich Text editing.
A lot of energy inside organizations is spent writing documents, sharing notes and creating small pieces of text. Until now, as a public webservice, etherpad hasn't really been an option for mid-large organizations. Writeboards were an attempt to solve this problem, but they have been a huge pain to use well in my experience.
Why did it go open source? The team behind Etherpad has been hired by Google to start working on Google Wave.
Which brings me to my next point. You can think of Etherpad as a sort of useful and focused version of Google Wave. Where you probably said "Why would I use this?" or "What does this do?" when you tried Google Wave, you will know immediately how Etherpad could be used in your organization.
I am hopeful that Etherpad development will continue now that it is Open Source, but it is hard to tell if that will be the case. Integration in to existing enterprise systems (specifically ECM and Document Management systems) will not be simple. There is a lot of work ahead.
In the meantime, you can try Etherpad at iEtherpad.com or just play around in the document I created. Etherpad.com itself will not be live for much longer.
Related articles by Zemanta