The role of IT and CIO continue to evolve as broad economic and cultural changes shift business expectations of technology in the enterprise. As a result, this is a tumultuous time for IT and many of the old rules defining CIO engagement no longer apply.
Technology disassociated from direct business consequence, decision-making, and action is not a viable strategy for today's CIO. Modern IT must help departments across the organization make better and faster decisions. Although infrastructure and security remain fundamentally important considerations, business improvement is the core mission of IT.
A new study from the Society for Information Management (SIM) documents the changing role of IT and the CIO. The report is among the most detailed and transparent I have seen, representing a huge cut above the shallow, self-serving documents so often peddled in the name of research.
To complete this study, called the 2015 SIM IT Trends Comprehensive report, SIM received 1,002 responses, including answers from 839 senior IT leaders representing 717 unique organizations. Of these, 451 identified themselves as CIO, by title or role. The report includes an appendix describing the research methodology in detail.
The press announcement includes this brief summary:
IT spending is on the rise, with companies on average spending more than 5 percent of revenues on IT (up from about 3 percent from just a few years ago). To illustrate, that means that IT budgets of the largest companies in the Fortune 500 can be as large as 75 percent of all of the companies on the list.
Largely as a result of that investment, IT is becoming more strategic and more complex. While at the same time CEOs are complaining that CIOs "just don't get it." IT is keeping the lights on, but CEOs aren't getting the strategic foresight and innovation they are looking for from IT leaders.
Companies are investing in big data in big ways to make better business decisions.
Cyber security threats are driving more IT spending to help combat those threats.
Top IT management concerns
Respondents choose up to three issues from a list of 40, to determine the most important points of concern. This table lists the top ten: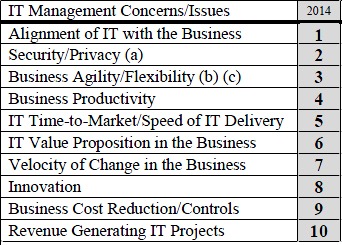 The report explains that historical data supports the assertion that IT priorities are becoming increasingly focused on business issues:
there has been a shift in priorities and focus among organizations and their IT leadership away from tactical and operational IT issues like efficiency, service delivery, and cost reduction to more strategic and organizational priorities like business agility, innovation, the velocity of change in the organization, IT time to market, and the value of IT to the business. It seems that IT is becoming more strategic and business-focused and presumably the organization is becoming more digitized.
Largest IT Investments and Most Important Technologies
In general, there is good correspondence between level of investment and technologies that IT believes are most important to the organization. The following table compares respondents' most important investments to their largest investments: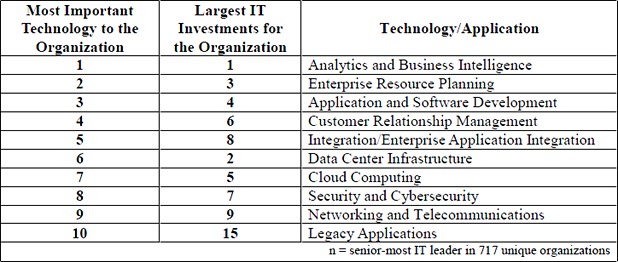 The report comments on differences in the two columns:
As for the differences in the rankings between the two lists, Data Center Infrastructure, a capital intensive item for an organization, ranks only sixth on the most important technology list (with 13.1% selecting it), but second on the largest IT investment list (selected by 19.1%). Legacy Applications, selected by 5.6% of organizations and ranking as the 15th largest investment, was selected by 7.9% to rank 10th as a most important technology. Big Data is 10th on the top 10 list of largest investments (selected by 8.8% of organizations), but only ranks 12th on the most important list (selected by 7% of responding organizations' senior-most IT leaders).
IT spend as a percent of revenue
Percentage of revenue is a useful tool for organizations to benchmark their level of IT investment against similar companies. The respondents in this survey include a broad range of industries and company sizes. For this question, 493 unique organizations responded with their investment as a percentage of revenue. As showing in the graph, these companies averaged 5.145 percent in 2014: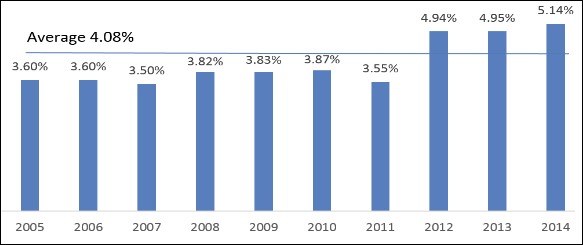 The report comments on the investment level reported by the survey:
average IT spending as a percentage of revenue for the past three years has been significantly above the 10-year (2005-2014) average of 4.08%. This may represent a "new normal"; however, it may also to some extent be indicative of "catch up" IT investments making up for the lean "Great Recession" years of 2008 to 2010, when both revenue and IT investment contracted in most organizations (see Figure 13, Figure 15, and Figure 16). This increase is also being affected by new investments in cloud and shared services, digital marketing and analytics, and health care informatics, as well as the increasing digitization of organizations in general.
IT alignment and credibility
The changing role of IT raises profound strategic questions for the CIO and his or her relationships with other parts of the organization. Questions around level of investment in IT, CIO priorities, and customer satisfaction with IT revolve around the relationship between IT and other departments. SIM recognizes this and therefore added several questions on IT strategy and innovation to the current year's research:

Concluding thoughts
The SIM research is solid, and CIOs should feel confident using the results to benchmark their performance against other companies.
The report includes data on a variety of topics, but perhaps the most important relate to IT's capacity to formulate business strategy and participate in high-level decision-making. The following table lists CIOs' top performance metrics: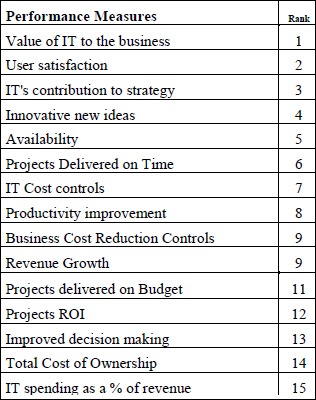 These metrics show that CIOs understand the importance of demonstrating value to the business. However, a body of other research indicates that many business leaders do not think IT provides sufficient value. I will write about this in more depth later, but in one study from Deloitte, for example, only 49% of CIOs said their own IT organization is a strong partner to the business. It is a striking admission for CIOs to acknowledge lack of effectiveness in this key area.
I asked the lead researcher, Professor Leon Kappelman of the University of North Texas, for his advice to CIOs. Kappelman offers four keys to being a "CIO survivor," as he calls it:
Learn the business; be the business; become the business
Develop a flexible, agile infrastructure to ensure that IT can keep pace with business changes
Build a strong team with a strong bench
Create value-creating partnerships with other senior executives and business leaders; Do the same with customers and suppliers of the business, and with your IT vendors
The message to CIOs is clear: there is categorically no substitute for developing strategy-level relationships with senior business decision-makers and other constituencies. These relationships form the backbone for advancing IT and providing higher value to business partners.
(Cross-posted @ ZDNet | Beyond IT Failure Blog)