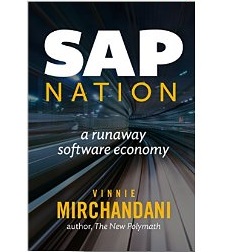 Amazon has released SAP Nation on the Kindle. Over the next few weeks the book will be available in other print and eBook formats. As I have done with my other books, I plan to excerpt here about 10% of the book over the next several weeks for my blog readers.
Let's start with the Preface to give you some context and background to the book
"Despite those concerns, I did not write the SAP book at that time. Instead, I have written three books in the last five years, on technology-enabled innovation and the digital transformation journeys of companies. Also, I was convinced in 2009 that SAP had peaked and customer investments post-recession on their SAP projects would be much more modest.
About that, I was dead wrong.
Earlier this year, I had a chance to build a model of "SAP Nation" — as Chapter 3 details. I was shocked that post-recession customers appear to have spent over a trillion dollars around SAP. This, when SAP's own sales and deliverables have leveled off. When you compare how nicely IT costs via software-as-a-service
(SaaS) applications, cloud infrastructures and mobile broadband have dropped in the last few years, you have to ask why those in the SAP economy have not followed that trend. Likewise, when you see all the front-office technology opportunities — in product and customer-facing areas — you wonder how many are being crowded out by the SAP back office. Those vexing questions are what has convinced me to finally write this book."
"The book is organized into five sections and four groups of customer strategies. Section I sets the stage and shows that in spite of the customer and SAP pivots, the SAP economy keeps marching to its own drumbeat. Section II documents the growth of the SAP economy over the last three decades. Section III investigates whether the huge spend in the SAP economy has yielded commensurate payback. Section IV looks at the root causes of how the SAP economy got to be so massive. Section V looks at recent SAP and customer trends. Chapter13 describes customers' shifting IT priorities. Chapter 14 shows a glimmer of hope as SAP moves to newer business models and start-up ecosystems. Chapter 15 presents likely future scenarios for the SAP economy"
"Each of the alphabetic-section chapters describes various customer strategies — some are doubling-down and investing in SAP's in-memory analytics, some are consolidating SAP instances, others are implementing cloud solutions around SAP, and still others are moving away from SAP. Figure 1 below shows many of the customers we profile across those four categories. We also profile strategies at companies like Big Heart Pet Brands, BP, Flextronics, GE, Lexmark and Unilever in other parts of the book. The majority of the case studies were developed from interviews with executives conducted specifically for this book. For the others, the material was collated from presentations given by their executives or from content where they are quoted."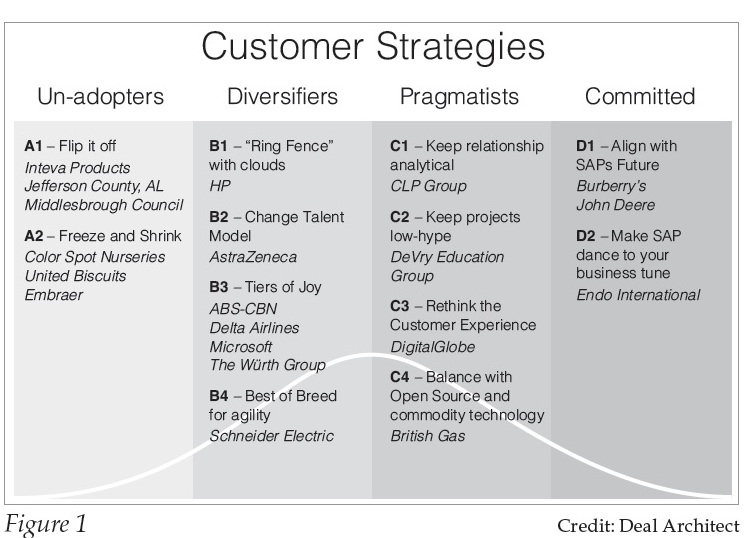 "In a column I wrote for InformationWeek earlier this year about The Digital Enterprise, a book I helped write for the CEO of Software AG, I noted that "I found a surprising sentiment in most of these conversations: joy. To them, IT is fun and profitable again." A reader commented on the column "Did we just use the word "joy" in an IT article, Vinnie?"
In contrast, the emotions to describe interviewing for and writing this book would be "bittersweet" and "puzzlement." The walk down memory lane allowed me to connect with a number of colleagues and clients from my past. But, the research also exposed a lot of pain in the SAP customer base. My interviews
for innovation books tend to be excited and positive. For this book, many of the conversations were defensive and guarded."
"As I reviewed decades of archives, I found myself admiring the architectural brilliance SAP co-founder Dr. Plattner has displayed over four decades. He was a visionary when SAP developed a real-time system in the 1970s, when most U.S. vendors were in batch mode and companies planned on month-end
closing of books. He was farsighted again, in the late 1980s, when he invested in UNIX and R/3 as he saw IBM and the mainframe fading. And yet again, more recently, with HANA.
In fact, the company has had no lack of impressive leadership. You have to respect the global enterprise that SAP ex- CEO Dr. Henning Kagermann helped establish. I have had a chance to watch the even more impressive work he has done after leaving SAP at acatech, the German National Academy of Science and Engineering, as I describe in Chapter 2. Even with his short tenures as CEO at SAP and at HP, you have to respect the enduring customer relationships Leo Apotheker helped build at SAP. And, new SAP CEO Bill McDermott was an entrepreneur even as a teen, and brings a new sense of urgency and optimism.
The fact is that SAP has done many things right, and the book acknowledges those along with the many other things it could have done better."
"SAP has a tendency to write code, and then hand it over to its partners. It fails to think enough about customer deployment issues. Worse, it lets customers fend for themselves in dealing with its partners. Many SAP customers have not done well negotiating with or monitoring hardware vendors, hosting firms, telco carriers, offshore application management vendors, etc. In fact, it has been suggested that unlike Ford, for SAP, "Partners are Job #1." Partner interests, it would appear, trump those of its customers. The sum total of partners' inefficiencies explains much of the excess in the SAP economy."
"While some of the case studies in the book are reporting better than 50 percent savings, let's aim at shaving just 10 percent from the SAP economy. What could enterprises do with $20 billion a year? My personal preference is that they use it toward innovation projects that give me fodder for future books! But,
seriously, there are limitless worthwhile causes and initiatives for CEOs and boards to pursue."
Related articles
(Cross-posted @ DealArchitect Full)