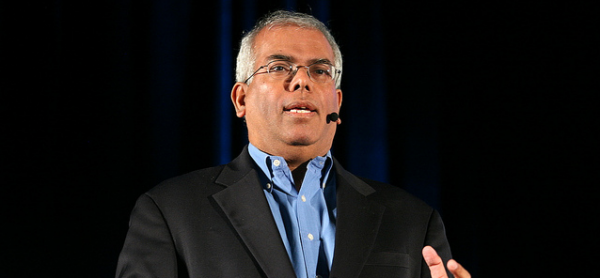 Vinnie's book, SAP Nation, dissects the mega ecosystem, the trillion dollar software nation that has built up around the company with the mantra "the best run businesses run SAP". There are other enterprise, business systems software companies, but it was SAP who emerged from the large pack of providers around in the 80s to be one letter of the JBOPS acronym, the big 5 ERP vendors in the 90s (that's JDEdwards, Baan, Oracle, PeopleSoft and SAP) to then become the ERP leader of the last decade and more. Vinnie calls on his experience as a big systems implementer at PwC, an analyst in this enterprise space at Gartner, and then as a consultant, enterprise blogger and influencer harrying the SAP ecosystem on behalf of the buyer for the decade that I've known him. And that's a disclosure, because he's a friend and part of the Enterprise Irregular blogger community of which I'm a member. Although I don't agree with some of the positions he takes up, Vinnie's book is a must read for any CIO of a medium to large enterprise, or anyone involved in the enterprise software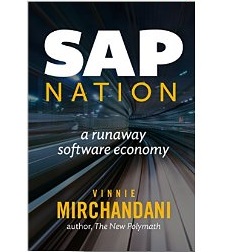 game.
Vinnie is well known for criticising the high cost of an SAP implementation versus the return on that investment. He is well known for criticising the comparably modest mount that SAP reinvests in new functionality and innovation, and he explores those themes in this book with over 30 case studies. Some of those highlight companies that have chosen Software as a Service alternatives for selected functionality, and his message is that SAP has been slow to innovate and shift in to those areas, and that's true — but they are slowly catching up. He provides an immense amount of detail around the numbers and the financial model that is the SAP ecosystem. He dwells a lot on project failures — there are many to chose from, but it would have been good to hear more success stories to even the balance a little. When Vinnie read this inmy Amazon review he commented that he was calling out the failures because they have been quarter after quarter, year after year. He told me:
"Chapter 7 is clearly a depressing one, but many of those stories were broken byChris Kanaracus. Few other journalists, analysts, media have pointed it out given what a background buzz it has been"
In the book Vinnie quotes a wide range of customers, practitioners and influencers — all great raw material to help you build up a broad picture of the SAP market as a whole. His desire is for better execution so that a modest saving in the overall cost of the SAP economy could be reinvested to create value. He calculates that SAP's product R&D is only around 1% of the overall spend, and that can't be good for either SAP themselves or their customers. He wants more than that, and so should all SAP's customers. This is a must read, and the hope is that senior executives, both in SAP and in the service providers and systems integrators that operate in the SAP Nation put themselves in their customers shoes, read this book and listen to Vinnie's call for action.
You should also read Dennis Howlett's review over on diginomica.
(photo of Vinnie from Alex Dunne)
(Cross-posted @ David Terrar on Medium)