Last summer, the team at Work-Bench in Union Square was kind enough to give me space to work out of it.  We did a great SaaStr event on How to Hire a Great VP of Product there with the Greenhouse.io founders, as well as another event on How to Hire a Great VP of Sales offsite (both below).
..
It's a pretty awesome 32,000 square ft space just for enterprise start-ups with a great speaker line-up and also help meeting with Fortune 500 customers.  They don't take equity and just charge normal-ish co-working rates.
If you need a New York office for a year or so — I'd apply and do it.  I loved working there and the cohort of start-ups I worked with there was terrific.
Their update and application process below.
—————-
Join the top enterprise startups at Work-Bench.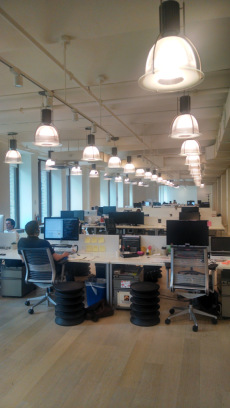 Work-Bench is the only enterprise technology growth accelerator in New York City. Enterprise startups with initial product traction join our community of expert enterprise technologists, move their team (fully or just a few people) in to our 32,000 sq. ft. workspace in the heart of Union Square in NYC for a full 12 months, and receive targeted engagements to our network of Fortune 1000 customers through our business development program (without giving up equity).

Our 20+ Work-Bench member companies are building disruptive solutions and technologies for the Fortune 500 in big data, predictive analytics, security, and more. Together, they have raised over $275 million in total, and individually they have been featured in the WSJ, GigaOm, Businessweek, Bloomberg, and more.
We are currently accepting applications for our Winter 2015 Cohort. If you would like to join the fastest growing enterprise technology companies here in NYC, apply before midnight on December 19th to be considered for our January 1, 2015 start date. We'd love to hear from you!

(Cross-posted @ saastr)