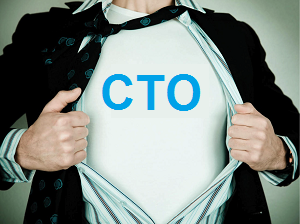 The CTO role is a critical one in most technology vendors. Not so much, if you ask executive recruiters, in the corporate world. To me, it is a case of poor titling. The CTO is the VP of R&D or Product Management at many a corporation as they increasingly embed technology in their products and services
I noticed that trend at The International Consumer Electronics Show (CES) in Vegas in January 2011 and it inspired my book The New Technology Elite. I wrote then
Lost in the excitement about iPad killers and iPhone rumors at
the show was an even more significant nugget—the list of exhibitors included companies from just about every non-technology vertical industry.There was Walgreens—yes, the pharmacy chain—showing off its Refill application …Whirlpool showcased its Duet washer/dryers with LCD screens and various laundry apps …Nike introduced a GPS-enabled Sportwatch developed in collaboration…Ingersoll Rand showed off tech innovations around its Schlage home security and Trane thermostat products…Ford chose to unveil its all-electric Focus at the CES show rather than at the traditional car launch showplace, the Detroit Auto Show, which was only a week away.
The book went on to describe how most technology buyers were becoming technology vendors and noted the growing tech budgets being allocated to the VP of R&D – the "CTO in disguise"
Four years later, at CES last week, the trend was amplified as a record 10 automakers showed off their innovations. The booths showed products across the industry spectrum – energy management, health and biotech, digital finance, nanotech, robotics, security and wearables among them
Of course, CES mostly attracts B2C focused product companies. You have to go to GE's annual Mind and Machines event to see all the software, sensors, satellites and other technology that are reshaping B2B products – aircraft engines, wind turbines, locomotives and other industrial equipment.
It's extended way beyond products. "Smart services" are everywhere – telematics driven auto insurance, mobile payments reshaping banking, proximity sensors and other tech reshaping retail. Disney is a company where the CEO is the CTO as it leverages technologies for services delivered at ESPN, Pixar, Marvel, LucasFilms and its own parks.
Plenty of marketing execs are positioning themselves to become Chief Digital Officers. In my view, product tech centric execs – the CTOs – are far better candidates for that title. And no matter what the title, some of the most strategic executives a company needs to develop and recruit.
(Cross-posted @ DealArchitect Full)