---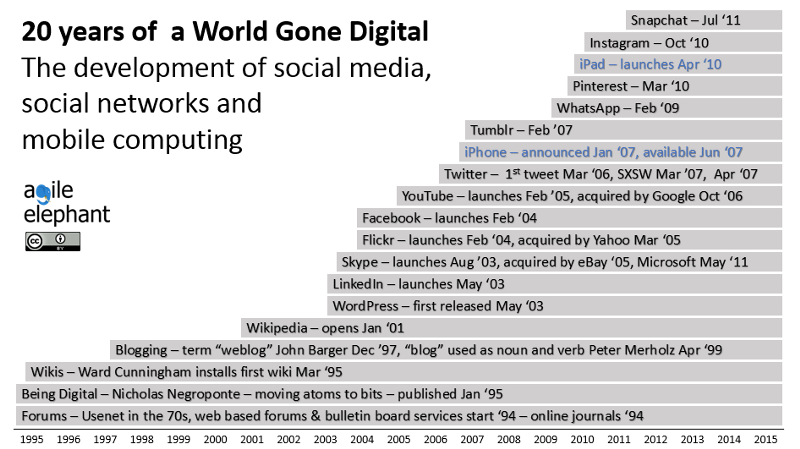 20 years of a World Gone Digital
Here are some reflections on twenty years of a World gone social and digital, triggered by the fact that I passed the anniversary of my 8th year on Twitter at the weekend. Coincidentally, 14 February was the same day YouTube came in to being 10 years ago in 2005. It started me thinking about how so much of the social networking and mobile communications fabric that has changed our World and way of living and working so dramatically, only came in to being in the last 10 or 11 years.
First let me say something about my 8 years living with Twitter. I'm a huge fan and a regular exponent. For those 3000 or so days I've tweeted on average more than 7 times a day. I was an early adopter (hence having a 2 character twitter handle @DT) and came on board well after the first tweet in March 2006 but just before it really took off in March 2007 when it was used as the unofficial back channel for the 2007 edition Austin's famous SXSW. In the early days Twitter was oriented towards text messages rather than the web page or the various Twitter clients that came along later, but it's a great example of the community (rather than the developer) making it really useful by adopting @names and hashtags that had been used years previously with IRC chat — it was actually Chris Messina who posted the first Twitter hashtag on 23 August 2007. Over the years I've met so many people and been connected to so many good things through using Twitter and it's rather amazing to see Twitter handles and hashtags used so pervasively on billboards and print adverts these days. For a great example of the value I get from it take a look at this post Connections, Conversations, Compete or Cooperate? — Think like a Dolphin from last year.
The two anniversaries pushed me in to creating the World Gone Digital diagram, and really it's more about social and mobile than the whole of the digital topic, but I have a reason for still heading it digital which I'll get to. You might think I should have included AOL which was launched in February 1991, but that time of various, specific on-line services which I logged on to through my modem has come and gone. Actually I rather miss that modem connection noise. I could have included Netscape, originally founded as Mosaic Communications Corporation on April 4, 1994, and that period of the first browser war in the early to mid 90s. I could also have included Groupware, or a variety of instant messenger services and IRC. There's no doubt that Internet Relay Chat and those other communication mechanisms had a huge influence on all that followed. I could also have included SixDegrees from 1997, or Friendster from 2002, or MySpace from 2003 or Bebo from 2005. These early social networking sites were important at a moment in time, but no longer.
I decided to underpin my diagram with web based Forums and BBS (bulletin board services) — there are a variety of platforms still in use and they are still a crucial part of the social media world, with particular online spaces for particular online topics having significance for a particular audience. The 20 years is framed by the publication of Nicholas Negreponte's book Being Digital. He talked about the World going digital and the shift from moving atoms to moving bits. Then I wanted to include all of the social network and messaging services, video and photo sharing sites that are still in regular use by a lot of people. I also added in two key events in mobile, when Apple came in and changed the game for all of us.
Ward Cunningham started the first wiki in March 1995 and from that point we have been collaboratively creating documents together in all sorts of wiki implementations. Much more efficient than emailing a copy of the document to a group of people and ending up with multiple versions. Blogging had started in 1994 with online journal, but it was John Barger who created the portmanteau word Weblog in December 1997, with Peter Merholz using Blog as both a noun and a verb in April 1999. Wikipedia opened up in January 2001, and although it's got plenty of criticism over the years, it is now the World's credible, crowd sourced, reference encyclopaedia. There are plenty of blogging platforms but WordPress was first released May 2003. It has become a content management system as well as a blog platform and 23.3% of the top 10 million websites use it as of January 2015. Depending on your country there are a variety of professional social network sites to help you make business connections, but LinkedIn is the best known in the UK, the USA and many territories — that started in May 2003 also. Skype, which revolutionised International telephony as well as providing many people's "go to" instant message and on-line meeting vehicle started in August 2003. The photo storing and sharing site Flickr opened its doors in February 2004 and was soon acquired by Yahoo. There are plenty of others, but Flickr still has a large following. I do love the movie The Social Network, as I'm an Aaron Sorkin fan. That tells the story of Facebook, which started February 2004. YouTube actually started life as a video dating site, but the founders quickly realised that the movie storing and sharing service they had was exactly what we all needed as our smart phones and low cost digital cameras were taking more and more video that needed a home. Then to Twitter. As I explained at the start, the first tweet was in March 2006 — it started life as a side project within Odeo, but Twitter really took off in March 2007 and only became a company in its own right in April 2007. Microblogging came in to being, and many of us started to think in sentences of 140 characters or less.
We had a whole variety of smart phones and Blackberrys during the early part of the 21st Century, but in January 2007 Steve Jobs stood up and redefined the market with the iPhone. From that point on the World really started to go mobile. Tumblr, the cool microblogging and social network service started in February 2007. At around the same time there were others like Jaiku or my particular favourite Posterous, but Tumblr was the one that survived and got a mass of users. The WhatsApp group messaging app started in February 2009. A while later we got hooked on pinning lists of photos and images on Pinterest in March 2010. And then Apple shifted the ground again — we'd had unsuccessful tablet computing offerings over many years, failures that even included an earlier Apple product too, but they took their iPhone operating system as the basis for the iPad and mobile computing took another leap forward again in April 2010. Then Instagram, a simple app for sharing photos on your mobile phone, came in to being in October 2010. By April 2012 they had over 100 million users and was acquired by Facebook for $1Bn! SnapChat the ephemeral photo messaging application used by my kids, their friends, millennials and more launched in July 2011.
Now that's where my chart ends (or did I run out of space?). Actually although there are cool things like Slack or Medium that have started to get traction and should maybe be on the chart soon, but there aren't any recent products that are as mainstream or as widely accepted in use as those listed. One of the key messages in this story is that so much of our social media and mobile communications fabric, for both consumers and business, is based on products that have only been in existence for 10 or 11 years. We are living in a World gone social and mobile, and that underpins a significant part of the digital enterprise wave that is changing everything — the social media and mobile components are a key part of the digital shift and that's why digital is there in the title. But a lot of the use of these products is about attitude more than technology. I took this Pew Research questionnaire and scored 51 and so ignoring the fact that my age says that I'm supposed to be a Boomer, my attitudes fall somewhere between Generation X and a Millennial — I'm a social media and mobile geek (or a bit of a kid) and proud of it.
(first posted on Medium.com/@DT)
(Cross-posted @ David Terrar on Medium)