The announcement last week of Amazon's new EC2 Spot Instances was more than just another move considerably ahead of the rest of the industry by that forward-looking cloud computing leader. Spot Instances also heralds the beginnings of a real trading market for cloud computing resources of all kinds, whether that is storage, support services, real compute power, or even human capital (as in on-demand crowdsourcing.)
Up until now — indeed, still today except for Amazon — you basically had to pay fixed "retail" amounts according to the publicly posted prices from a bulk vendor or refer to the the rates listed in your negotiated contract with a private supplier. Now in the new spot market (live price ticker here) you can just look at the current price of unused cloud capacity and if your bid is the highest, it's all yours. Of course, this is only available in Amazon's cloud at the moment and it's just for EC2, their compute cloud. But you can count on this expanding to their other services as well and for competitors to respond, which is where it gets a lot more interesting.
Admittedly, the days of the fixed price retail cloud are far from over. It will take a while to grow broader interest in treating the unused and available portions of the cloud as a commodity. It might even take longer for buyers to start thinking of compute resources in all its forms as an instantaneous product to consume, something that up until now still looked more like long-term fixed investments in 3rd party pooled resources than rapidly fluctuating units of exchange with highly dynamic value and price.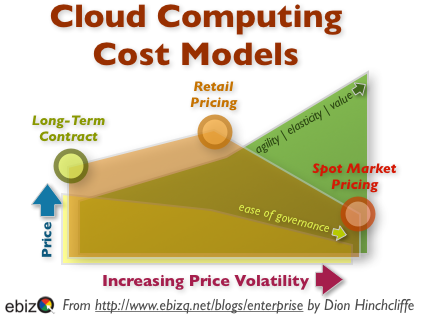 But if the long history of markets for in-demand items is any indicator — and make no mistake, the endless need for additional compute resources by businesses certainly qualifies — it won't take long for customers to catch-on that real value is to be had when pricing is tied more closely to what cloud resources are actually worth at any given time.
A related question to commodity cloud pricing is whether this is just an accounting novelty, likely to appeal to the corporate balance sheet alone, or whether the push to commoditize the pricing of cloud computing resources is itself fundamentally strategic to enterprise computing. Can a true cloud computing market also enable technical innovations and new approaches to business for example? I currently believe that all of this is the case, for reasons that we'll explore shortly…