In the first of this two-part series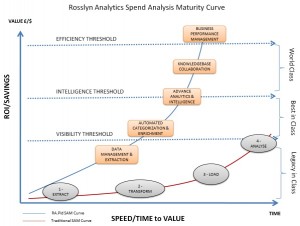 on the new enterprise spend analysis product from Rosslyn Analytics, I tackled some of its spend visibility basics, such as how does the solution handle data, acquisition/management, enrichment, and basic spend queries. In this second and final part of the series, I'll focus on what makes this solution stand out from a crowded field of spend analysis players. But before we get into specifics, it's worth restating (as Rosslyn articulated to me to me earlier in the month, and as other competitors in the sector also have told me of late) that the current and recent deal environment has been very strong. My own intelligence confirms this. So what's clear is that the overall pie slice of the spend analysis market is growing at a rate that is significantly above and beyond that of what industry analysts predicted. In fact, I'd wager than in 2010 we could easily see an overall sector CAGR exceeding 25% (potentially 50%, if you factor in some of the new capabilities, services, and content that spend analysis providers are bringing to bear, which don't necessarily fit how we've come to define spend visibility tools in the past). Which brings me to some of the areas that make Rosslyn Analytics jump out from the pack.
Consider, for example, the relative ease with which you can analyze payment-related terms, activities, and strategies with its solution. Rosslyn's toolset allows users to input their cost of capital, interest rates, etc. along with receivables maturity terms (both per individual invoice as well as by vendor, if different) and model various scenarios through impact analyses that might be most advantageous to the business without adversely impacting all of a company's supplier relationships. For example, based on analyses like these, a company might be able to improve its working-capital situation sufficiently by extending payment terms to only a subset of suppliers that meet a certain set of criteria. Rosslyn also enables users to easily spot any past deviation from agreed-upon payment terms (both early and late payments). Similarly, users may take advantage of Rosslyn's dashboard view of payment data to view the total number of transactions with a given supplier. Using this information, an organization might, for instance, push suppliers who meet a predefined threshold toward a comprehensive e-invoicing approach vs. an offline or scan/capture model. Rosslyn provides this information in both an easily navigable, graphical spreadsheet/pivot table-like environment as well as in straightforward graphical charting. Companies can also set up predefined triggers and alerts based on contract values, existing payment terms, discounts, etc.