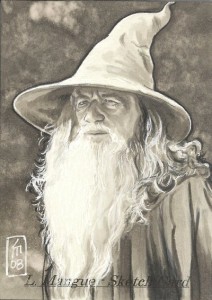 What will a thriving procurement function look like over the next five or so years? I'd like to begin a dialogue here on this blog, hoping that a number of people can share their perspectives on what a thriving procurement function helps to make happen. We can then synthesize these perspectives into material on which procurement professionals can act. Ideally, we'll get groups of people building on each others' ideas in live online sessions, but to start things off, I figured I'd reflect here on the work of a couple of procurement professionals who know how to get the attention and support of the CEO and other C-level officers.
I was fortunate to have worked for the visionary Willie Deese in the world-class procurement program he created while SVP of Procurement at GlaxoSmithKline. His strategy was multi-pronged, and included: substantial investment in the global development of strategic procurement professionals; robust investment in leading-edge technology; clear strategy, communicated frequently; stakeholder engagement in sourcing teams; waves of savings campaigns; and, last but not least, savings tracking that demonstrated financial impact to senior management.
While all of these strategic elements were important, I'll focus here on those directly related to the financial goals of top management. Over several years, Willie repeatedly put himself on the line by committing to financial contributions to the bottom line. His organization consistently over-delivered, to the point that the division presidents and CEO baked procurement's contributions into their budgets. I believe that it was his clearly defined and measured financial contributions that gave Willie the ear and the support of the CEO, and the reason he received millions in investment capital for his procurement program. It's no accident that Willie subsequently went on to become President of Merck's manufacturing division, breaking the glass ceiling of CPOs and making it into the "C-Suite."
Another transformative procurement executive I've gotten to know is Bob Rudzki, former CPO at Bayer, now president of Greybeard Advisors, a consulting firm specializing in procurement transformation and strategic sourcing. Bob has focused on many of the things Willie did, and since he was originally a "finance guy," he understands many of the financial drivers and concerns of corporate officers: to satisfy investors/Wall Street; to grow revenues and profits sustainably; to minimize earnings volatility and risk; to improve return on invested capital (ROIC); and to create a business model that is difficult to copy. According to Bob, "One of the best kept secrets in the business world is that advanced procurement and supply management can impact all of these senior management objectives — simultaneously."
Bob has made some impressive calculations on the contribution that strategic procurement can make to both the bottom line and ROIC. I'm simplifying things here, but if a firm with $25 billion in revenues, $15 billion in purchased goods and services (60% of revenue), and $800 million in profits were to save 5% on its supplier spend (5% x 15 B = $750 million savings), it could roughly double its profits and its ROIC (click here for full details). Now, that should start to get the attention of CEOs and CFOs! Bob shows how procurement can build a business case for why it should be treated as a strategic partner that brings competitive advantage. This business case isn't just about costs, though; it includes early collaboration with suppliers to drive product/service innovation and quicker launches, and driving greater sales of existing offerings as the result of a responsive supply chain. Bob's ability to communicate in the language of the executive suite enables him to help procurement departments capture the attention of senior executives — the vital first step in gaining their support for a successful transformation.
To be sure, a procurement-transformation program requires about ten key elements, but demonstrating what the financial impact of procurement could be is a key driver to giving you the support for getting these other elements in place.
Please share your ideas on something you feel is critical to a thriving procurement function over the next five years.