Curious – arousing or exciting speculation, interest, or attention through being inexplicable or highly unusual; odd; strange: a curious sort of person; a curious scene.

Novel – "new, strange, unusual," c.1420, but little used before 1600, from M.Fr. novel "new, fresh, recent" (Fr. nouveau, fem. nouvelle), from O.Fr., from L. novellus "new, young, recent," dim. of novus "new"
Overview
As often happens when I feel like I'm not writing enough, I've started noticing different and new ways people have attacked the task of writing online. Looking around this winter, I've come across a couple interesting formats for writing: US Senate briefings, sprawling notes, blog-articles, ongoing drafts & brain dumps, marginalia, and others. Each format tends to effect both the technical aspect of delivery, and the actual content, if not just way of ideas. It's both medium and message.
Motivation
Novel formats are key to motivating me to write; and I'm always looking for motivation. For as long as I can remember, I was obsesses with office supplies, papers, and notebooks. I wasn't sure what to do with them – publish, it'd seem – but I had something of a fetish for them. Once BBSes and the web came along, that something was quick and easy to figure out: first asynchronous communications via text (chat in forums), then web pages, then blogs, podcasts, Twitter, and whatnot.
Currently, I'm concerned with motivating myself to do more of all sorts of writing: for both the tech-world stuff I do here, but also for the "civilian" world that doesn't really give a crap about "computers." As such, I've been making a mental list of some interesting formats for writing. A little treatment of each follows.
US Senate Briefing
While reading Chris Nakashima-Brown's "Tora Bora and the case of the disappearing necromancer," I came across the equally fantastic Tora Bora Revisited: How We Failed To Get Bin Laden And Why It Matters Today report from the US Senate Foreign Relations Committee. Now, this report is a PDF, so web-purists might balk. But if you look at the formatting, layout, and even more important, the style of writing, it's all over beautiful and, thus, highly motivating. It makes me want to write documents like the report.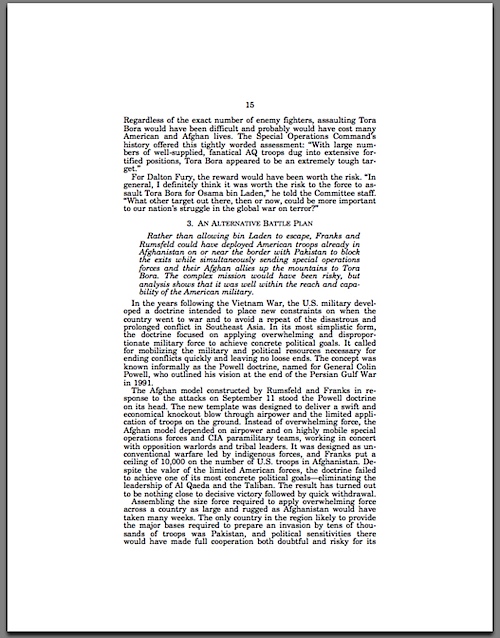 The formatting is pretty text-book: an executive summary, different sections, but then there's also some little editorial surprises like section headings here and there. In the appendix, there's a pleasant mixture of "multi-media," screen shots, charts, and graphs that nicely stand-out from the super-clean formatting and prose in the main part of the document.
Aside from the obvious template for the document, the writing style is very tight (not wordy) and direct. No doubt, this is targeted at people who're not actually going to read the whole thing and esp. don't have time for writing that take a lot of time to think about. In addition to the writing, the executive summary (of the entire document) helps here, as do the section summaries.
The "get down to business" writing style is what I like most about the format. And, it looks damn fine as well. You can see me playing around with it (though with bullet points, which the Senate report format seems to avoid) in my RedMonk piece on new platforms from last year.
Sprawling Notes
As Paul Kedrosky puts it, Nassim Nicholas Taleb maintains a curious "non-blog blog." It's a rough, sprawling, well, notebook with numbered sections just talking about this and that. Taleb describes it as his "Philosophical Notebook (old-style footnotes for my work in progress)."
Looking at the headers, he just generates it from Word of OpenOffice, which is fantastically simple: just a big file he converts to old-school HTML then slaps up on his website. I've always been too much of an HTML purist (I tend to write "natively" in HTML) to do this kind of thing, but I love it when I see it. His main page is equally lo-fi chic.
Aesthetically, then, the roughness of this is appealing. You can imagine Taleb sitting there, typing in a big ass Word document, and just clicking "Save to Web" (or whatever). It's kind of like off-roading on the web. Stylistically, the spattering of "thinking out loud" topics covered are fun, and the mix of different languages makes you feel like you're exploring a web wunderkammer. Which, actually, is the aesthetic feel as well: a wonderful junk box where you come across unpredictable content, usually in short chunks. Content wise, most of the text is original or unique to the sprawling notes: there's very little, if any reference to the rest of the web. In that sense, it's both prime mover (to be quoted and built on) and cul-de-sac (a restful dead-end).
This is the kind of thing I'd like to be able to do with my pubic Evernote notebook, but it doesn't really fit that way, since I use the notebook more for ongoing drafts (see below), and rarely for that. Tumble blogs are kind of like this, but the content is usually not at all original. My rare "hand-blogging" is a lo-fi version of this lo-fi format. Of all the formats, I think this is the one that would encourage the most writing: it just takes sacrificing the finished content silos – my two blogs – for slapping content into this format.
I've noticed some interesting use of public Google Docs along these lines of late. Notably Josh Jones-Dilworth's life plan and bio pages, which I think are fantastic if form, content, and intention. I can't think of other example right now, but published Google Docs (and I expect Zoho or even Acrobat.com) pages are interesting approach to this format.
"blogazine"
As Paddy Donnelly puts it in the Smashing Magazine piece on this form:
Let's face it: the classic blog post is boring.

Barring the text and images, each one generally has the exact same layout. We see little originality from one post to the next. Of course, consistency and branding are extremely important to consider when designing a website or blog, but what about individuality? Does a blog post about kittens deserve the same layout as one about CSS hacks?

[Instead, blogaziners do this:] Designing a creative layout for each new blog post, based on the content itself, requires skill, patience, dedication to the content and, most of all, effort on the part of the designer!
This one is out of my hands to produce, but they're lovely to read and interact with. The fine design typically drives design-centric content, with the prime example being the ever beautiful yet searing pieces from Dustin Curtis.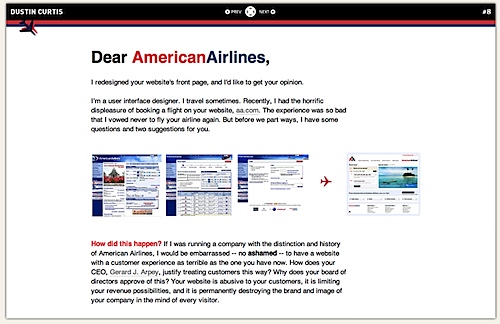 As one commentator for the above article put it …