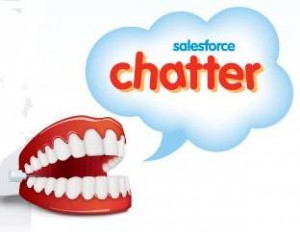 A month ago on Monday 7 December I was sitting in the London version of the CloudForce2 Partner Summit, and then stricken by a virus overnight, I watched Marc Benioff livestreamed for the 2 hours and 15 minutes of his keynote in the general customer session on the following day.   It sounds like he did a shorter, sharper version than his reported performance at the big Dreamforce show in San Francisco where 19,000 attended.  I've been re-acquainting myself with the Salesforce story, and considering whether my company and our Twinfield colleagues should become part of their partner ecosystem.   The combination of Force.com platform, combined with Salesforce applications, and partner applications makes a strong story.  Benioff was emphasizing companies like FinancialForce.com and Jobpartners who have developed their applications natively using their Cloud technology.  However, the big announcement was their new "Twitter and Facebook" style micro-blogging product and the addition of the Chatter Cloud, alongside the Sales Cloud, Service Cloud and Custom Cloud in their presentations and messaging.    I'm impressed by the functionality and the potential, but I have some reservations, and I can't help feeling they've got the branding all wrong……  Sales – Service – Custom – Chatter!
Like many people I've been suggesting for some time that micro-blogging functionality will begin to become an integral part of collaboration and enterprise applications in the near term.  We've seen the major enterprise 2.0 players add Twitter style functionality in to the product, or at least their roadmaps.   Some while back Salesforce acquired products like Koral, which became Salesforce Content, and Crispy, which became Salesforce Ideas.  I was worried that they had disappeared without much trace, but one of the demos in Marc's keynote showed their service Cloud functionality with Content and Chatter for internal collaboration, and then reaching out externally with Twitter for Salesforce to monitor the external stream for product mentions – impressive stuff.  You get a flavour of what Chatter functionality can do with the video below, where people, content and applications provide Chatter  profiles, status feeds and groups.  I believe this move is of real significance, where an enterprise player like Salesforce adds real time collaboration around business processes.  Like Dennis's ZDNet post yesterday, I agree that enterprise 2.0 functionality begins to make sense and add value when it can do more than ad-hoc help, and so directly support existing processes.  Other tools like ESME or Yammer have been available and could be incorporated in to some form of business "mashup".  But for me, the key is that that this collaboration functionality is available within the same platform environment, available for use by any of the standard or partner applications, and then the Force.com is there to build out what additional process steps that may be required to complete or track the particular task – it is the integrated nature of business process, collaboration tools and the development platform to extend functionality, but all working together and properly supported by the Salesforce Cloud environment as new releases  of the individual components come on stream.  For someone who has been used to traditional software and minimising the amount of bespoke and integration on the grounds of cost and on-going maintenance, it is this combination of easy integration, extension AND support that makes the difference.  I sat there getting very excited by the possibilities, and it is no surprise to me that NetSuite made a similar announcement shortly afterwards.  The other players will need to follow this lead.
Here is that Chatter overview:

So although I think this is a great addition to the Salesforce story, I don't see Chatter as a particularly enterprise friendly sub-brand name, and surely they should be talking Collaboration Cloud and not Chatter Cloud (although I see the site has been updated so that it says collaboration cloud under chatter now).  However, I also believe this is one of the strands that will ensure enterprise 2.0 solutions start to come of age in 2010 and work with existing processes rather than being a separated category of tools working alongside or asynchronously with the a companies conventional systems and ERP.