Today's pace of change is causing many CMOs to struggle in the design of compelling customer interactions. As consumers demand more and more engaging omnichannel experiences, CMOs must add another arrow to their marketing quiver — the ability to deploy multiple and compelling channel-native experiences.
While we've been creating digital channels for quite some time, enterprises still struggle with delivering consistency (don't make me learn new paradigms of interaction) and contextualization (don't make me repeat myself as I move within a channel or when I move cross-channels). How many times have you, as a consumer, been asked to repeat problem statements when engaging with a brand? And how many brands can claim to deliver a highly consistent customer experience (Cx) across channels?
Many CMOs ask me where to begin when developing an omnichannel design. My response is "how will your brand express itself via any one particular channel?" Begin with developing a consistent brand expression across channels. To do this, CMOs must create a red thread that ties together the brand, the omnichannel design and channel-specific engagement strategies.
Begin with Branding
Branding must completely infuse your omnichannel design. The consumer's experience of your brand across channels is the cornerstone of a compelling and effective omnichannel design.
The foundation of effective omnichannel design is a clear branding strategy across the key brand elements – aspiration, position, promise, experience, attributes and messaging. Of course, this must be followed by a compelling creative concept that activates the brand to drive awareness and demand and overall engagement with consumers.
Assuming you have a branded foundation…now what?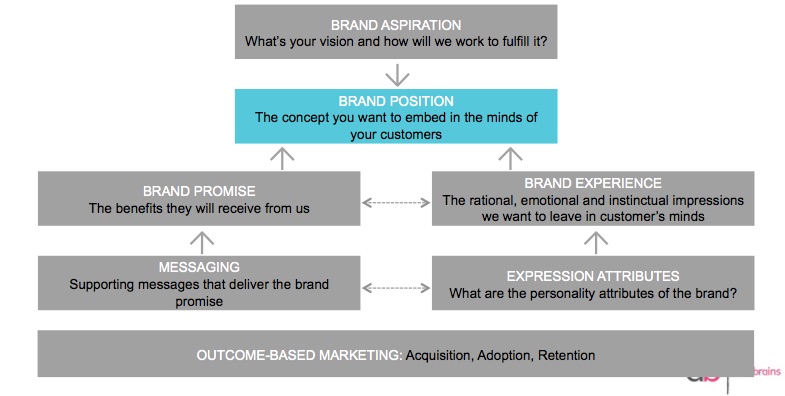 Enter Design
Design is the method by which branding converges with omnichannel deployment. A superb omnichannel experience is the humble servant of fine tuned engagement and great functionality, and the brand identity must live in the visual details, the interactivity and usability that make up each channel. Brand and omnichannel converge via design. Your brand's identity is expressed through a compelling customer experience that is both consistent and contextualized.
It's also incumbent upon CMOs to extend brand guidelines beyond routes to market – to encompass the product and service as well. Why? Because today's consumers expect the product and channel to co-exist. Engagement and product usage go hand in hand. They want to use the product and have direct connection to the brand simultaneously. In leveraging design to drive the development of your channels, the brand identity should guide interface designers to develop experiences that delight, inform and meet standards for consistency and contextualization.
These interfaces need to express and utilize what I call Iconic Implicature (related to the semantic notion of conversational implicature) – a sense of intuitiveness that occurs just by looking at the representations in an interface. This intuitiveness should also deliver a timeless quality to the brand; a sense of constancy that users can count on so that the digital persona of the brand is a comfortable friend, not a stranger.
The CMO Takeaway
Developing brand and design standards that easily translate across channels is essential for a sustainable omnichannel deployment. Great design drives users to be more engaged with brands and should also guide the product development strategy. Since today's products actually co-exist with engagement channels the product delight factor is more important than ever.
Successful omnichannel deployment depends on a comprehensive Experience Strategy that incorporates both brand and design and is applied equally to the channels consumers inhabit as well as the products they consume from your organization.
Related articles