What if I told you that conscious perceptions of the world are worthless? And that emotion and instinct rule our behaviors. Unfortunately for most marketers, we spend our time trying to affect conscious thought because we can easily relate to it.
As data-driven CMO's we seek answers to questions about our customers using tools such as segmentation, persona development, and predictive analytics to identify and reach the consumer who is ready to buy. But we rarely ask ourselves, how are decisions truly made? What truly motivates a person to buy?
And if we do ask these questions, we typically focus on answers that are based on the rational thoughts a buyer has – in B2B situations we look to solve the business needs or pains of the consumer. In B2C environments, while marketers get closer to non-rational elements of the buying process (i.e. using a sexy model to make a car more attractive to a male buyer), we also tend to focus on what people think rather than what they feel. And even if we do focus on what they feel, rarely if ever do we make an appeal to their non-conscious self.
These are the questions that CMO's and their teams need to ask. They must figure out how to speak to the different brains within each of us as these brains have fundamentally different ways of reaching decisions and motivating a person to buy.
Yeah, different brains.
Back in the day, we used to think the act of buying was a fairly logical process. We believed that a product engaged the attention of our customers through the information we offered about it and then those customers would go through some sort of buying process and decide to buy or not. But now we know better.
The three-brain experience a customer has with a brand is one of the most illogical aspects of marketing. We engage with brands on three levels (1) the rational (conscious activity), (2) emotional and (3) instinctual (mostly non-conscious). And these three categories of thought are roughly located in different areas of the brain. The degree to which a brand satisfies these three brains – is the degree to which we have an affinity for it—and want to consume its products and services.
I love shopping at The Banana Republic. When I walk into the store, I admire the design of the store layout. I feel good in the store. It appeals to my emotional side. Then I try on a pair of jeans, and typically say, "wow, I look great in these jeans!"
So–first an emotional appeal to buy the jeans, coupled with an instinctual reaction – the desire to look attractive to my wife, then I check out the price and the rational brain kicks in – "Can I afford these pants?"
As a buyer, I weigh all three aspects of the brand experience… the rational, emotional and instinctual and then I decide whether to purchase or not. Sound about right? At one time I thought so, but am I really weighing all three aspects of the brand experience rationally? Or do I just think I am? Do my non-conscious thoughts influence my perceptions of these three brain arguments? Indeed, they do as discussed in this post. Think about your emotions and instincts – they don't always operate at a rational level. You don't think, "I'm scared. I think I will run away now." You just do it. You feel the emotion and your instincts kick in and you run.
The rational, emotional and instinctual are three very different thought processes that are both separate from one another, as well as, integrated with one another. And to be clear, these areas do a lot mo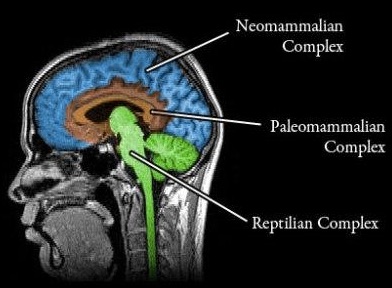 re than just what we're speaking about here but let's focus on these key elements. These thought categories are influenced by different interactions among these areas so it's important to have an understanding of which does what, so you can fine tune your marketing strategies to speak to these different thought processes:
The human (neomammalian) brain- where rational thought resides.
The mammalian brain, also known as paleomammalian brain, where functions such as control over our visual and auditory input, movement, and the limbic system – the seat of emotion can be found.
And the oldest – reptilian brain, where decisions to act based on instinct and input from the other brains resides.
This "triune brain" model has been challenged as our knowledge of the brain has evolved but for purposes of what we are trying to achieve as marketers it fits very well (and my apologies to all the neuroscientists out there for any inaccuracies in this post).   For instance the "reptilian core" does more than just "reptilian" behaviors, it plays a crucial role in action selection at all levels. The "limbic system" is more diffuse than first thought and other structures play a role in emotion – but the notion of an emotional thought system still holds true.
The Human Brain
The human brain is responsible for a variety of functions including receiving and processing sensory information, thinking, perceiving, producing and understanding language, and controlling motor function. Our ability to think, to rationalize, to use logical thinking resides here. It's the youngest area of our brain from an evolutionary perspective – about 80,000 years old. Seems like a long time but in evolutionary terms it's just a blink of an eye. And because the reptilian brain has had five million years to hang out and develop – this non-conscious part of us is much more powerful, holds more sway over us than we give it credit for and is something that is normally lost on us marketers.
The Mammalian Brain
The mammalian brain contains the seat of emotion and bonding – the Limbic system. When a child is attaching to a parent, it's the Limbic system that's highly active.  The stronger the emotional charge connected to a perception (read: brand), the stronger that memory is and the quicker a person can retain and retrieve that information.
The mammalian brain is also one of the primary areas where dopamine is produced. Dopamine plays a vital role in motivation and reward. Our pleasure centers are driven by dopamine, as are our movement centers. A lack of dopamine can lead to conditions such as Parkinson's disease. This is our Happiness Machine.
The Reptilian Brain
Our vital bodily processes – stuff we don't think about are governed by this part of the brain. The reptilian brain manages our instincts, our autonomic bodily functions such as digestion, coughing, sneezing, equilibrium, swallowing, dilation of blood vessels and breathing to name just a few.
The CMO Takeaway
You know how your heart races when you see some one you are attracted to? Well that's a hard-wired response that sits in your emotional and instinctual thought centers and connects nerves, adrenaline and your heart – and you can't help yourself – it just happens. This is one of the responses that great marketing drives – the engagement of the non-conscious/non-rational via emotion and instinct.
CMO's much consciously shift their rational, logical attention away from what they believe customers are thinking and focus on what they are feeling and experiencing.