Dion Hinchcliffe



VP and Principal Analyst at Constellation Research. Dion focuses on the topics of digital engagement, customer experience, enterprise collaboration, digital workplace, digital transformation, social business, Service-Oriented Architecture (SOA), open business models, and next-generation enterprises. His thought leadership can be found on ZDNet, On Web Strategy, Constellation Research, ebizQ.
By Dion Hinchcliffe on May 7, 2020
It is a remarkable time in this particular moment in human history, where most organizations have become almost entirely distributed, yet for the first time still remain largely functional. We can thank a combination of three modern advances for this, which have never been available to us before at their current level of maturity. Namely, […]
Posted in Business, Featured Posts, Trends & Concepts

By Dion Hinchcliffe on April 15, 2020
The current outbreak of COVID-19 is stress testing our institutions, infrastructure, governments, and societies more than any event in most of our lifetimes. We have to go all the way back to the two World Wars to find similar precedents. Yet, as our businesses and personal lives are profoundly impacted, some of us can also […]
Posted in Business, Featured Posts, Trends & Concepts | Tagged Analysis, CHRO, CIO, Communities, COVID-19, crisis management, CSR, Digital Transformation, Digital Workplace, economy, employement, future of work, jobs, social business, The Enterprise, The Future of Work
By Dion Hinchcliffe on March 19, 2020
Looking back at it from the vantage point of the current coronavirus pandemic, it's clear now that most organizations missed a golden opportunity about five to seven years ago. This was the height of industry discussion around and worldwide business implementation of enterprise social networks, a leading form of internal online community. Known in shorthand […]
Posted in Business, Featured Posts, Technology / Software

By Dion Hinchcliffe on March 2, 2020
While each of us certainly hopes that coronavirus won't become a major health event in their part of the world, the reality is that businesses are already considering every contingency plan with a close eye towards avoiding serious disruption of their operations. Remote working, or the practice of working for an extended period outside the […]
Posted in Featured Posts, Technology / Software | Tagged Coronavirus, COVID-19
By Dion Hinchcliffe on September 14, 2018
As an industry, we have collectively returned to that eternal debate about what constitutes a largely technical evolution versus when an important digital idea becomes a full-blown business trend. This has happened before with Web sites, e-commerce, mobile applications, social media, and other well-known advances. It can be hard to remember that at first these […]
Posted in Featured Posts | Tagged APIs, business strategy, CDO, CIO, ecosystem, Enterprise architecture, microservices, platform

By Dion Hinchcliffe on October 12, 2016
The ambitious tech company's cloud offerings have expanded in numerous dimensions over the last few years, from community and analytics to Internet of Things and most recently artificial intelligence. Where will the Salesforce platform and ecosystem ultimately end up taking its customers?
Posted in Business, Featured Posts, Technology / Software | Tagged #df16

By Dion Hinchcliffe on April 28, 2015
The vast majority of top executives in the world's leading organizations now believe that achieving digital transformation has become critical to their organizations for growth, sustainability, and even survivability according to an authoritative and widely respected survey by the MIT Sloan School of Management. The reasons for this are clear, as similar studies have shown […]
Posted in Featured Posts, Trends & Concepts | Tagged Board of Directors, Digital Transformation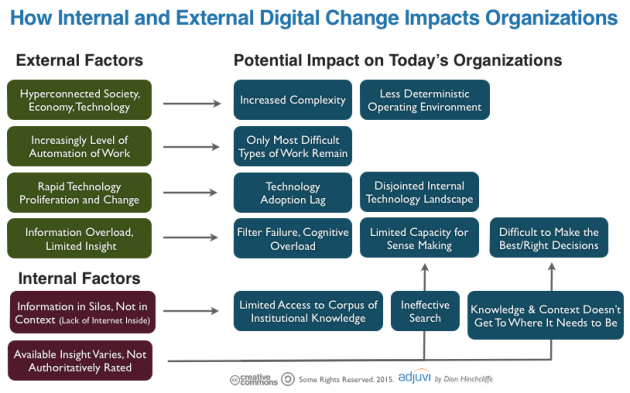 By Dion Hinchcliffe on February 17, 2015
As I spend a great deal of time every year looking at the latest technological advances for the enterprise, I've noticed a trend in recent years that's long been true but is clearly markedly accelerating. That trend is that technology has officially pulled well ahead of the workplace skills of even the most proactive manager […]
Posted in Business, Featured Posts, Trends & Concepts | Tagged Analysis, Crowdsourcing, peer production, social business, social collaboration, strategy, The Enterprise, The Future of Work | 4 Responses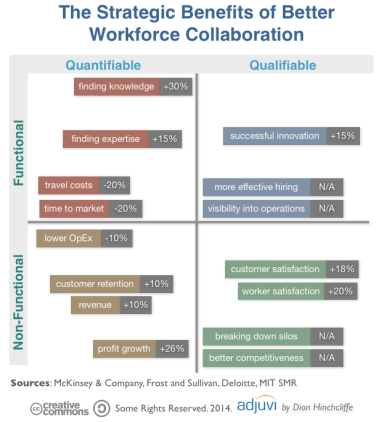 By Dion Hinchcliffe on February 5, 2015
Recently, I had the need to gather our latest research from research, clients, and case studies on the established performance of social business for the Future of Work master class I delivered in Paris at Enterprise 2.0 SUMMIT 2015 this week. The intent was to answer this question: What specifically is the business value in […]
Posted in Business, Featured Posts | Tagged Analysis, social business, social collaboration, strategy, The Enterprise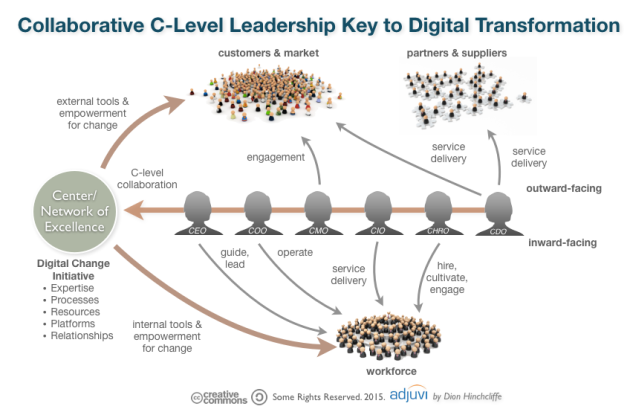 By Dion Hinchcliffe on January 16, 2015
2015 marks ten years in which I've been working in the trenches with organizations at a leadership level to drive some form of major change that intertwines technology, networks, and people. Back in the early days it consisted mostly of the novel and heady topics of the Web 2.0 revolution. As things matured and the […]
Posted in Business, Featured Posts | Tagged Analysis, social business, strategy, The Enterprise | 2 Responses