Sameer Patel



CEO at Kahuna, a cross-channel marketing automation platform that uses artificial intelligence to engage and convert consumers on the right device at the right time. Kahuna is trusted by modern digital products such as Dollar Shave Club, Yelp, GoPro and others. Prior to Kahuna, Sameer was SVP for Enterprise Social and Collaborative Software in SAP/ SuccessFactors cloud business unit. Sameer has been cited in publications such as CNBC Business, The New York Times, CIO.com and Forbes on high performing organizations, leadership, and trends in enterprise software.
By Sameer Patel on January 14, 2015
So, Ingrid Lunden at TechCrunch announced that Facebook has finally entered the world of work. As far as the consumer market goes, think about it. Facebook is worth 212 billion dollars by having a strong hold on your actions, interests, and preferences from 5pm to 9am and some fraction of your work day. If only it could […]
Posted in Featured Posts, Technology / Software | Tagged Customer Interaction and SocialCRM, Enterprise and Social Sofware, Facebook, Facebook @work, microsoft, sap, SAP Jam, Social network, yammer
By Sameer Patel on January 5, 2015
I have a deep aversion to the word disruption. Mostly because in the context of innovation in technology, it's carelessly used to invoke sensationalism that just ends up blurring the lines between baby and bath water. We saw this movie before with Facebook-esq Social Business where the use of the term 'disruptive' in the media […]
Posted in Featured Posts, Technology / Software | Tagged Digital Transformation, digital wallett, disruption, last mile, Management, mobile enterprise, Online Communities, Product Management, supply chain
By Sameer Patel on December 1, 2014
Whilst technology has significantly brought costs of production and distribution down, for consumers or businesses the cost of goods we procure has remained as high as ever. But that's about to change. The systematic dismantling of unit cost economics of existing markets across many industries is now underway.
Posted in Business, Featured Posts | Tagged Digital Transformation, Elon Musk, Enterprise and Social Sofware, Management, Product Management, SaaS and Cloud, Tesla Motors | 1 Response
By Sameer Patel on October 16, 2014
The distinction between Geoffrey Moore's Systems of Record and Systems of Engagement concepts is a hot topic amongst organizational leaders today. A quick primer, courtesy Wikipedia: Whilst a system of record (SOR) is the authoritative data source for a given data element (e.g. CRM, ERP and Supply Chain Management), systems of engagement (SOE) "focus on people, not processes". Texting, Twitter, […]
Posted in Featured Posts, Technology / Software | Tagged Customer Experience, Customer Interaction and SocialCRM, Digital Transformation, Geoffrey Moore, Network of Record, Online Communities, Paul Greenberg

By Sameer Patel on October 6, 2014
Heading to the 17th annual HR Tech Conference in Vegas this coming week for a day. The Human Resources domain is becoming increasingly more important because for every line of business… …the world of recording transactions and expertise and performance and other metadata about work, and where work gets done will need to be increasingly […]
Posted in Business, Featured Posts | Tagged #hrtechconf, Collaborative HR Performance, Event Reviews, HRTech

By Sameer Patel on September 22, 2014
The wires seemed to be clogged with article over article about whether the CMO is more powerful than the CIO in the age of digital transformation when really, there is a far more foundational issue for CEOs to deal with and that's the role of product, and subsequently, what being a product manager entails, and the CEOs competency […]
Posted in Business, Featured Posts | Tagged Digital Transformation, Management, Product Management

By Sameer Patel on September 2, 2014
This past week was an immersive boot camp for me on the state of human capital management in India. I had the privilege of keynoting two events – TechHR 2014, India's first HR Tech Conference in Gurgaon, followed by HRConnect, SAP/ Successfactors regional HR conference in Mumbai and participating in a working dinner session with 18 CHRO's representing some […]
Posted in Featured Posts, Technology / Software | Tagged Collaborative HR Performance, Digital Transformation, Event Reviews, SaaS and Cloud, sap, speaking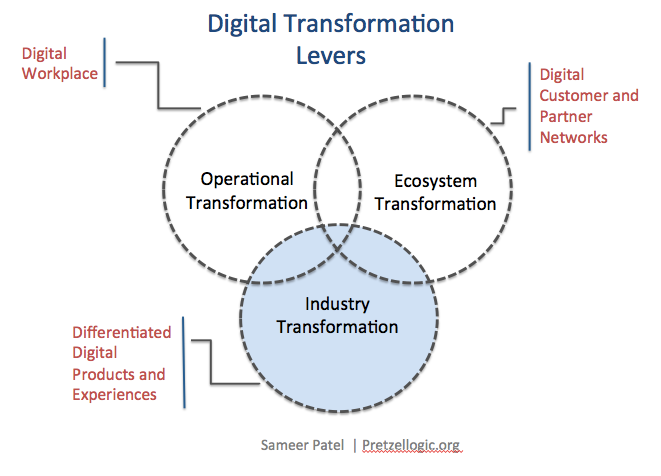 By Sameer Patel on August 3, 2014
With every innovation spurt comes a fresh call for Human Capital Management to stand up and secure its place at the strategic table. The emerging concept around Digital Transformation is no different. We've spent the last 50 years digitizing. Transformation is now underway. As I wrote in a previous post: "Travelocity changed how we purchase […]
Posted in Business | Tagged Collaborative HR Performance, Digital Transformation, Event Reviews, speaking | 2 Responses

By Sameer Patel on July 8, 2014
Following on the heels of our SAP Jam work patterns and developer platform release, I'm heading back to Sydney for customer meetings and two very interesting industry events/ get-togethers lined up. The broader area of discussion will be Cloud but as you might suspect the topic of digital transformation and future of work will get […]
Posted in Business | Tagged Digital Transformation, speaking

By Sameer Patel on July 7, 2014
Digital Transformation is real and is here. McKinsey & Co. has some excellent survey results on digital trends. Incredibly good insights. Exhibit 4 shows how the investment stacks up for digital initiatives. Not surprising that Big Data came in last. In and of it self it's too nebulous to be a stand out. But Big Data is […]
Posted in Featured Posts, Technology / Software | Tagged Collaborative Business Intelligence, Collaborative Organizations, Digital Transformation, Management