Zoli Erdos



Publisher / Editor @ CloudAve and Enterprise Irregulars. Industry Observer, Blogger, Startup Advisor, Program Chair @ SVASE (Silicon Valley Association of Startup Entrepreneurs). In his "prior life" spent 15 years immersed in the business of Enterprise Software, at management positions with SAP, IBM, Deloitte, KPMG and the like.

By Zoli Erdos on July 18, 2017
<rant> I have not blogged for a while, but I feel my blood is boiling at such an irresponsible call by MakeUseOf, a site I used to respect: It's Time to Drop LastPass: How to Migrate to a Better Password Manager As a long-time LastPass user, my first reaction was panic: yet another breach?  But […]
Posted in Technology / Software | Tagged lastpass, password managers | 1 Response

By Zoli Erdos on February 1, 2017
CRM Buyer has published their list of the Top 10 CRM blogs of 2016, and we're proud to find that 4 out of ten are authored by fellow Enterprise Irregulars.  Congratulations to Denis Pombriant, Paul Greenberg, Esteban Kolsky and Michael Fauscette! Excerpts from CRM Buyer's countdown: 10. Michael Fauscette After moving from IDC to G2 Crowd, Michael Fauscette continued to […]
Posted in Featured Posts, Trends & Concepts

By Zoli Erdos on May 8, 2015
Congratulations to fellow Enterprise Irregulars Jason Lemkin and Anshu Sharma on raising the new Fund, and to Anshu on joining Storm Ventures. Oh, and thanks for pimping the EI early in the video
Posted in Business | Tagged SaaS, startups, Storm Ventures, TechCrunch, vc funding, venture funding

By Zoli Erdos on December 17, 2013
They are too modest to promote themselves here, but three of our fellow EIs,  Naomi Bloom, Vinnie Mirchandani and Brian Sommer recently sat down for a lively discussion under the moniker Predict and Prepare for 2014, moderated by Bill Kutik and brought to you by Workday.  The video is now available online – enjoy! Finally, read […]
Posted in Business, Featured Posts, Trends & Concepts | Tagged #predict14, Bill Kutik, Brian Sommer, Naomi Bloom, Vinnie Mirchandani, workday | 1 Response

By Zoli Erdos on November 17, 2013
Last year I made a bit of fun of Oracle, picking on the symbolism in their closed, walled conference setup vs. the open festival-like environment at Salesforce.com's competing event.  Here's a little pictorial reminder: Dreamforce did not even feel like a conference, rather a Festival – Woodstock, Mardi Gras, SXSW – your pick.  Fun.  Contrast that to Oracle's […]
Posted in Trends & Concepts | Tagged #oow13, df13, Dreamforce, enterprise, Mardi Gras, oracle, Oracle OpenWorld, salesforce, salesforce.com

By Zoli Erdos on September 8, 2013
OK, I stole that title from Krish.  It's a telling title, almost as good as this one from Shakespeare: Much Ado about Nothing. Oh, and I really don't want to write about a logo.  Especially about a fugly one.  One that the entire world hates.  But what can I do, the world is abuzz with […]
Posted in Trends & Concepts | Tagged google, Humor, Just for fun, Logo, Yahoo
By Zoli Erdos on June 30, 2013
We have not adopted a new EI for a long while… but don't bother applying, we already have a  newcomer fill the vacancy.  She does not blog, and I am not sure about her analytical skills yet. In fact she does not even read or write.  She is just young and pretty.  See, how shallow […]
Posted in Trends & Concepts | Tagged baby, youngest ei | 3 Responses

By Zoli Erdos on June 4, 2013
Snapshot from today's TechMeme.  Crazy gamers (OMGPOP) dropped by even crazier gamers (Zynga) as they fall out of favor by even crazier gamers (the whole World). So what. On the very same day Salesforce.com acquires Exact Target in their largest ever transaction valued at $2.5B and it does not even make TechMeme.  Heck, even ActiveState's acquisition […]
Posted in Trends & Concepts | Tagged acquisitions, ActiveState, Appsecute, M&A, OMGPOP, salesforce.com, TechMeme, zynga

By Zoli Erdos on March 25, 2013
Fellow Enterprise Irregular and HfS Research Founder Phil Fersht introduced their new Blueprint with an appropriate title: Step aside Magic Quadrant, hello Blueprint. I think such a milestone warrants a historical overview of Gartner's Magic Quadrant, Hype Cycle, Magic Cycle, Magic Hype, Hyped Magik… or any other variation you prefer.  And since it's just a few […]
Posted in Trends & Concepts | Tagged Blueprint, gartner, Gartner MQ, HfS Research, Horses For Sources, Humor, Hype Cycle, Just for fun, Magic Quadrant, research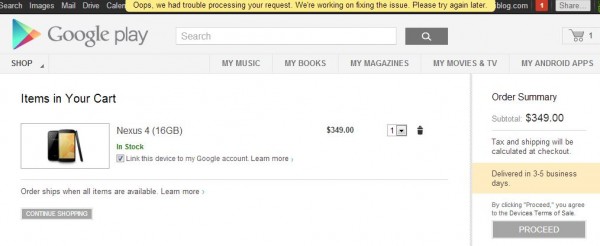 By Zoli Erdos on November 13, 2012
Now we know whey it's called Google PLAY. As it sure ain't no e-commerce site:-(
#FAIL.
Posted in Technology / Software | Tagged ECommerce, google, google crash, Google PLAY, Nexus 4, technology