By R "Ray" Wang on July 23, 2014
 Global Partnership Signals Expansive View Of Digital Business Disruption On July 15th, 2014 IBM's Ginni Rometty and Apple's Tim Cook announced in Cupertino, CA a strategic partnership to transform enterprise mobility (see Figure 1).  IBM has committed up to 100,000 employees to the initiative.  Apple has not disclosed its investment effort.  The announcement, made at […]
Posted in Business, Featured Posts | Tagged 2014, Alliances, analytics, apple, Apple Care, Apps Strategy, Big Data, Big Data Business Models, BigData, BPO, Business Models, business process outsourcing, CDO, CEO, Chief Customer Officer, Chief Digital Officer, Chief information officer, Chief Information Security Officer, Chief Security Officer, Chief Technology Officer, CIO, Cloud, Cloud Computing, CoIT, CoIT and the New CSuite, Constellation Research, CTO, customer service, Digital Business, Digital Disruption, Digital Strategy, Digital Transformation, DigitalBiz, digitaltransformation, disruptive business models, enterprise applications, enterprise apps, Enterprise apps strategy, enterprise software, enterprise strategy, ibm, IBM Global Business Services, IBM Global Services, IBM Mobile First, ibm software group, it Services, IT services firms, mobile, Mobile Biz, mobile device management, mobile enterprise, Mobile Management, Mobile OS, Mobile strategy, mobility, News Analysis, partner ecosystems, partners, partnerships, R "Ray" Wang;, rwang0, Software Insider, SoftwareInsider, strategy, vendor strategy | 1 Response

By R "Ray" Wang on May 3, 2014
Customers Celebrate Success With Customer Experience Management (CXM) Around 450 customer experience professionals gathered at the Fontainebleau Miami Beach resort at Clarabridge's Customer Connections Event April 28th to April 30th, 2014. The event brought together professionals passionate about best practices, trends, and techniques in improving customer experience management. Key customers at the event include major […]
Posted in Business | Tagged #c3Rocks14, 2014, acquisition, acquisitions, Alliances, analytics, Apps Strategy, Big Data, Big Data Business Models, BigData, CDO, CEO, Chief Customer Officer, Chief Digital Officer, Chief Marketing Officer, CIO, Clarabridge, CMO, Constellation Research, context, CRM, CustExp, Customer Experience, customer experience management, customer relationship management, customer service, Customer Support, CXM, CXO, CXP, Data to Decisions, Data2Decisions, Digital Business, Digital Marketing Transformation, Digital Strategy, Digital Transformation, DigitalBiz, digitaltransformation, disruptive technologies, Disruptive technology, enterprise applications, enterprise apps, Enterprise apps strategy, enterprise software, enterprise strategy, event report, feedback management, Market Metrix, mass personalization, Mass Personalization At Scale, partnerships, R "Ray" Wang;, rwang0, Software Insider, SoftwareInsider, Sysomos, user event, vendor strategy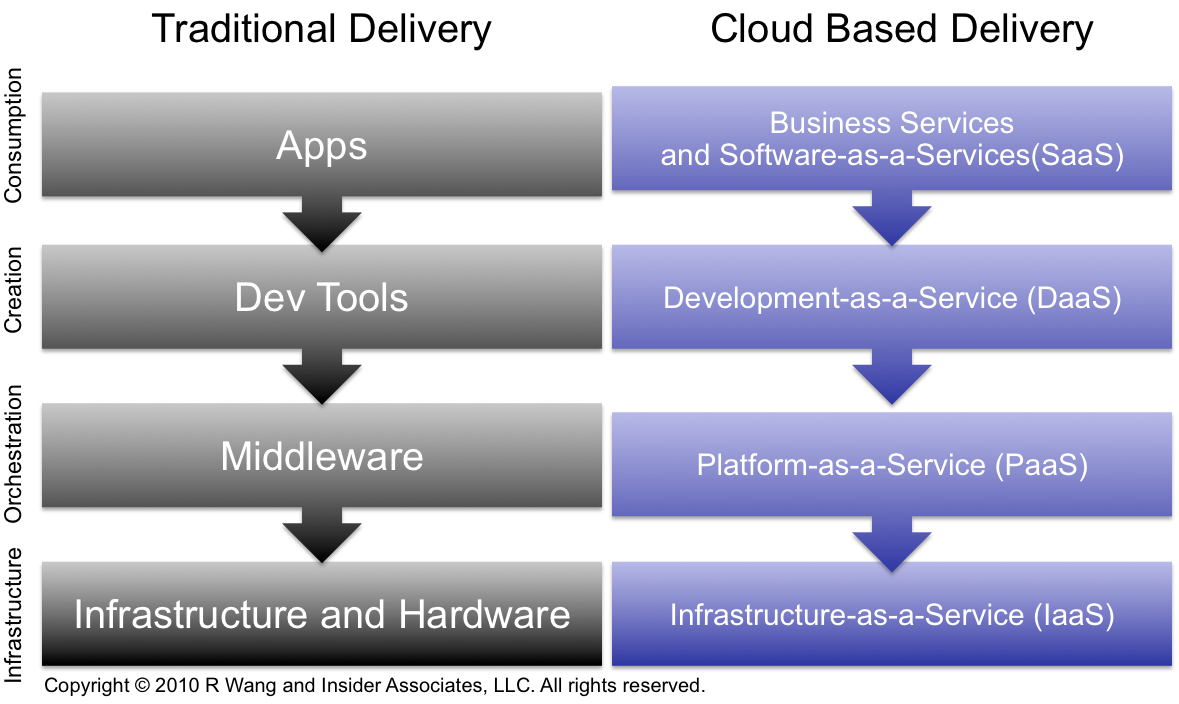 By R "Ray" Wang on August 9, 2010
Welcome to a part 2 of a multi-part series on The Software Insider Tech Ecosystem Model.  Subsequent posts will apply the model to these leading vendors:
Posted in Business | Tagged acquisition, acquisitions, Alliances, analytics, Apps Strategy, business int, business process outsourcing, Cisco, Cisco Systems, Cloud, Cloud Computing, collaboration software, custom apps, Database, Dell, enterprise apps, Enterprise apps strategy, Enterprise Business Apps, Enterprise Business Apps Vendors, enterprise software, enterprise strategy, escrows, financing options, Hardware, hp, ibm, implementation partners, information management, IT budgets, IT Strategy, last mile solutions, managed service provider, mergers, Mergers And Acquisitions, microsoft, middleware, middleware platforms, Monday's Musings, next gen apps, next gen enterprise, next generation, Next generation apps, On Demand, on-premise, operating systems, oracle, packaged apps, partner ecosystems, partners, partnerships, procurement, Research Report, resellers, SaaS, salesforce.com, sap, software escrow, Storage, System Integrators, technology budgets, third party financing, trusted advisors, vars, vendor strategy, vertical apps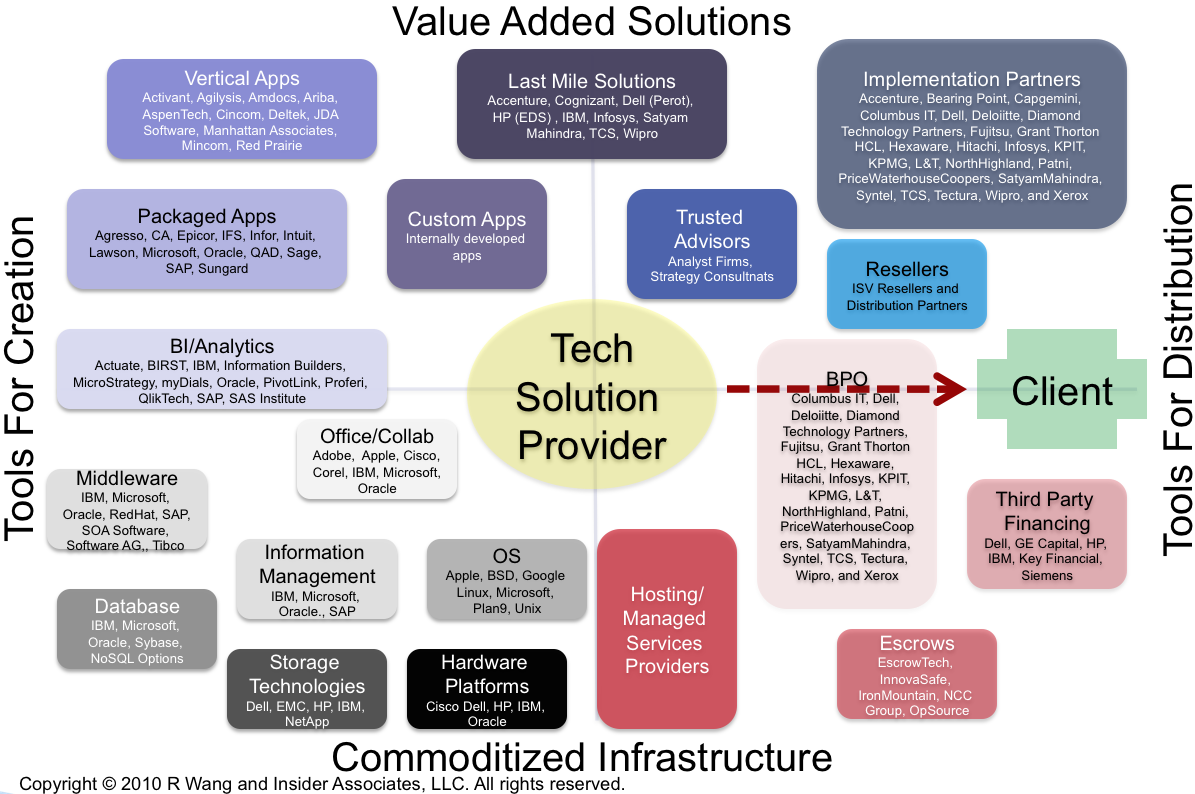 By R "Ray" Wang on July 27, 2010
Is your technology provider a hardware vendor or a software vendor? Does your System Integrator now provide solutions in the cloud? These questions will continue as models converge. Hardware, software, and system integration vendors must reinvent new models of revenue. The economic recession has forced business model shifts at the major technology companies.
Posted in Business, Featured Posts | Tagged acquisition, acquisitions, Alliances, analytics, Apps Strategy, business int, business process outsourcing, Cisco, Cisco Systems, Cloud, Cloud Computing, collaboration software, custom apps, Database, Dell, enterprise apps, Enterprise apps strategy, Enterprise Business Apps, Enterprise Business Apps Vendors, enterprise software, enterprise strategy, escrows, financing options, Hardware, hp, ibm, implementation partners, information management, IT budgets, IT Strategy, last mile solutions, managed service provider, mergers, Mergers And Acquisitions, microsoft, middleware, middleware platforms, Monday's Musings, Monday's Musings, next gen apps, next gen enterprise, next generation, Next generation apps, On Demand, on-premise, operating systems, oracle, packaged apps, partner ecosystems, partners, partnerships, procurement, Research Report, resellers, SaaS, salesforce.com, sap, software escrow, Storage, System Integrators, technology budgets, third party financing, trusted advisors, vars, vendor strategy, vertical apps | 1 Response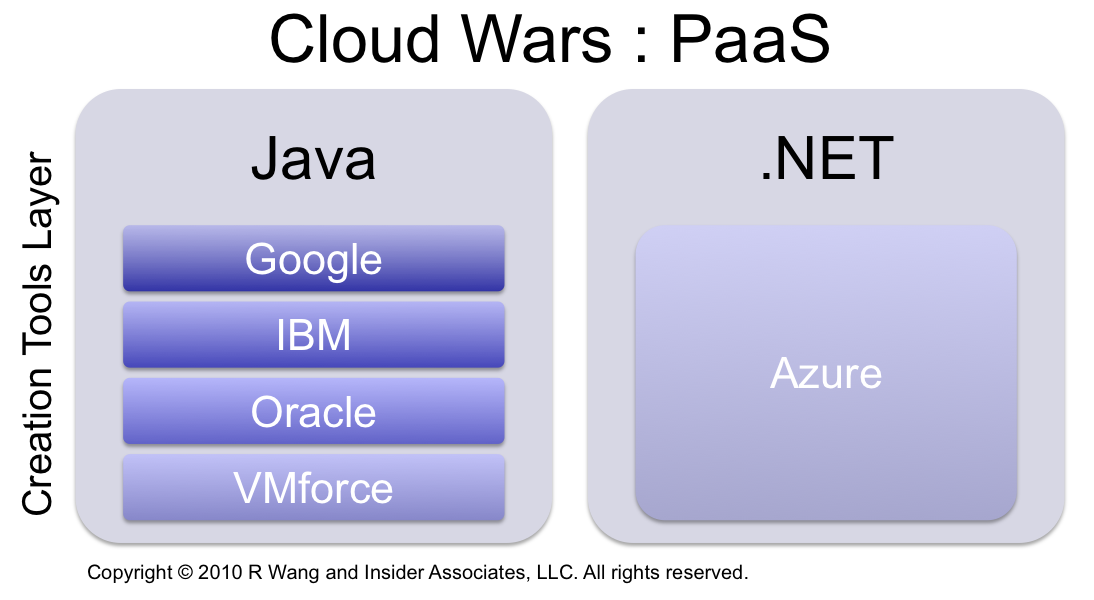 By R "Ray" Wang on April 29, 2010
VMWare and Salesforce.com Battle For The Hearts And Minds Of Cloud-Oriented Java Developers On April 27th, 2010, Salesforce.com, [NYSE: CRM] and VMware, Inc. (NYSE: VMW) formed VMforce, a strategic alliance to create a deployment environment for Java based apps in the cloud.  The Platform-as-a-Service (PaaS) offering builds on Java, Spring, VMware vSphere, and Force.com.  Key […]
Posted in Featured Posts, Technology / Software | Tagged Alliances, application development, Apps Strategy, Azure, BEA WebLogic, bill of rights, Cloud, Cloud Computing, Cloud Wars, CRM, customer bill of rights, enterprise applications, enterprise apps, Enterprise apps strategy, Enterprise architecture, Enterprise Business Apps, Enterprise Business Apps Vendors, Gigaspaces, google, Gridgain, ibm, IBM WebSphere, Imaginea, Java, Java PaaS, LongJump, microsoft, Microsoft.NET, oracle, Oracle Fusion Middleware, PaaS, Platform as a service, Rackspace Cloud Tools, SaaS, salesforce.com, SAP NetWeaver, Spring Source, vendor strategy, vmforce, VMW, VMware | 1 Response

By Josh Greenbaum on November 3, 2009
One of the largely unheralded changes at Oracle this year has been its sudden willingness to partner at a strategic level with other enterprise software companies. This departure from previous strategy has been noted here before, as has its implications for the enterprise software community. (Great if you're an ISV looking for a strong partner […]
Posted in Business, Featured Posts | Tagged Alliances, e2open, ecosystem, ISV, Open source, oracle, SaaS, sap | 1 Response