By Denis Pombriant on April 3, 2013
Erik Brynjolfsson and Andrew McAfee of the MIT Center for Digital Business and the Sloan School of Management have written an interesting book for our times — our economic times — with an appealing metaphor that any technologist will appreciate. Race Against The Machine: How the Digital Revolution is Accelerating Innovation, Driving Productivity, and Irreversibly Transforming […]
Posted in Trends & Concepts | Tagged Andrew McAfee, Big Data, Erik Brynjolfsson, McAfee, Ray Kurzweil

By Paul Greenberg on June 28, 2011
Okay, before I begin, a confession. I just spent 3 days at the Enterprise 2.0 2011 confab in Boston – and didn't attend a single event that I didn't do. But I have several excuses and I think that I'm still qualified to write what I'm about write. First, I participated in 4 events, the […]
Posted in Business, Featured Posts, Trends & Concepts | Tagged Andrew McAfee, conferences, e2con, Enterprise 2.0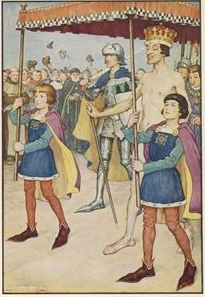 By Sandy Kemsley on November 17, 2010
The funny thing about "Enterprise 2.0", or social business software, is that it's not very enterprisey: yes, it is deployed in enterprises, but it often doesn't deal with the core business of an enterprise. You hear great stories about social software being used to strengthen weak ties through internal social networking, or fostering social production […]
Posted in Featured Posts, Trends & Concepts | Tagged Andrew McAfee, BPM, Business process, e20conf, Enterprise 2.0, Enterprise 2.0 Conference, social business, social software | 6 Responses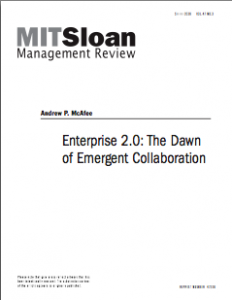 By Susan Scrupski on March 15, 2010
Enterprise 2.0 was launched in the spring of 2006 as a result of Andrew McAfee's case study interviews in 2005 on Dresdner Kleinwort Wasserstein (DrKW), an investment bank in London.  The story unfolded after he and his team studied the work of J.P. Rangaswami, who was then Global CIO of the bank.  It's sometimes surprising to me […]
Posted in Featured Posts, Trends & Concepts | Tagged 2.0 Adoption Council, adoption, Andrew McAfee, case studies, Case study, Enterprise 2.0, Social Enterprise, Trends Research | 3 Responses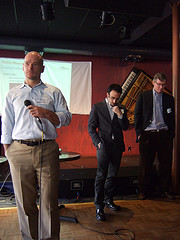 By Thomas Otter on January 8, 2010
Cross posted from my Gartner blog.
I received a review copy of Andrew McAfee's Enterprise 2.0 just before Christmas, so I added it to my book pile as an extra Christmas present. Thank you Andrew and the publisher, HBS.
In reviewing books, I have a simple test. Would I spend my own money on a copy? […]
Posted in Technology / Software, Trends & Concepts | Tagged Andrew McAfee, Enterprise 2.0, enterprise2.0, review, Social network, social software, Wiki | 6 Responses
By Michael Krigsman on November 16, 2009
Large organizations continue to embrace Enterprise 2.0 as a viable addition to their business process toolbox, however resistance to change remains a challenge.
Posted in Featured Posts, Trends & Concepts | Tagged Andrew McAfee, CIO issues, Cultural issues, Enterprise 2.0, Failure 2.0, Governance, IT issues, Project strategy, Research and statistics, Social Enterprise
By Jevon MacDonald on November 16, 2009
Andrew McAfee is known as the father of Enterprise 2.0. In 2006 he wrote the paper "Enterprise 2.0: The Dawn of Emergent Collaboration," which for many of us gave a single point of reference for the work being done in enterprise social software and "Office 2.0" until then. Since then Enterprise 2.0 has started to come of age, and I thought the Enterprise 2.0 conference in San Francisco would be a perfect opportunity to sit down and discuss the past and future of collaboration, social software and business strategy.
Posted in Business | Tagged Andrew McAfee, Blog Post, collaboration, Emergent Outcomes, Leveraged Outcomes, social business