By Louis Columbus on December 15, 2014
McKinsey & Company recently published How Big Data Can Improve Manufacturing which provides insightful analysis of how big data and advanced analytics can streamline biopharmaceutical, chemical and discrete manufacturing. The article highlights how manufacturers in process-based industries are using advanced analytics to increase yields and reduce costs. Manufacturers have an abundance of operational and shop […]
Posted in Featured Posts, Trends & Concepts | Tagged analytics, Big Data, BigData, Cloud Computing, How Big Data Can Improve Manufacturing, Industrie 4.0, LNS Research, Louis Columbus' blog, Manufacturing, manufacturing industry, McKinsey & Company, MESA International, quality management

By Evangelos Simoudis on December 4, 2014
I want to take a quick breather from writing about corporate innovation and return to another topic of this blog: big data and insight as a service. Host Analytics, one of my portfolio companies, recently completed a $25M financing round. Host Analytics offers a cloud-based Enterprise Performance Management (EPM) Suite that streamlines a corporation's planning, […]
Posted in Featured Posts, Technology / Software | Tagged analytic application, Anaplan, Big Data, enterprise applications, enterprise performance management, EPM, Host Analytics, Insight as a Service, SaaS, SaaS applications, SaaS/Cloud Computing, Trident Capital

By Michael Fauscette on December 3, 2014
In part three of the series we will focus on sources of data beyond in-house transaction data and data collected from social listening, and the impact of the Internet and Cloud Computing on both the distribution of data and the business models that are evolving around that data. Data brokers, that is, companies that aggregate […]
Posted in Business, Featured Posts, Technology / Software | Tagged abn amro, Attensity, BFSI, Big Blue, Big Data, brokers, Cloud, Cloud Computing, DaaS, data, data2action, DataSift, EU, Gnip, ibm, microsoft, oracle, Privacy, socbiz, Social, Twitter, US

By Michael Fauscette on December 2, 2014
In part one of this series we looked at big data and transforming it into smart data, or data that is contextual, relevant and delivered to the right people / person at the right time. One of the other interesting and growing use cases in the business use of data is something called small data. […]
Posted in Featured Posts, Technology / Software | Tagged Apache Hadoop, Beowulf cluster, Big Data, CRM, Customer, Customer Experience, CX, data, data2action, decision systems, Distributed computing, enterprise, mapreduce, marketing, Open source, sales, sense and respond, small data, smart data, socbiz, supercomputer

By Louis Columbus on December 1, 2014
87% of enterprises believe Big Data analytics will redefine the competitive landscape of their industries within the next three years. 89% believe that companies that do not adopt a Big Data analytics strategy in the next year risk losing market share and momentum. These and other key findings are from a Accenture and General Electric study published this month […]
Posted in Featured Posts, Trends & Concepts | Tagged Accenture, analytics, Big Data, Big data research, Cloud Computing, GE, Industrial Internet Insights Report For 2015. | 2 Responses

By Dave Kellogg on November 18, 2014
It took me a week or so to get to it, but in this post, I'll take a dive into the Hortonworks S-1 filing in support of a proposed initial public offering (IPO) of their stock. While Hadoop and big data are unarguably huge trends driving the industry and while the future of Hadoop looks very bright indeed, […]
Posted in Business, Featured Posts | Tagged Big Data, Credit Suisse, Database, Goldman Sachs, hadoop, Hortonworks, Initial public offering, IPO, NoSQL, Open source, Red Hat, startups | 1 Response
By Basab Pradhan on November 14, 2014
Why is Big Data big? Obviously not because someone invented a new statistical method of data analysis that can explain everything. It's because there is a lot more data spewing out of business processes where there were none before. The questions haven't changed – as a business manager I still want to know how to […]
Posted in Featured Posts, Technology / Software | Tagged Amazon Web Services, Apache Hadoop, Artificial intelligence, Attunity, Big Data, Cloud Computing, Infosys, Offshore Services, technology

By Michael Krigsman on November 14, 2014
New research demonstrates profound challenges facing IT and Chief Information Officers. CIOs who are "IT survivors" will build strategic relationships with stakeholders and other constituencies.
Posted in Featured Posts, Trends & Concepts | Tagged analytics, Big Data, Chief information officer, CIO, Internet of Things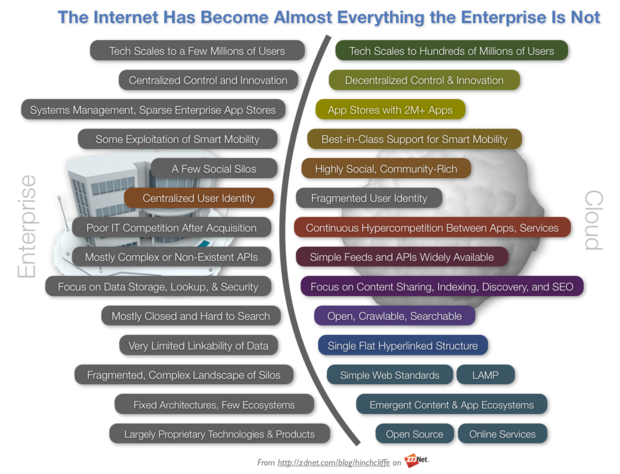 By Dion Hinchcliffe on November 3, 2014
It's no longer fashionable to criticize enterprise IT as it once was. That's because the Internet has definitively won the competition and is leading the way in tech innovation. But for proactive organizations, it doesn't have to be that way.
Posted in Featured Posts, Technology / Software | Tagged apps, Big Data, Cloud, Cloud Priorities, Consumerization, CXO, Data Centers, Data Management, Emerging Tech, enterprise software, innovation, IT Policies, IT Priorities, Leadership, Networking, servers, Technology / Software
By Susan Scrupski on October 28, 2014
Walking down one of the cavernous halls at the Palazzo hotel in Las Vegas, we approached one of my Enterprise Irregular (EI) colleagues, David Dobrin.  Dobrin looked surprised to see me and said, "What are you doing here?"  I said, "I'm here to learn!" Yes, I attended my first SAP TechEd this week and this is […]
Posted in Trends & Concepts | Tagged Big Data, Community, conferences, Doctors Without Borders, HANA, sap, SAP TechED, SCN Community, social networking | 2 Responses