By Vinnie Mirchandani on February 13, 2015
As I listened to the SAP launch in NYC of its S4 product I told a few folks I was struck how high level the presentation was. That they should have field tested and matured the pitch with many customers and presented a more mature version at Sapphire 3 months from now. I went back […]
Posted in Technology / Software | Tagged bill mcdermott, Forbes, Hasso Plattner, SAP AG, SAP Hana

By Vinnie Mirchandani on January 29, 2015
Andrew Nusca at Fortune interviews Bill McDermott, CEO of SAP here.  What's striking is Bill talks incessantly about the "new SAP" : HANA, Ariba, Concur, SuccessFactors, Hybris, Fieldglass, Sybase. The stuff is not exactly new – most of the products are decades old, but they are new to SAP and Bill is clearly enamored with […]
Posted in Business, Featured Posts | Tagged bill mcdermott, Cloud Computing, Fort Knox, sap, SAP AG, SAP Hana, SuccessFactors | 1 Response

By Louis Columbus on February 24, 2013
Hiring great people and creating a culture of achievement that is fun, focused and able to get challenging tasks done is not an easy task. Keeping that culture strong and focused on the customer takes a unique leader that consistently earns trust and respect.  Those are the qualities I think of whenever I'm asked to […]
Posted in Business, Featured Posts | Tagged aaron levie, AppDynamics, bill mcdermott, byline=Louis Columbus, Citrix Systems, Cloud Computing, customer relationship management, Data Driven, enterprise software, Glassdoor, Jim Hagemann Snabe, Jim Whitehurst, Louis Columbus' blog, NetApp, Red Hat, SaaS, Tech, VMware | 1 Response

By Paul Greenberg on May 29, 2012
Let me start this with a strange and seemingly incoherent (but truly more inchoate) statement. "If SAP marketed to the rest of the world, the way they produce conferences, they could arguably become the best technology company on the planet." I'm not going to say anything more about this until considerably later in this post. […]
Posted in Business, Featured Posts | Tagged bill mcdermott, Cloud Computing, erp, Lars Dalgaard, sap, sapphirenow, SuccessFactor

By Michael Krigsman on May 21, 2012
SAP has made important strides in building a cloud strategy. Here's what you need to know.
Posted in Business, Featured Posts, Technology / Software | Tagged A1S, bill mcdermott, Business ByDesign, ByD, erp, Henning Kagermann, Lars Dalgaard, sap, SAP Business ByDesign, SAP ByD, sapphirenow, software as a service, SuccessFactors

By R "Ray" Wang on December 3, 2011
SuccessFactors Acquisition Puts SAP In Direct Competition With Workday And Taleo SAP (NYSE:SAP) announced its $3.4B acquisition of SuccessFactors (NYSE: SFSF) as it seeks to bolster its position in the Cloud and more importantly in the rapidly growing strategic HCM market.   Based in San Mateo, CA, USA, SuccessFactors brings over 15 million subscription users […]
Posted in Business, Featured Posts, Technology / Software | Tagged acquisition, acquisitions, bill mcdermott, business performance management, Business suite 7, business technology, Cloud, Cloud Computing, Cloud options, Cloud Wars, Constellation Research, Consumerization of IT, CubeTree, Emerging Technologies, Enterprise 2.0, enterprise applications, enterprise apps, Enterprise apps strategy, enterprise class, enterprise software, future of work, HCM, HR, HR Tech, Human Capital Management, Human resources, mergers, Mergers And Acquisitions, News Analysis, NYSE: SFSF, NYSE:SAP, R "Ray" Wang;, R "Ray" Wang;, rwang0, SaaS, SaaS offensive, SaaS strategies, sap, SAP Business By Design, SAP OnDemand Large Enterprise, SAPSFSF, social business, Success Factors, SuccessFactors, vendor strategy | 1 Response

By Vinnie Mirchandani on May 18, 2011
Jim Hagemann Snabe, co-CEO of SAP framed his summary of the Sapphire Now event ahead in a session with the Enterprise Irregulars on Sunday when he said they would emphasize mobile, in-memory and on-demand trends. Sure enough, there was plenty of all three. In a session with Bill McDermott, the other co-CEO, yesterday most […]
Posted in Business, Featured Posts | Tagged bill mcdermott, Enterprise Irregulars, Jim Hagemann Snabe, sap, sapphirenow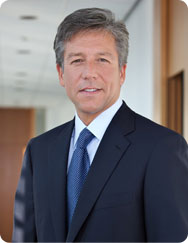 By Dennis Moore on September 25, 2010
Bill McDermott and Tom Bergeron: separated at birth? You be the judge … 😉
Posted in Trends & Concepts | Tagged bill mcdermott, enterprise software, Humor, sap, SAP AG, Tom Bergeron

By Brian Sommer on September 21, 2010
SAP's recent press conference showcased their analytics functionality and some interesting customer experiences. This first post concerns some of SAP Co-CEO Bill McDermott's remarks.
Posted in Technology / Software | Tagged BI, bill mcdermott, Business Analytics, iPad, sap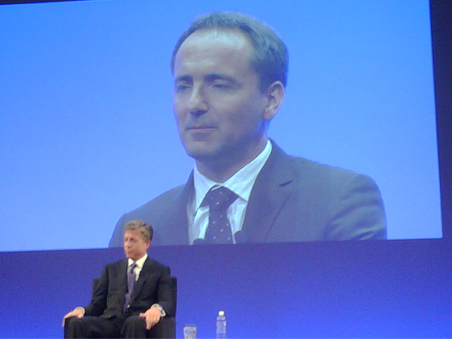 By R "Ray" Wang on May 19, 2010
Co CEO's Stabilize The Company Both SAP Co-CEO's Bill McDermott (Orlando) and Jim Hagemann Snabe (Frankfurt) took stage on May 18, 2010, in a simulcasted keynote.  While Bill highlighted SAP's future vision and commitment to customers, Jim focused on communicating the SAP product strategy to match the corporate vision.  Customers, partners, and influencers sought an […]
Posted in Business, Featured Posts | Tagged bbd, bill mcdermott, Business by Design, Business Objects, ByD, Cisco, Clear Standars, Cloud, ecosystems, EhP, EMC, event report, intel, iPad, Jim Hagemann Snabe, On Demand, On Device, on-premise, oracle, real-time, RIM, SaaS, sap, SAPPHIRE, sapphirenow, sustainable, Sybase, Syclo, unwired, Vishal Sikka, VM Ware