By R "Ray" Wang on March 19, 2012
Forward And Commentary Software ownership costs continue to escalate as vendors accelerate their efforts to capture support and maintenance revenues. Some vendors have gone to the extreme to eliminate third-party options for their customers. This best practices report examines three strategies to free up unnecessary costs to fund innovation and new projects. A. Introduction On […]
Posted in Business, Featured Posts, Technology / Software | Tagged #techoptimization, 3PM, 3rd party maintenance, Apps Strategy, best practices, Bil of Rights, bill of rights, BMC, budgets, business value, business value framework, BVF, CEO, CFO, Chief Financial Officer, Chief information officer, Chief procurement officer, CIO, Cloud, Cloud Computing, Cloud options, CMO, Computer Associates, Constellation Research, Consumerization of IT, contract negotiations, contract strategy, COO, cost reduction, CRM, CTO, Customer Support, deployment options, disruptive, disruptive technologies, Disruptive technology, E-Commerce, Emerging Technologies, enterprise, Enterprise 2.0, enterprise applications, enterprise apps, Enterprise apps strategy, Enterprise architecture, Enterprise Business Apps, enterprise class, Enterprise Irregular, enterprise software, Enterprise Software Licensee Bill of Rights, enterprise strategy, Epicor, erp, ibm, Infor, Infor Global Solutions GmbH, Jive, license credits to new products, license fees, license management, license parking, license policy, license returns, lithium, maintenance, maintenance fees, microsoft, oracle, QAD, R "Ray" Wang;, Research Report, Research Summary, rimini street, rwang0, sap, SAS Institute, socbiz, social business, Social Business Software, Social CRM, Social Enterprise, social enterprise apps, social media monitoring, social support insights, socialbusiness, software as a service, software bill of rights, software contract reviews, software escrow, software licensing, software licesing and pricing, software mainteance, software maintenance, software ownership, software ownership lifecycle, software pricing, software revenue recognition rules, software trends, Spinnaker, technology budgets, Technology Optimization, Third Party Maintenance, user strategy, users, vendor strategy

By R "Ray" Wang on November 19, 2010
The super majority (26 of 27) of publicly traded software vendors in the Software Insider Index® delivered turnaround stories for Q3 Cy 2010 year-over-year (YoY) performance.  SaaS vendors and middleware vendors led the charge with solid double digit gains against tough comps.  Performance of on-premises apps vendors reflected the easy comps from a dismal 2009 […]
Posted in Business, Featured Posts | Tagged 2010, Amdocs, Ariba, Blackboard, CA, CA Technologies, Computer Associates, Concur, Deltek, enterprise applications, enterprise apps, Enterprise Business Apps, Enterprise Business Apps Vendors, enterprise software, Epicor, IFS, IFS North America, Informatica, JDA Software, Kenexa, Lawson, Manhattan Associates, netsuite, Pervasive Software, Progress Software, QAD, Quarterly Financial Tracker, RightNow, RightNow Technologies, Saba, salesforce.com, sap, SII, SII®, SoftwareAG, subscription revenues, SuccessFactors, Taleo, two-tier ERP, Ultimate Software, VMware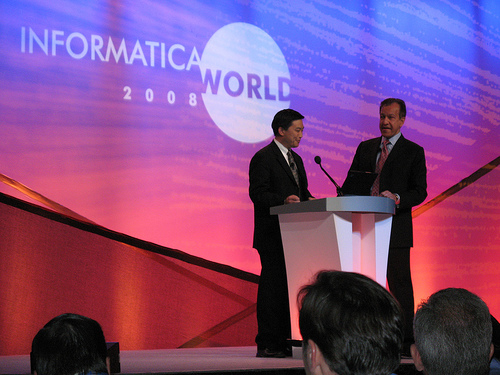 By Dennis Moore on September 9, 2010
Who will Oracle acquire next? Our respondents say Oracle will acquire Informatica, Salesforce.com, VMware, TIBCO, Red Hat, Teradata, NetSuite, SuccessFactors, Taleo, Computer Associates, Cloudera, Vertica, Jive Software, and Mark Hurd.
Posted in Business, Featured Posts | Tagged acquisitions, Cloudera, Computer Associates, databases, Informatica, Jive Software, M&A, Marc Benioff, Mark Hurd, netsuite, oracle, Oracle Corporation, Red Hat, salesforce.com, Sohaib Abbasi, SuccessFactors, Taleo, Teradata, Tibco, Vertica, VMware | 1 Response

By Dennis Moore on September 3, 2010
Oracle has been very acquisitive in past years. Who's next? Informatica? NetSuite? Red Hat? Salesforce.com? Someone else? Vote in the attached poll to share your thoughts, or just view the results here.
Posted in Business, Featured Posts | Tagged apple, Computer Associates, enterprise software, Infor, Informatica, Mergers And Acquisitions, netsuite, oracle, Oracle Corporation, Red Hat, Research In Motion, salesforce.com, sap, SuccessFactors, Taleo, Teradata, Tibco, VMware, workday | 2 Responses

By R "Ray" Wang on August 20, 2010
The majority of 22 publicly traded software vendors demonstrated solid year-over-year (YoY) quarterly growth from Q2 2009 (see Figure 1).   Every SaaS vendor in the Software Insider Index® drove 14% to 26% growth (see Figure 2) despite the pick up in on-premises license sales.  Highlights for the 2010 CY Q2 2010 results: On-Premises Trends JDA […]
Posted in Business | Tagged 2010, Amdocs, Ariba, Blackboard, CA Technologies, CDC Software, Computer Associates, Concur, Deltek, Enterprise Business Apps, Enterprise Business Apps Vendors, enterprise software, Exact Software, IFS, JDA Software, Lawson, Manhattan Associates, netsuite, on-premise, on-premises, oracle, Q2, QAD, Quarterly Financial Tracker, RightNow, SaaS, salesforce.com, sap, SII, SII®, software as a service, SuccessFactors, Taleo, Ultimate Software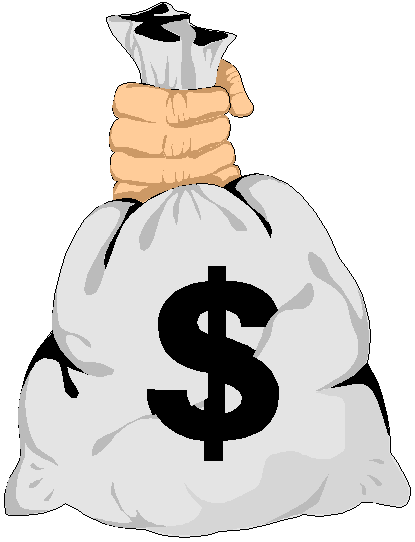 By R "Ray" Wang on May 27, 2010
The majority of 21 publicly traded software vendors managed to show year-over-year (YoY) gains over the dismal beating from calendar year (CY) Q1 2009.  SaaS vendor maintained their double digit gains while on-premise vendors mostly showed positive traction (see Figure 1) and (see Figures 2).  Highlights for the 2010 CY Q1 2010 results: Big gains […]
Posted in Business, Featured Posts | Tagged 2010, Amdocs, Ariba, Blackboard, CA Technologies, Computer Associates, Concur, Deltek, IFS, JDA Software, Lawson, Maconomy, Manhattan Associates, netsuite, on-premise, oracle, Q1, QAD, Quarterly Financial Tracker, RightNow, SaaS, salesforce.com, sap, SII, SII®, software as a service, SuccessFactors, Taleo, Ultimate Software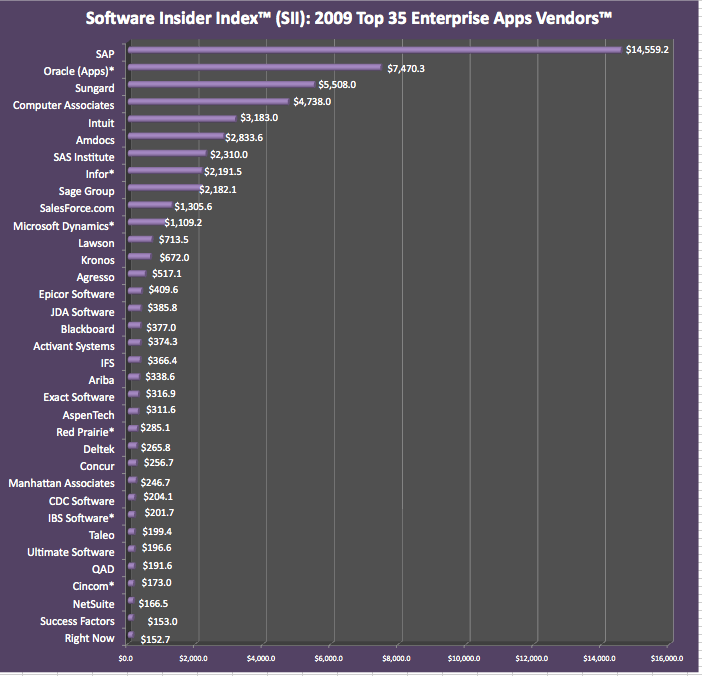 By R "Ray" Wang on March 18, 2010
2009 Results In Major Revenue Declines For On Premise And Officially The Year Of SaaS
A review of last year's financial performance should erase any doubts about the viability of SaaS as a deployment option and a business model.   Traditional on-premise business apps vendors took the brunt of the beating earlier in the year but […]
Posted in Business, Featured Posts | Tagged Activant Systems, agresso, Amdocs, Ariba, Aspen Tech, Blackboard, CDC Software, Cincom, Computer Associates, Concur, Deltek, Epicor, Exact Software, IBS Software, IFS, Infor, Intuit, JDA Software, Kronos, Lawson, Manhattan Associates, Microsoft Dynamics, netsuite, oracle, QAD, Quarterly Financial Tracker, Red Prairie, Right Now, Sage Group, salesforce.com, sap, SAS Institute, Success Factors, Sungard, Taleo, Ultimate Software, Unit 4
By R "Ray" Wang on December 16, 2009
PEOPLE WHISPERS: MOVES, PROMOTIONS, AND MILESTONES*
As always, thanks for your emails and alerts. If you've got a change or know of a promotion, keep dropping me a line! If you need a referral, and we've worked together in the past, don't hesitate to reach out to me via Linked In.
Eliot Axelrod became Senior Account Exec […]
Posted in Business | Tagged 2009, Accenture, Alphablox, and Garrison, Andersen Consulting, apple, AT Kearney, Aurigin Systems, Bates Advertising, Booz Allen & Hamilton, CA, Cadbury Schweppes, CCL Group, Charlie Isaacs, Chuck Gillespie, Clear Stake, Computer Associates, David Stanley, DEC, Deltek, Digital Equipment Corporation, DNA Stream, Dr Pepper, enterprise software, Eric Christiansen, eWeek, Forrester Research, gartner, GE Healthcare, Graybow Communication Group, Hewitt Associates, i2, I2 Technologies, IBM Global Services, IDG Enterprise, Infor, Infor Global Solutions GmbH, Informatica, Initiate, initiate systems, Intuit, Intuit Quick Books, Invest.change, ITT Gilfillan, Jeff Comport, John Tae Park, Joseph Loveless, Justin Floyd, Lawson Software, Marcel LeBrun, McAfee, Michael Hickins, Michelle Blackmer, Mongoose Cricket, netbooks, oracle, Orange Business Services, Paul, Primus Knowledge Solutions, Radian6, Ridgely Evers, Rifkind, Robert Humphrey, Robert Schriesheim, Rockwell International, Saba, Sanjay Poonen, SCORE, siemens, Snapple, Sriram Venkat, Stefan Schulz, Stephen Harvey, Sun Microsystems, Symantec, Thomas Wailgum, Thomson Legal & Regulatory, Toshiba America Medical Systems, TRW, Unimax, Vecta, VERITAS, Vigor, Wednesday's Whispers, Weiss, WGSN, Wharton, wipro, Ziff Davis Enterprise