By R "Ray" Wang on January 12, 2021
Virtual CES Kicks Off The Conference Season For 2021 Source: R Wang This year's CES will be all virtual as with all pandemic events.  Last year they brought in more than 171,000 guests, 6500 press and media, and had almost 3 million net square feet of exhibits with 4419 exhibiting companies.  As one of the […]
Posted in Featured Posts, Technology / Software | Tagged @constellationr, #CES2021, 2021, 8K, AI, Apps Strategy, Artificial intelligence, Augemented Reality, Autonomous vehicles, BlueJeans, Bosch, C-Suite, CDO, Celonis, CEO, CES, CFO, Chief Collaboration Officer, Chief Creative Officer, Chief Customer Officer, Chief Data Officer, Chief Digital Officer, Chief executive officer, Chief Financial Officer, Chief HR Officer, Chief information officer, Chief Information Security Officer, Chief Innovation Officer, Chief Marketing Officer, Chief People Officer, Chief procurement officer, Chief Revenue Officer, Chief Sales Officer, Chief Security Officer, Chief Service Officer, Chief Technology Officer, China virus, CHRO, CIO, CISO, CL, com, connected devices, Constellation Research, Consumer Electronics Show, Consumer Technology Association, COO, COVID-19, CTO, CXO, Cyber security, Digital Transformation, DigitalBiz, digitaltransformation, display technologies, disruptive technologies, Disruptive technology, electric vehicles, enterprise applications, enterprise apps, Enterprise apps strategy, Enterprise Awards, enterprise class, enterprise software, Environmental, environmental sustainability, event report, extended reality, Hisense, hybrid cloud, ibm, intel, Intel Corporation, Kohler, las vegas, Lenovo, lg, LG Chem, Magma, Mercedes, Mercedes Benz, microsoft, mixed reality, mobile apps, MobileEye, nVidia, Omron, Pansophic Systems, partnerships, Philips, Pre-recorded virtual events, R "Ray" Wang;, Rendever, Royole, rwang0, salesforce.com, samsung, schneider electric, Skyworth, smart buildings, Smart homes, Software Insider, SoftwareInsider, vendor strategy, Verizon, Verizon Business, Video, video meetings

By R "Ray" Wang on December 23, 2020
By The Constellation Research Team The 2020 Awards Demonstrate The Power Of Humanity Amidst A Global Pandemic And Mass Digitization What started out as an amazing beginning to a new decade ended with one of the worst economies and global health crises in history.  Cultural, technological, and business model changes that would have taken a […]
Posted in Business, Featured Posts, Partner Post, Startup Lessons, Technology / Software, Trends & Concepts | Tagged @dhenschen, @dionhinchcliffe, @holgermu, @lizkmiller, @lnfrance, @steve_lockstep, #CCE2020, 2020, Accenture, adobe, Amazon, Amazon Web Services, Amit Bendov, Apps Strategy, arm, ARM chips, Ascension Heatlh, BlueJeans, C-Suite, C3 IOT, C3.ai, CDO, Celonis, CEO, CFO, Chief Collaboration Officer, Chief Creative Officer, Chief Customer Officer, Chief Data Officer, Chief Digital Officer, Chief executive officer, Chief Financial Officer, Chief HR Officer, Chief information officer, Chief Information Security Officer, Chief Innovation Officer, Chief Marketing Officer, Chief People Officer, Chief procurement officer, Chief Revenue Officer, Chief Sales Officer, Chief Security Officer, Chief Service Officer, Chief Technology Officer, CHRO, CIO, CISO, com, Constellation Connected Enterprise, Constellation Research, COO, CTO, CXO, CyberX, Data warehouse, Digital Transformation, DigitalBiz, digitaltransformation, enterprise applications, enterprise apps, Enterprise apps strategy, Enterprise Awards, enterprise software, Eric Yuan, excecution management system, Gong, google, Google Cloud, google cloud platform, hybrid cloud, ibm, IBM CLOUD, Infor, Infosys, Infosys Live Enterprise, Koch Industries, mergers, Mergers And Acquisitions, microsoft, Modern Computing Alliance, nVidia, okta, oracle, partnerships, Pre-recorded virtual events, R "Ray" Wang;, Research Report, Royole, rwang0, salesforce.com, Segment, servicenow, Slack, Smartsheet, Snowflake, Software Insider, SoftwareInsider, sridhar vembu, Thomas Siebel, TikTok, Twilio, UKG, Ultimate Kronos Group, Ultimate Software, vendor strategy, Verizon, Verizon Business, Video, video meetings, Work.com, Workfront, Yellowbrick, zoho, zoom

By R "Ray" Wang on March 22, 2020
Cognitive Apps Power The Future Of Autonomous Enterprises Cognitive applications run mission-critical business systems in a continuous, self-driving, self-learning, auto-compliant, self-securing, and self-healing approach.  These AI driven systems intelligently automate transactional systems and processes such as campaign to lead, order to cash, procure to pay, incident to resolution, concept to market, and hire to retire.  […]
Posted in Business, Featured Posts, Startup Lessons, Technology / Software, Trends & Concepts | Tagged 2020, Aera Technology, AI, Apps Strategy, Artificial intelligence, Auditoria.ai, autonomous decade, autonomous enterprises, C-Suite, CDO, CEO, CFO, Chief Collaboration Officer, Chief Creative Officer, Chief Customer Officer, Chief Data Officer, Chief Digital Officer, Chief executive officer, Chief Financial Officer, Chief HR Officer, Chief information officer, Chief Information Security Officer, Chief Innovation Officer, Chief Marketing Officer, Chief People Officer, Chief procurement officer, Chief Revenue Officer, Chief Sales Officer, Chief Security Officer, Chief Service Officer, Chief Technology Officer, CHRO, CIO, CISO, Cloud, Cloud Computing, CMO, cognitive apps, Cognitive Computing, cognitive reckoning, Constellation Research, COO, CTO, CXO, Data Driven, data driven digital network, digital, Digital Business, Digital Transformation, Docker, enterprise applications, enterprise apps, Enterprise apps strategy, enterprise software, GANS, google, Infosys Live Enterprise, IT budgets, it Services, IT services firms, IT Strategy, Monday's Musings, neural networks, R "Ray" Wang;, Research Report, Royole, rwang0, Software Insider, SoftwareInsider, vendor strategy

By R "Ray" Wang on February 16, 2015
 Project Titan May Put Apple Into The Auto Business The February 13th, 2015 Wall Street Journal story spotlighted many of the rumors around the developments behind Apple going into the car business.   Framed around challenging Tesla Motors, the story discussed how the Cupertino juggernaut may be putting together an Apple branded electric vehicle.  Vice […]
Posted in Technology / Software | Tagged #techoptimization, 2015, apple, Apple Car Play, Apple Health Kit, Apple Home KIt, Apple Pay, Apple Watch Kit, Auto, best practices, Business Transformation, BYOD, Chief Customer Officer, Chief Digital Officer, Chief HR Officer, Chief information officer, Chief Marketing Officer, CHRO, CIO, CoIT, CoIT and the New CSuite, Constellation Research, Customer Experience, CXO, CXP, digital, Digital Business, Digital Marketing Transformation, Digital Strategy, Digital Transformation, DigitalBiz, digitaltransformation, disruptive, disruptive business models, disruptive technologies, Disruptive technology, electric vehicles, enterprise mobile, Enterprise Mobile Management, future of work, iCar, mass personalization, Mass Personalization At Scale, mobile, Mobile Biz, Mobile OS, Mobile strategy, mobility, News Analysis, R "Ray" Wang;, rwang0, Software Insider, SoftwareInsider, Technology Optimization, user strategy, vendor strategy

By R "Ray" Wang on February 9, 2015
Constellation State Of The State Report: Digital Transformation Services Take Center Stage For 2015 The latest Constellation Research state of the state report explores the impact of digital transformation on the services front. As so many different pieces of the digital transformation space come together, Constellation believes that the Digital Transformation Services category is set […]
Posted in Business | Tagged #Nasscom_ILF, #nilf2015, #techoptimization, 2015, application development, Apps Strategy, Architecture, best practices, board room, Business Transformation, BYOD, Chief Customer Officer, Chief Digital Officer, Chief HR Officer, Chief information officer, Chief Marketing Officer, CHRO, CIO, Cloud, Cloud Computing, CoIT, CoIT and the New CSuite, Constellation Research, Customer Experience, CXO, CXP, Digital Marketing Transformation, Digital Strategy, Digital Transformation, DigitalBiz, digitaltransformation, disruptive, disruptive business models, disruptive technologies, Disruptive technology, enterprise applications, enterprise apps, Enterprise apps strategy, Enterprise Business Apps, Enterprise Business Apps Vendors, enterprise mobile, Enterprise Mobile Management, enterprise software, enterprise strategy, five generations of mobile, future of work, mass personalization, Mass Personalization At Scale, mobile, Mobile Biz, mobile device management, mobile enterprise, Mobile Management, Mobile OS, Mobile strategy, mobility, Monday's Musings, NASSCOM, R "Ray" Wang;, research, Research Report, rwang0, Software Insider, SoftwareInsider, strategy, Technology Optimization, user strategy, vendor strategy

By R "Ray" Wang on December 23, 2014
Digital Strategy From The Analysts At Constellation Research Constellation's year end checklist offers suggestions designed to enable you to take control of your digital strategy in 2015. Consider these actions to ensure you dominate digital disruption in the new year. 1. Matrix Commerce: Scrub your data By Guy Courtin When it comes to Matrix Commerce, […]
Posted in Business, Featured Posts | Tagged 2015, Apps Strategy, Augmented Humanity, Authentic, Authentic Business, best of breed, best practices, Big Data, Big Data Business Models, BigData, bring-your-own-device, Business Analytics, business strategy, Business Transformation, BYOD, CEO, Chief Collaboration Officer, Chief Creative Officer, Chief Customer Officer, Chief Digital Officer, Chief executive officer, Chief Financial Officer, Chief HR Officer, Chief information officer, Chief Information Security Officer, Chief Marketing Officer, Chief People Officer, Chief procurement officer, Chief Revenue Officer, Chief Sales Officer, Chief Security Officer, Chief Service Officer, Chief Technology Officer, CHRO, CIO, Cloud, Cloud Computing, Cloud options, CMO, CoIT, CoIT and the New CSuite, collaboration, collaboration software, Constellation Research, Corporate Strategy, CTO, CustExp, customer engagement, Customer Experience, customer service, Customer Support, CXM, CXO, CXP, Data to Decisions, Data2Decisions, digital, Digital Business, digital commerce, Digital Disruption, Digital DNA, Digital identity, digital marketing, Digital Strategy, Digital Transformation, DigitalBiz, digitaltransformation, E-Commerce, e-Signature, early adoptions, engagement, enterprise applications, enterprise apps, Enterprise apps strategy, enterprise class, enterprise software, enterprise strategy, future of work, HR, innovation, IT Strategy, journey maps, marketing, Marketing Automation, Next Gen Customer, Next Gen Customer Experience, Next Gen CXP, Next generation apps, Privacy, Privacy Rights, Private Cloud, Private Clouds, public cloud, R "Ray" Wang;, rwang0, safety, safety and privacy, Software Insider, SoftwareInsider, strategy, supply chain, trends, User Experience, user strategy, vendor strategy

By R "Ray" Wang on December 17, 2014
Boardrooms In Market Leader And Fast Follower Organizations Rapidly Take Action To Address the Digital Chasm Ahead Constellation Research surveyed over 200 CXO's and identified 10 board room priorities for 2015. As anticipated, digital transformation has emerged as a significant board room topic and market leaders and fast followers seek guidance on what elements are […]
Posted in Business, Featured Posts | Tagged #techoptimization, 2014, application development, Apps Strategy, Architecture, best practices, board room, Business Transformation, BYOD, Chief Customer Officer, Chief Digital Officer, Chief HR Officer, Chief information officer, Chief Marketing Officer, CHRO, CIO, Cloud, Cloud Computing, CoIT, CoIT and the New CSuite, Constellation Research, Customer Experience, CXO, CXP, Digital Marketing Transformation, Digital Strategy, Digital Transformation, DigitalBiz, digitaltransformation, disruptive, disruptive business models, disruptive technologies, Disruptive technology, enterprise applications, enterprise apps, Enterprise apps strategy, Enterprise Business Apps, Enterprise Business Apps Vendors, enterprise mobile, Enterprise Mobile Management, enterprise software, enterprise strategy, five generations of mobile, future of work, mass personalization, Mass Personalization At Scale, mobile, Mobile Biz, mobile device management, mobile enterprise, Mobile Management, Mobile OS, Mobile strategy, mobility, Monday's Musings, R "Ray" Wang;, research, Research Report, rwang0, Software Insider, SoftwareInsider, strategy, Technology Optimization, user strategy, vendor strategy | 1 Response

By R "Ray" Wang on December 10, 2014
The IBM-Apple Partnership Achieves First Milestones On December 10th, IBM and Apple announced the first wave of industry-specific enterprise solutions as part of the IBM MobileFirst for iOS applications.   In a meeting with Fred Balboni, IBM's general manager of the Apple partnership; and Jeremy Butcher, Apple Marketing and Strategy, Constellation received an update on the […]
Posted in Featured Posts, Technology / Software | Tagged #techoptimization, 2014, application development, Apps Strategy, Architecture, best practices, Business Transformation, BYOD, Chief Customer Officer, Chief Digital Officer, Chief HR Officer, Chief information officer, Chief Marketing Officer, CHRO, CIO, Cloud, Cloud Computing, CoIT, CoIT and the New CSuite, Constellation Research, Customer Experience, CXO, CXP, Digital Marketing Transformation, Digital Strategy, Digital Transformation, DigitalBiz, digitaltransformation, disruptive, disruptive business models, disruptive technologies, Disruptive technology, enterprise applications, enterprise apps, Enterprise apps strategy, Enterprise Business Apps, Enterprise Business Apps Vendors, enterprise mobile, Enterprise Mobile Management, enterprise software, enterprise strategy, five generations of mobile, future of work, mass personalization, Mass Personalization At Scale, mobile, Mobile Biz, mobile device management, mobile enterprise, Mobile Management, Mobile OS, Mobile strategy, mobility, Monday's Musings, R "Ray" Wang;, rwang0, Software Insider, SoftwareInsider, Technology Optimization, user strategy, vendor strategy | 1 Response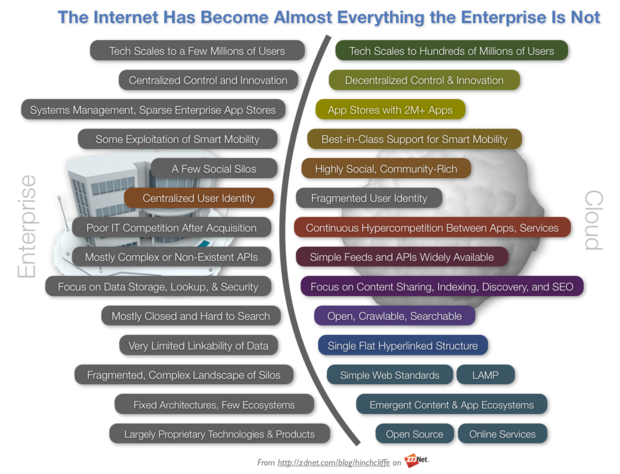 By Dion Hinchcliffe on November 3, 2014
It's no longer fashionable to criticize enterprise IT as it once was. That's because the Internet has definitively won the competition and is leading the way in tech innovation. But for proactive organizations, it doesn't have to be that way.
Posted in Featured Posts, Technology / Software | Tagged apps, Big Data, Cloud, Cloud Priorities, Consumerization, CXO, Data Centers, Data Management, Emerging Tech, enterprise software, innovation, IT Policies, IT Priorities, Leadership, Networking, servers, Technology / Software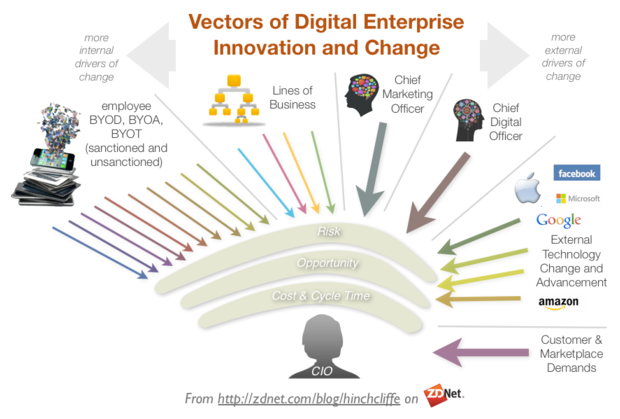 By Dion Hinchcliffe on October 30, 2014
Today's digital workplace is constantly inundated with new applications and devices, as tech investment also decentralizes. Top technology leaders are seeking an orderly path to improvement, yet the the way forward remains more turbulent than ever. Fortunately, there are perspectives that can help.
Posted in Business, Featured Posts | Tagged #futureofwork, CIO, collaboration, Consumerization, CXO, Enterprise 2.0, enterprise software, future of work, IT Priorities, mobility, Unified Comms | 1 Response