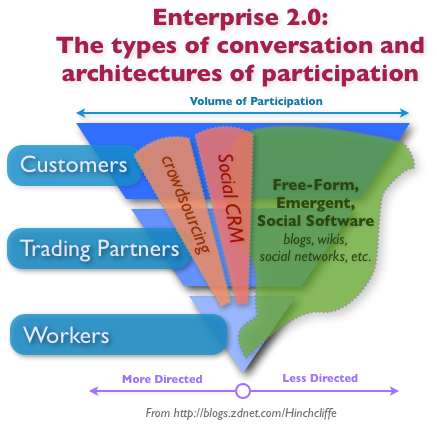 By Dion Hinchcliffe on February 3, 2010
There's been some debate recently on whether Social CRM is part of the broader Enterprise 2.0 story. I try to answer the question and explore some of the latest thinking on social business and how it can help transform the customer relationship for real competitive advantage.
Posted in Featured Posts, Trends & Concepts | Tagged Architecture of Participation, Business Models, collaboration, Collective intelligence, Community, community management, Customer Community, Design Patterns, Digital Strategy, Enterprise 2.0, Enterprise Web 2.0, Grassroots Community, social computing, Social CRM, Social Economy, Social Enterprise, Social Media, social networking, social software
By Dion Hinchcliffe on December 10, 2009
The ongoing and seemingly inexorable decline of traditional media continues to be the canonical example of what happens when the ground rules get changed in an industry that is fundamentally unable to adapt to new market conditions. A great analysis recently posted by Umair Haque at Harvard Business underscores the point: The so-called new normal is starting to seem more and more foreign the deeper we go into the 21st century than most organizations may yet be willing to believe.
Here's an exploration of what will likely drive forward next-generation businesses in the 21st century.
Posted in Featured Posts, Trends & Concepts | Tagged Architecture of Participation, Business Models, Cloud Computing, collaboration, Collective intelligence, Community, Convergence, Cost-effective scalability, Crowdsourcing, Customer Community, Design Patterns, Enterprise 2.0, Enterprise Web 2.0, Governance, Network effects, Radical Decentralization, social computing, Social Economy, Social Media, social networks, Web 2.0, Web as Platform