By Paul Greenberg on December 18, 2013
Overview I've been going to Dreamforce, salesforce.com's big annual shindig for many years, and for many years, I've seen the same thing over and over.  And no, that's not what a party! Which it is. It's not oh, whoa, another big, big event. Which it is. It's not, another amazing work of presentation art. Which […]
Posted in Business, Featured Posts | Tagged Conference Scorecard, df13, Dreamforce, heroku, Marc Benioff, salesforce.com, Zuora
By Denis Pombriant on December 9, 2013
Dreamforce Wrap-up Ok, we survived Dreamforce and that has enabled us to limp home exhausted from all of the information we accumulated and the parties we attended just in time for the holidays.  I have a lot of thoughts about the show and if I try to share most of them the result will be […]
Posted in Featured Posts, Technology / Software | Tagged AppExchange, df13, Hewlett-Packard, multitenancy, salesforce, salesforce.com, salesforce1, Superpod

By Vinnie Mirchandani on December 5, 2013
When I read this Alicia Liu post a couple of weeks ago, I liked her assessment of vendor sponsored hackathons Corporate-sponsored hackathons are all-win for the sponsoring company. They get a big influx of fresh ideas, and developers working themselves to illness (not quite death, but a diet of soda and pizza, plus sleep deprivation […]
Posted in Business | Tagged df13, google i/o, hackathon, Hunger Games, salesforce.com

By Jason M. Lemkin on December 4, 2013
At Dreamforce, Gainsight, a leading SaaS company/service for managing customer success, was kind enough to invite me to speak at their session on Customer Success together with Dan Steinman, their COO.  Prior to Gainsight, Dan was VP of Customer Success at $100m+ ARR and IPO'd SaaS leader Marketo and really knows his stuff, as you'd […]
Posted in Business | Tagged df13, Entrepreneurship, SaaS, SaaStr, startups

By Esteban Kolsky on December 2, 2013
If I hear one more person tell me that Salesforce1 (S1) is a client-side app, a mobile client, the culmination of Touch (remember that launch? Not many do) or something similar I will scream (like I did the past few days).
Posted in Featured Posts, Technology / Software | Tagged Cloud Computing, df13, enterprise software, force.com, platform, s1, salesforce.com, salesforce1, SFDC

By Phil Fersht on December 2, 2013
HP and Salesforce.com have teamed up to provide Salesforce CRM on dedicated "Superpod" HP boxes in an effort to satisfy enterprise clients fearful of having their data situated in the Public Cloud. The partnership is designed to help Salesforce.com gain more traction with large global enterprises and highly regulated industries, while providing HP some Cloud street-cred after years of negative publicity and pride a much-needed fillip to its hardware and CRM services businesses.
Posted in Business, Featured Posts, Technology / Software | Tagged Buyers' Sourcing Best Practices, Cloud Computing, CRM and Marketing, df13, HfSResearch.com Homepage, hp, Innovation in Outsourcing, IT Outsourcing / IT Services, ned may, salesforce, SFDC, The Future of Outsourcing | 1 Response

By Michael Krigsman on November 26, 2013
As someone focused on enterprise innovation, particularly related to activities by the CIO and CMO, I pay close attention to startups. While large or established organizations bring scale and process to enterprise technology, startups are where to find people pushing the boundaries of what is possible, interesting, and useful. For that reason, I visited with […]
Posted in Featured Posts, Technology / Software | Tagged df13, Dreamforce, salesforce.com | 1 Response

By Vinnie Mirchandani on November 20, 2013
15 years ago, I made a trek to Fargo, ND to the Great Plains (now part of Microsoft) Stampede user conference.  Doug Burgum, the CEO used his entire keynote to tell the story of an English clockmaker, John Harrison who beat out far more qualified scientists to solve one of the vexing problems of the […]
Posted in Business, Featured Posts | Tagged df13, Dreamforce

By Denis Pombriant on November 20, 2013
The story of this year's Dreamforce might best be told through the partner community and AppExchange and that makes it a story about the platform.  Appropriately enough, Salesforce teed up the platform topic in Chairman and CEO, Marc Benioff's keynote and the press conference immediately following it on Tuesday in which he announced Salesforce 1. […]
Posted in Business, Featured Posts, Technology / Software | Tagged AppExchange, Apttus, CRM, df13, financialforce.com, Microsoft Office, salesforce, salesforce.com, salesforce1, servicemax | 1 Response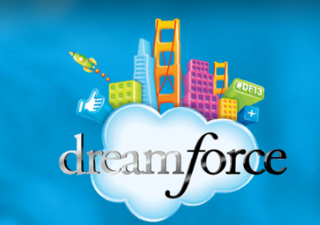 By John Taschek on November 18, 2013
You cannot deal with modern problems using antiquated systems. – Ramon Baez, Senior VP & CIO, HP @RamonfBaez, cited here by @valaafshar I have been to every Dreamforce, and I plan on going to every future one, so long as I remain of sound body and mind. It's not just…
Posted in Featured Posts, Technology / Software | Tagged developers, df13, Dreamforce, Internet of Customers, Internet of Things, salesforce, salesforce.com