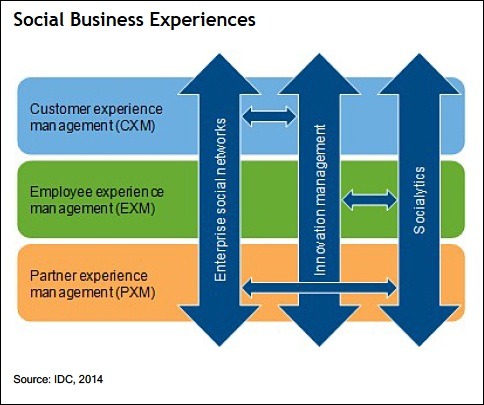 By Michael Krigsman on July 30, 2014
Social enterprise — communication, collaboration, and knowledge sharing across business silos and departmental boundaries — is a core part of digital business transformation initiatives. Research from IDC sheds light on this topic.
Posted in Featured Posts, Trends & Concepts | Tagged Digital Transformation, Dion Hinchcliffe, idc, International Data Corporation, social business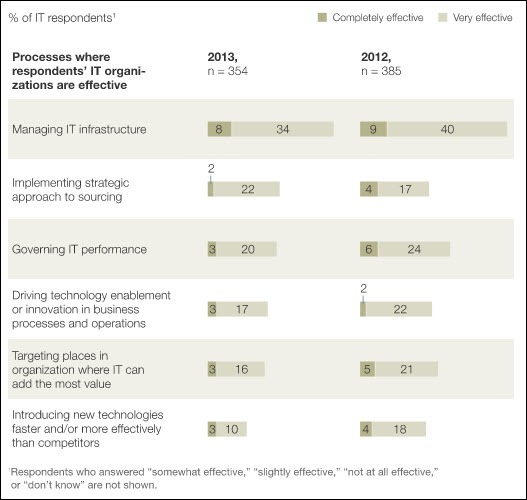 By Michael Krigsman on April 3, 2014
A new study from strategy consulting firm, McKinsey, shows "growing dissatisfaction" with IT performance, from both business users and within the ranks of IT itself. The study notes that almost one-third of IT respondents believe replacing their own leadership should be a top priority to improve IT performance. This data signals a growing crisis, in which […]
Posted in Business | Tagged CIO, Dion Hinchcliffe, McKinsey & Company, ZDNet

By Michael Krigsman on March 8, 2013
A new breed of chief marketing officer seeks data-driven answers to tough challenges, such as establishing clear links between marketing spend, activities, and specific business outcomes. To meet these goals, marketers have taken over an increasing slice of the overall budget that enterprises allocate to technology. Not surprisingly, this trend corresponds to the growth of […]
Posted in Featured Posts, Trends & Concepts | Tagged CDO, CIO, CMO, CXO, Dion Hinchcliffe, guy kawasaki, Paul Greenberg | 1 Response

By Vinnie Mirchandani on February 26, 2013
Dion Hinchcliffe talks about the growing shift of tech dollars to the CMO, and even more shrinking of the CIO's role. Several reactions: a) Marketing is only the latest buying center to come to the attention of tech market watchers. Few people seem to acknowledge the CMO has long used TV audience monitoring, POS data, […]
Posted in Featured Posts, Trends & Concepts | Tagged CIO, CMO, Dion Hinchcliffe, Google Fiber, InformationWeek, Tim Burton

By Brian Sommer on April 26, 2012
There are lots of businesses. Only a few have successfully found a way to be great social businesses, too. Sadly, even fewer still know how to listen to the the process improvement suggestions of their customers.
Posted in Trends & Concepts | Tagged Dion Hinchcliffe, Sameer Patel, social business, Social firm

By Phil Wainewright on March 29, 2011
Top-down business process design is getting a bit of a bad rap at the moment, and deservedly so, say some. There's a new meme in town called social business that says we should design enterprise systems around the people that…
Posted in Business, Featured Posts | Tagged businessprocess, collaboration, Dachis Group, Dion Hinchcliffe, enterprise20, JP Rangaswami, social business design, Social Business Summit, socialcomputing, Susan Scrupski | 1 Response

By Paul Greenberg on July 21, 2010
I've been doing some thinking about the 1st half of 2010 and have some observations, some of which deserve a probably longer treatment than I'm about to give them and some of them that only need a sentence or two.  They are not entirely random but they are a series of slightly disconnected thoughts on […]
Posted in Featured Posts, Trends & Concepts | Tagged Altimeter Group, Dion Hinchcliffe, e20, Enterprise 2.0, Esteban Kolsky, Sameer Patel, SCRM, Social CRM | 1 Response

By Dion Hinchcliffe on July 8, 2010
At our recent Social Business Summit 2010 in Austin, I gave a presentation about the state of Social Business Strategies in 2010, and more importantly what is working and why. The 56 slides are included below, in the event that you weren't able to attend the summit. They cover topics such as social business benefits, […]
Posted in Trends & Concepts | Tagged Blog Post, Dachis Group, Dion Hinchcliffe, SBS2010, social business

By Susan Scrupski on April 22, 2010
What?  Wow!  How come?
History
Let's begin at the beginning.  The beginning of the social business (r)evolution didn't begin in with web 2.0, it began with web 1.0 in the mid-90s. From research I published in 2000, we wrote this about the company Jeff founded in 1995, Razorfish:
Razorfish's vision states, "Everything that can be digital, WILL be"  The company […]
Posted in Business, Featured Posts | Tagged 2.0 Adoption Council, acquisition, Dachis Group, Dion Hinchcliffe, e20, Enterprise 2.0, Headshift, M&A, Mergers & Acquisitions, Razorfish, social business design, The 2.0 Adoption Council, The Dachis Group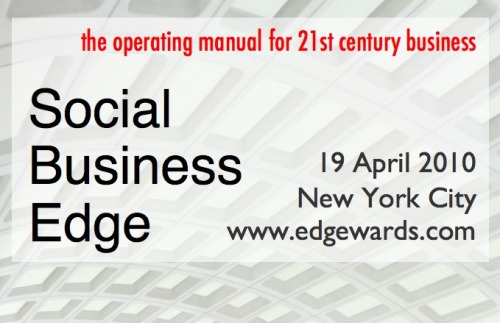 By Jevon MacDonald on April 20, 2010
Dion Hinchcliffe and I were in New York this week and stopped by Stowe Boyd's Social Business Edge conference. Much in the same spirit of our own Social Business Summit in Austin, this conference was a single day and densely packed with some of the best speakers I have heard in years. The speaking slots […]
Posted in Trends & Concepts | Tagged Blog Post, Dachis Group, Dion Hinchcliffe, Dynamic Signal, Knowledge Flows, Social Business Edge, Stowe Boyd