By Phil Wainewright on May 13, 2013
If the future is a networked world, then we may well find that the future belongs to sourcing vendors. No other category of vendors has had its landscape transformed so fundamentally by the advent of the Web, to the extent that leading vendors such as Concur and Ariba took early decisions to wholly rearchitect their […]
Posted in Business, Featured Posts, Technology / Software | Tagged Ariba, Cloud Computing, EnSW2013, eurocloud, sap, supply chain

By Phil Wainewright on April 4, 2013
What does big data mean for cloud providers? This is the topic under discussion at a EuroCloud UK meeting next week. This blog post is both a reflection on the topic as well as a taster for the event itself, which has an interesting and knowledgeable line-up of speakers — more details on that below […]
Posted in Technology / Software | Tagged BigData, eurocloud

By Phil Wainewright on February 20, 2013
In the emerging enterprise application landscape, collaboration is the business activity most transformed by cloud. The revolution in outcomes is far greater than those wrought by earlier technology-driven advances in global teamwork, such as the telephone, air travel and satellite communications. The Web is the first medium that provides a unified platform for every form […]
Posted in Featured Posts, Technology / Software | Tagged Box, BoxHQ, EnSW2013, eurocloud, google, Huddle, ibm, linkedin, microsoft, ProjectPlace, Sliderocket, Socialcast, WebEx, ZDNet, zimbra, zoho | 5 Responses

By Phil Wainewright on January 14, 2013
The name's the same, but this is not the CRM your forefathers knew. Back in the client-server era, enterprise computing focused almost exclusively on automating internal systems. Today, all the innovation is happening at the edge of the enterprise, automating external interactions with prospects, customers, partners and more in the quest for what I've called […]
Posted in Business, Featured Posts, Technology / Software | Tagged BuddyMedia, Cloud Computing, CRM, EnSW2013, erp, eurocloud, oracle, salesforce.com, Service Cloud | 6 Responses
By Phil Wainewright on January 7, 2013
What's the future for ERP in the cloud, if it has one at all? I heard a disarming admission last summer from the CEO of a company that aggressively markets itself as "the #1 cloud ERP software suite." NetSuite CEO Zach Nelson told a gathering of industry analysts at the company's SuiteWorld 2012 conference that […]
Posted in Business, Featured Posts, Technology / Software | Tagged EnSW2013, Enterprise resource planning, erp, eurocloud, FRM, Intacct, netsuite, Plex Systems, sap, SAP AG, software as a service, workday, Zach Nelson, Zuora | 5 Responses

By Phil Wainewright on May 11, 2012
Europe needs growth and cloud computing has a role to play. But are policy makers too eager for rapid results? An event later this month may yield some answers.
Posted in Business | Tagged eurocloud, European Commission, London

By Phil Wainewright on December 21, 2011
It strikes me that the UK's attitude to Europe has a lot in common with many IT people's feelings about cloud computing. Many Brits seem happiest about Europe when it's at arms-length — useful for occasional visits and an important source of business, but not to be trusted closer to home. IT feels the same […]
Posted in Technology / Software | Tagged Cloud Computing, eurocloud, European Union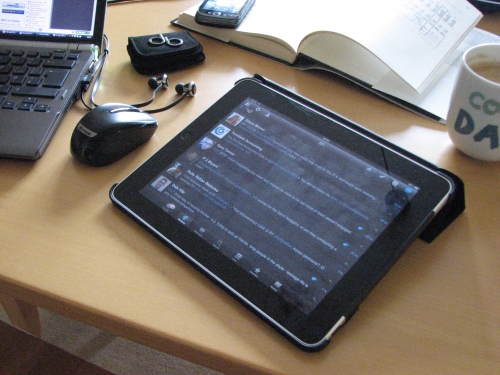 By David Terrar on March 4, 2011
Just before Christmas I joined in with the iPad crowd.  The last straw was an XBRL event at ICAEW back in November when 5 of my colleagues who were speaking or supporting Twinfield at the show all had iPads and I didn't.  I started to look seriously at the tablet concept to see how it […]
Posted in Technology / Software | Tagged apple, eurocloud, iPad, ipod, Motorola Xoom, Samsung Galaxy Tab | 1 Response

By Phil Wainewright on February 1, 2011
Back in December, after Amazon summarily pulled the plug on WikiLeaks using its servers for alleged violations of terms and conditions, the CTO of Fujitsu Technology Solutions wrote that the action constituted a serious threat to the business of cloud computing: "If a provider can terminate its service that easily, then it is doing exactly […]
Posted in Business, Featured Posts, Technology / Software | Tagged Amazon, bill of rights, Cloud Computing, CloudAve, customer bill of rights, eurocloud, government, SaaS, service level, service provider, sla, Wikileaks

By Phil Wainewright on September 20, 2010
Vendors should focus more on promoting the business benefits of cloud. We should not be spending all of our time on the defensive, letting objections about security, reliability and governance dominate the conversation.
Posted in Trends & Concepts | Tagged Cloud Computing, eurocloud, London, SaaS, software as a service | 1 Response