By Michael Coté on June 29, 2010
While at At Enterprise 2.0 Boston this year, I had chatted with Walton Smith and Aaron Fulkerson about Booz Allen's Enterprise 2.0 systems used internally and for Government 2.0 work.
Posted in Trends & Concepts | Tagged Booz Allen, Collaborative, e2conf, Government 2.0, RedMonkTV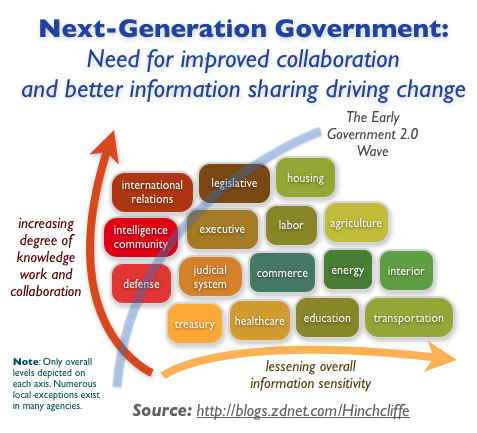 By Dion Hinchcliffe on February 28, 2010
Can social tools and community-based approaches truly help our government function better and operate more efficiently? Will open access to government data create important new opportunities for citizens and increase transparency? As we'll see, these two questions are currently top-of-mind in many public sector policy discussions this year. The questions also herald underlying forces at work in the government landscape in many countries around the world, including the United states.
Here are some of the initiatives that are taking place this year and what's happening with Government 2.0 as 2010 begins to heat up.
Posted in Featured Posts, Trends & Concepts | Tagged Architecture of Participation, blogs, Business Models, collaboration, Collective intelligence, Community, community management, Digital Strategy, Enterprise 2.0, Enterprise Web 2.0, Governance, Government 2.0, Grassroots Community, Open APIs, social computing, Social Economy, Social Media, social networking, social software, social web, Web 2.0, Web as Platform, Wikis
By Dion Hinchcliffe on December 9, 2009
The signs are pointing to next year being a banner one when it comes to mainstream adoption of the latest digital business models.  With half a decade under the belt of the Web 2.0 phenomenon and almost as long for Enterprise 2.0, we're just now seeing the ideas spread to more traditional corners of large […]
Posted in Featured Posts, Trends & Concepts | Tagged Enterprise 2.0, Facebook, Government 2.0, social computing, Web 2.0, Web 2.0 Adoption | 10 Responses