By Michael Krigsman on July 26, 2012
Solving bank IT breakdowns requires substantial investment that goes beyond administrative demands.
Posted in Business, Featured Posts | Tagged CIO, Financial Services Authority, Financial Times, government spending, National Westminster Bank, rbs

By Jason Busch on April 7, 2011
For anyone following government spending or manufacturing trends, there's a fascinating piece in the Wall Street Journal from last week. Authored by Stephen Moore, the piece suggests a radical inversion in jobs growth and creation…
Posted in Business | Tagged China, government employment, government spending, Manufacturing, United States | 1 Response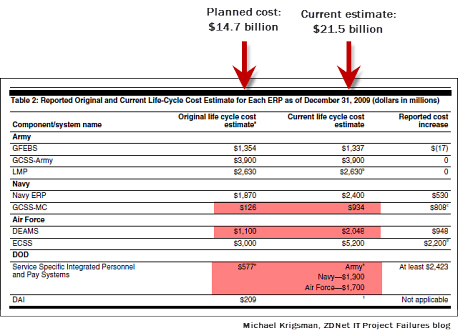 By Michael Krigsman on September 30, 2010
A new GAO report highlights $6.9 billion in over-budget IT projects at the Department of Defense. The report also provides excellent advice that private-sector business leaders can apply immediately.
Posted in Business | Tagged budget, Defense Department, government, government spending, Information technology