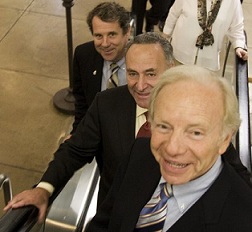 By Phil Fersht on August 17, 2010
Senator Charles E. Schumer, not content with ludicrous attempts to tax the US consumer for taking an offshore call, has continued his personal tirade against the use of offshore services, by pushing through legislation to add a further $2,000 tax for an H-1B visa application, and $2,250 more for an L-1 visa application.
Posted in Business, Featured Posts | Tagged BPO, Current Affairs, Employment, H-1B visa, Horses For Sources, Information technology, Infosys, IT Outsourcing / IT Services, offshore, Outsourcing, Outsourcing and Politics, Outsourcing Vendors, Schumer, The Future of Outsourcing, United States

By Brian Sommer on January 5, 2010
The H-1B visa is not working well for visa holders, certain U.S. workers or the U.S. government. A report published by the AFL-CIO is a fascinating read on the subject.
Posted in Trends & Concepts | Tagged AFL-CIO, Current Affairs, H-1B visa, India & Services, Law, Notable Research, Outsourcing, Professional Services, Service Providers, Stories That Should Upset You, Think About IT, United States visas