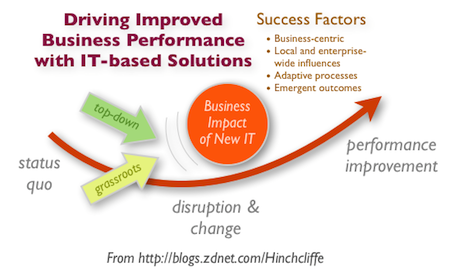 By Dion Hinchcliffe on April 14, 2010
There's been some useful and interesting discussion in the blogosphere recently about collaborative social tools and their potential to improve business performance. Especially good takes have come from Hutch Carpenter, Sameer Patel, Ross Dawson, and ZDNet's own Dennis Howlett.
At the core of this discussion is this essential question: Can social tools reach the "hard numbers" part of a business enough to make a real difference?
Posted in Featured Posts, Trends & Concepts | Tagged Business Models, collaboration, Convergence, Dennis Howlett, Enterprise 2.0, Enterprise Web 2.0, Grassroots Community, Hutch Carpenter, SaaS, social computing, social software, ZDNet