By R "Ray" Wang on June 4, 2013
Informatica Launches Vibe, A Virtual Data Machine For New Business Models At Informatica World 2013 in Las Vegas, Informatica announced the Vibe Virtual Data Machine (VDM).  The VDM consists of 4 parts and an SDK (see Figure 1): Transformation library contains pre-built libraries for actions such as combine, transform, cleans, match and mask. Optimizer enables […]
Posted in Technology / Software | Tagged Apps Strategy, Big Data, BigData, Business Models, CIO, Cloud, Cloud Computing, cloud integration, Cloud options, Constellation Research, data governance, data integration, data movement, data quality, data streaming, Data to Decisions, data transformation, Data2Decisions, disruptive, disruptive business models, disruptive technologies, Disruptive technology, enterprise applications, enterprise apps, Enterprise apps strategy, enterprise software, enterprise strategy, ETL, hadoop, Hive, Informatica, Informatica World, information management, information quality, Infrastructure, Infrastructure as a service, News Analysis, Pig, R "Ray" Wang;, rwang0, Software Insider, SoftwareInsider, VDM, vendor strategy, Virtual Data Machine | 2 Responses

By R "Ray" Wang on March 18, 2013
Informatica Sets The Stage For A New Chapter In Its History Informatica held its annual industry analyst day February 26th to 27th, 2013 at the Rosewood Sandhill in Menlo Park.  The event showcased Informatica's go-forward strategy and road map for growth over the next three years. Key highlights include: Capturing a $6.5B market opportunity in […]
Posted in Business | Tagged Active Endpoints, analyst event, Apps Strategy, BI, Big Data, BigData, Business Analytics, business intelligence, cdi, Cloud, cloud integration, CoIT, customer data integration, data governance, data integration, data quality, Data to Decisions, Decision Management, DQ, enterprise applications, enterprise apps, Enterprise apps strategy, enterprise strategy, event report, Heiler, Informatica, information management, integration, master data management, mdm, R "Ray" Wang;, rwang0, Software Insider, SoftwareInsider, vendor strategy

By R "Ray" Wang on February 28, 2013
The Why Behind Big Data Starts By Asking What's The Business Outcome So organizations have lots of data.  New techniques have emerged to correlate big data.  Enamored by the potential of big data, leaders are now reinvesting in technologies to find hidden nuggets of insights with the business goals of: Mitigating regulatory risks Identifying operational […]
Posted in Featured Posts, Technology / Software | Tagged #infaanalyst, #strataconf, Apps Strategy, Big Data, BigData, business activity monitoring, Business Analytics, Business Hiearchy of Needs, business intelligence, Business Outcomes, business strategy, Chief Collaboration Officer, Chief Customer Officer, Chief Financial Officer, Chief HR Officer, Chief information officer, Chief Marketing Officer, Chief People Officer, Chief procurement officer, Chief Sales Officer, CIO, Data deluge, data integration, Data to Decisions, Data2Decisions, Decision Management, enterprise applications, enterprise apps, Enterprise apps strategy, enterprise software, information management, information supply chain, R "Ray" Wang;, rwang0, Software Insider, SoftwareInsider, Tuesday's Tip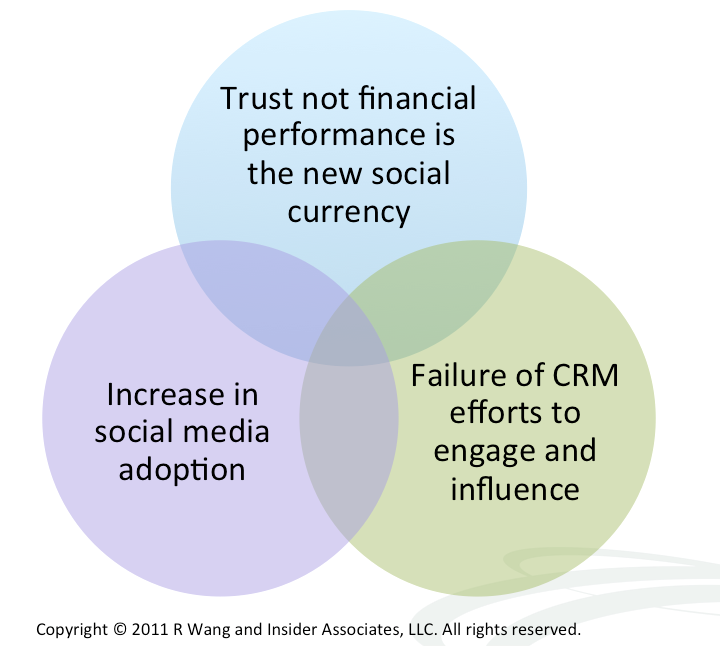 By R "Ray" Wang on May 9, 2011
Customers Have Evolved… Has Your Organization? Right now customers and prospects probably ignore your organization's marketing messages because mass marketing campaigns lack relevancy. Right now most customers answer each other's questions because your customer service and support agents lack the authority or knowledge to resolve issues. Right now prospects ask each other what they think […]
Posted in Business | Tagged Apps Strategy, CIO, CMO, Constellation Research, customer data integration, customer engagement, customer experience management, Customer Hubs, Data deluge, data governance, data integration, enterprise applications, enterprise apps, Enterprise apps strategy, Enterprise architecture, Enterprise Business Apps, Enterprise Business Apps Vendors, enterprise software, Informatica Customer Data Forum, information management, information supply chain, master data management, mdm, Monday's Musings, Monday's Musings, R "Ray" Wang;, R "Ray" Wang;, rwang0 | 2 Responses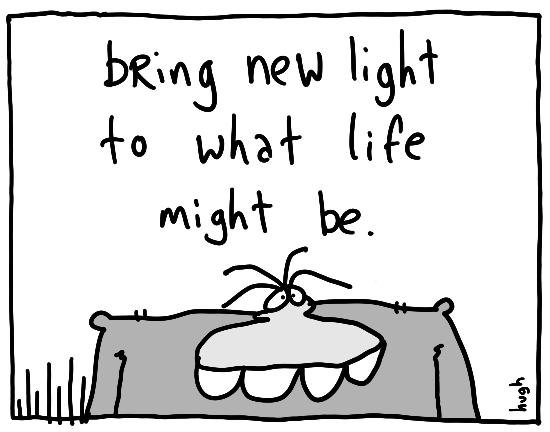 By R "Ray" Wang on January 4, 2011
Organizations Seek Measurable Results In Disruptive Tech, Next Gen Business, And Legacy Optimization Projects For 2011 Credits: Hugh MacLeod Enterprise leaders seek pragmatic, creative, and disruptive solutions that achieve both profitability and market differentiation. Cutting through the hype and buzz of the latest consumer tech innovations and disruptive technologies, Constellation Research expects business value to […]
Posted in Business, Featured Posts, Technology / Software | Tagged 2011, 2011 Predictions, analytics, android, appliance market, Apps Strategy, B2B, B2B E-commerce, B2B market strategy, B2C, B2C E-commerce, best practices, bill of rights, BPO, brand monitoring, Business 2.0, business drivers, business intelligence, business process optimization, business process outsourcing, business requirements, business strategy, business technology, business value, CEO, CFO, CIO, Cloud, Cloud Computing, cloud integration, Cloud options, cloud security, Cloud Wars, CMO, collaboration software, Constellation Research, Consumer Tech, contract negotiations, contract strategy, Convergence, cost reduction, CRM, CTO, custom apps, custom development, DaaS, Data deluge, data integration, data quality, data stewardship, disruptive, disruptive technologies, Disruptive technology, early adoptions, Emerging Technologies, Enterprise 2.0, enterprise applications, enterprise apps, Enterprise apps strategy, Enterprise Business Apps, Enterprise Business Apps Vendors, enterprise collaboration, enterprise software, Enterprise Software Licensee Bill of Rights, enterprise strategy, erp, Facebook, future of business, Gov 2.0, gov20, Government Contracting, govtech, hybrid, hybrid deployments, ibm, information management, information management matrix, innovation, innovation insights, Internet of Things, IT budgets, IT services firms, IT Strategy, last mile solutions, Legacy Optimization, lessons learned, license fees, license management, license parking, license policy, license returns, line of business, maintenance, maintenance fees, management strategy, market strategy, marketing, microsoft, next gen, next gen apps, next gen cio, next gen CIO's, next gen enterprise, next gen IT leaders, next generation, Next generation apps, NextGen, oracle, p2p, PaaS, pace of change, pace of technology adoption, packaged apps, Point of view, Private Cloud, Private Clouds, procurement, R "Ray" Wang;, relationship managmeent, relationships, Research Report, rwang0, SaaS, SaaS Bill of Rights, SaaS escrow, SaaS Integration, SaaS offensive, SaaS strategies, sales strategies, salesforce.com, sap, service economy, services based industries, social business, Social Business Software, social campaign tracking, Social CRM, social customer insights, Social Enterprise, social enterprise apps, social event management, Social Media, social media monitoring, social service, social support, social support insights, social technologies, software appliances, software as a service, software bill of rights, software contract reviews, Software Ecosystems, software escrow, software licensing, software licesing and pricing, software maintenance, software ownership, software ownership lifecycle, software pricing, software revenue recognition rules, software trends, Software Vendors, Sourcing, stack wars, subscription pricing, subscription revenues, technology adoption, technology budgets, technology partnerships, technology platforms, third party maintenancce, Third Party Maintenance, trends, two-tier ERP, Unified Communications, upgrades, usability, use cases, used software, user strategy, value, vendor strategy, vmforce, VMware, Web 2.0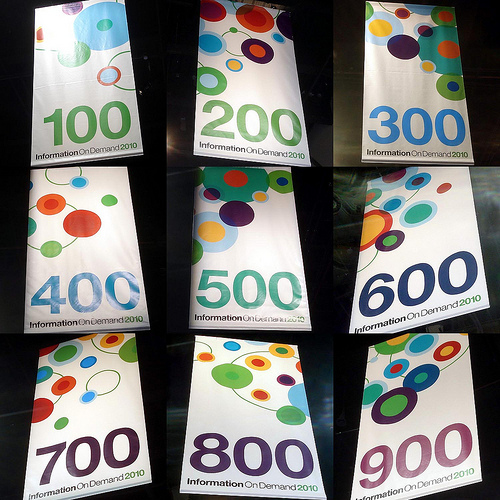 By Merv Adrian on November 15, 2010
It was hard to decide where to look first in Las Vegas this year at IBM's flagship information management event. Coming as it did on the heels of a massive, sprawling Oracle Open World, it was also overwhelming, but distinguished itself immediately by its focus. Whereas Oracle has smashed together hardware systems, apps, middleware, java […]
Posted in Featured Posts, Technology / Software | Tagged Cisco, cluster, cognos, column stores, CPU, cubing services, data compression, data governance, Data mining, Database, DB2, DBMS, Exadata, flash, Guardium, ibm, Industry Trends, information management, Informix, InfoSphere, IoD, Linux, mainframe, mdm, microsoft, Omegamon, Optim, oracle, PL/SQL, power, pureSca, QMF, replication, sap, shared storage, smart analytics optimizer, smart analytics system, SQL Server, SSD, text analytics, time series, Websphere, zenterprise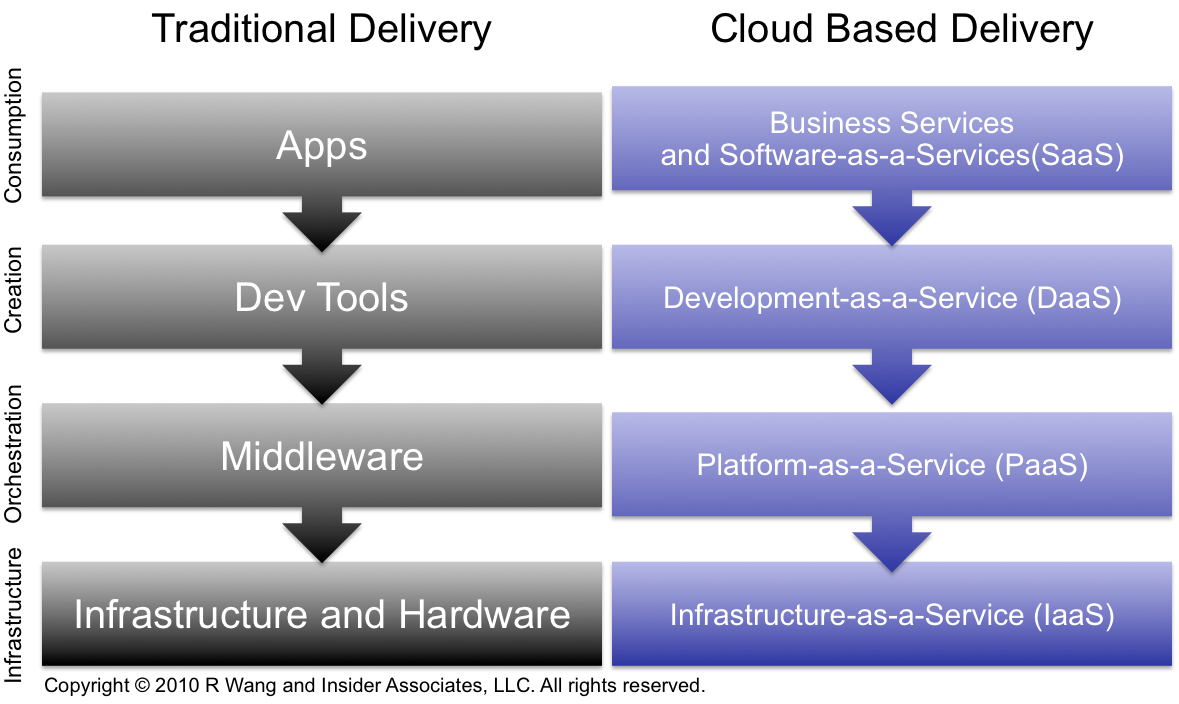 By R "Ray" Wang on August 9, 2010
Welcome to a part 2 of a multi-part series on The Software Insider Tech Ecosystem Model.  Subsequent posts will apply the model to these leading vendors:
Posted in Business | Tagged acquisition, acquisitions, Alliances, analytics, Apps Strategy, business int, business process outsourcing, Cisco, Cisco Systems, Cloud, Cloud Computing, collaboration software, custom apps, Database, Dell, enterprise apps, Enterprise apps strategy, Enterprise Business Apps, Enterprise Business Apps Vendors, enterprise software, enterprise strategy, escrows, financing options, Hardware, hp, ibm, implementation partners, information management, IT budgets, IT Strategy, last mile solutions, managed service provider, mergers, Mergers And Acquisitions, microsoft, middleware, middleware platforms, Monday's Musings, next gen apps, next gen enterprise, next generation, Next generation apps, On Demand, on-premise, operating systems, oracle, packaged apps, partner ecosystems, partners, partnerships, procurement, Research Report, resellers, SaaS, salesforce.com, sap, software escrow, Storage, System Integrators, technology budgets, third party financing, trusted advisors, vars, vendor strategy, vertical apps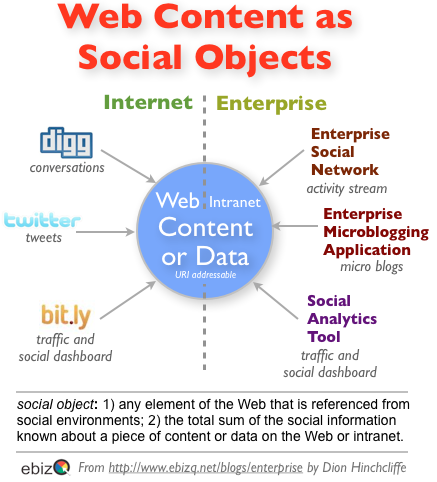 By Dion Hinchcliffe on August 5, 2010
For most of the history of the Web, it's been about pages and links. This simple yet profoundly powerful structure has led to many of the most important capabilities of the Internet including search, analytics, network effects, and many other…
Posted in Trends & Concepts | Tagged activity streams, Enterprise architecture, HTTP, Industry Trends, information management, iPhone, mashups, Open APIs, RSS, social business, social computing, social graph, Social Objects, Syndication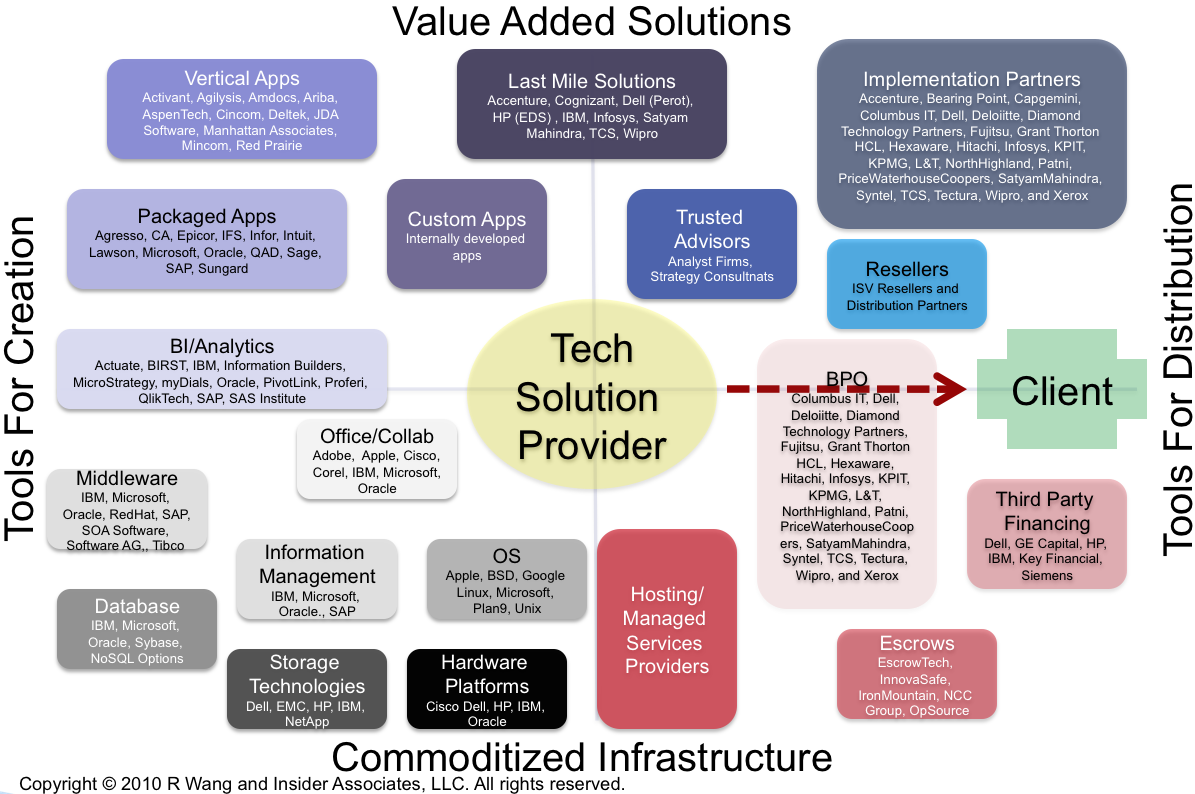 By R "Ray" Wang on July 27, 2010
Is your technology provider a hardware vendor or a software vendor? Does your System Integrator now provide solutions in the cloud? These questions will continue as models converge. Hardware, software, and system integration vendors must reinvent new models of revenue. The economic recession has forced business model shifts at the major technology companies.
Posted in Business, Featured Posts | Tagged acquisition, acquisitions, Alliances, analytics, Apps Strategy, business int, business process outsourcing, Cisco, Cisco Systems, Cloud, Cloud Computing, collaboration software, custom apps, Database, Dell, enterprise apps, Enterprise apps strategy, Enterprise Business Apps, Enterprise Business Apps Vendors, enterprise software, enterprise strategy, escrows, financing options, Hardware, hp, ibm, implementation partners, information management, IT budgets, IT Strategy, last mile solutions, managed service provider, mergers, Mergers And Acquisitions, microsoft, middleware, middleware platforms, Monday's Musings, Monday's Musings, next gen apps, next gen enterprise, next generation, Next generation apps, On Demand, on-premise, operating systems, oracle, packaged apps, partner ecosystems, partners, partnerships, procurement, Research Report, resellers, SaaS, salesforce.com, sap, software escrow, Storage, System Integrators, technology budgets, third party financing, trusted advisors, vars, vendor strategy, vertical apps | 1 Response

By R "Ray" Wang on July 5, 2010
Organizations Facing The Big Data Problem Must Solve The TCO Of Data Retention
The explosion in data volumes from terabytes to petabytes (i.e. 1 quadrillion bytes) drives many organizations to identify cost effective solutions for the retention and on demand retrieval of historical data.  More importantly, organizations must meet a plethora of changing business and compliance […]
Posted in Featured Posts, Technology / Software, Trends & Concepts | Tagged Adaptive Mobile, CAS, DAS, data reduction, data retention, data retrieval, DataDirect, disruptive, disruptive technologies, Disruptive technology, EMC, EMC Centera, enterprise applications, enterprise apps, Enterprise Business Apps, Enterprise Business Apps Vendors, Group 2000, hp, Informatica, information management, information preservation, NAS, next gen, next gen apps, next gen enterprise, next generation, Next generation apps, On-Point Solutions, RainStor, SAN, Sun, Thursday's Tech Showcase, Thursday's Tech Showcase